Producer Catherine Bray on the Beyond Clueless team's strategy for self-distributing the crowd-funded doc.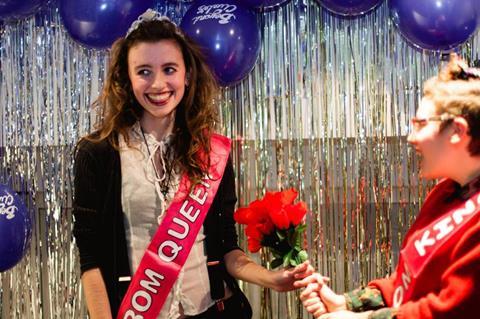 Isn't self-distribution something only considered by people who don't have other options? Not in the case of Charlie Lyne's debut feature, teen movie doc Beyond Clueless. After launching at SXSW in 2014 and playing 20+ festivals worldwide, we did conventional distribution deals in Canada, France and Germany via Jason Ishikawa at The Film Sales Company. But in the UK, we looked at the numbers and felt that it was worth taking that leap and putting together our own distribution strategy.
There were several contributing factors to this decision and it's certainly not something I'd advise every small film to do - most distributors do a brilliant job, and getting a film out there of course entails an enormous amount of blood, sweat, tears and midnight laptop sessions emailing local radio stations to see if they want to give you a shout out on air. Conveniently, as a Kickstarter funded film, the main thing we owed our 500+ financiers was a copy of the film on VoD, so by self-releasing, we're not gambling with money that some nice and/or terrifying company trusted us with and will want to see a return on, so that was one element of pressure removed from the release.
Another attractive element was the chance to take control of our own release (if the poster had turned out terribly we would only have ourselves to blame) and make the most of our existing relationship with our audience. When you initially pitch a crowdfunded film, you have to have a pretty strong sense of your market, or you won't attract backers in the first place, and we felt that we knew our audience better than someone coming on later in the process might. Crowdfunding really does force you to think very clearly about your audience early on - you're effectively doing your own marketing from the day you first tweet that you've set up a Kickstarter page. By the end of 2014 we had garnered a decent social media presence for the film, with around 1000 followers on Twitter and a similar number on Facebook. There was no need to employ a distributor to set those accounts up as part of the release. We also had a following of around 30,000 people through the team's own accounts.
We were also happy to design and put together our own website (beyondclueless.co.uk), trailer and poster. The team illustrated 100+ blank VHS spines with the titles of teen movies dissected in the documentary to create our UK quad, where we eschewed the bomber squadron of stars and quotes so popular with releases that have more at stake. For the trailer, we spent a day shooting various iconic items from teen movies - a prom queen's tiara, quarterback's helmet, vibrator, bong - which we cut together with voiceover from the film. Our first concept, where we would explode these items and capture the explosions in slow motion went out of the window when we realised we didn't have access to a decent slow motion camera and had no real idea how to make things explode.
We're also lucky that within our small team of seven, our abilities included editing, shooting, web design, graphic design, PR, journalism, social media and other skills essential to getting a film out to audience. If it's not a grand term for such a small project, it enables us to take as vertically integrated an approach as possible from the get go (all we need now is our own chain of cinemas…). We were also lucky to have a good working relationship with exhibitors like the ICA and Picturehouse, with whom our director had previously staged very successful cinema events under the Ultra Culture Cinema brand.
But the real, overwhelming reason to self-distribute came as much from the heart as the head. We shared a strong aversion to the possibility of pushing the film out on 5-10 screens for one underwhelming opening weekend, where it would likely play to sparsely populated screens. This is the fate of too many so-called "small" films in the UK film industry, although I include in this bracket many films that cost vastly more time and money to make than Beyond Clueless.
Ok, so we didn't know for sure if people beyond our Kickstarter backers would want to see our movie. I love Beyond Clueless, but would be the first to admit it's an unusual film, made from clips of over 200 teen movies released between 1994 and 2006, with a hypnotic/droney narration (depending on which critics you agree with) that never explicitly breaks the fourth wall to mention directors or actors, but instead hopefully takes the viewer on a journey into the heart of darkness that is the American high school movie. But we had a hunch that our 500 backers represented a microcosm of a wider audience that might be interested in taking that trip with us.
The challenge was to communicate to this fairly specific audience what the film was and foster an appetite to come see it in the cinema instead of catching it online in a few months, using limited resources and our own even more limited funds. That was where the roadshow came in. We decided to take the film on a UK tour of 10 previews, building to the official release date on January 23rd, a date we picked because it was fractionally less crowded than others and also because we felt like we might make an effective counter-programming option to other more prestigious awards season fare.
The point of the previews was twofold: to give these early audiences real added value and an incentive to turn out, and, as a byproduct, to help build buzz in advance of the release. Every stop on the tour would have one or more of the following: a director Q&A, a live score with brilliant composers Summer Camp, a party after the screening, a prom photo booth, cover bands, double bills with films from the 1990s/2000s era (including The Craft), and other more minor add-ons to help contribute to the atmosphere, including teen movie mix tapes for the venues to play prior to the screening and red Solo cups to serve beer in.
The key thing about all this was to ensure that the events were still mostly about the film: we definitely didn't want to cross the line into the kind of screening that feel like it's about fancy dress or gimmicks first and cinema second. All the extras were there to contribute to audiences' experience of the film, not to overshadow it.
The ten-date tour went to London, Cambridge, Brighton, Bristol, Birmingham, Leeds, Liverpool, Aberdeen, Edinburgh and Newcastle, for one screening per city per night. Our most financially successful evening was at the Prince Charles Cinema, where the film took £2,433.50, and our least was at the Belmont Filmhouse, with £169.50 (though I'd also note it was a small screen with an absolutely delightful audience and warm Q&A).
By day two of the tour we had covered our distribution costs, the biggest of which were paying the BBFC their £867.60 to rate our film (15 for "strong sex, bloody violence, strong language, drug use") plus paying for transport for the team. We travelled by train, booking in advance and making the most of our director's Young Person's Railcard. Some nights necessitated a hotel, but we also made the most of friends' sofas and floors. Again, I'm not suggesting this model is right for everyone, but if you're determined to get a first film out there at minimal cost and potentially turn a profit, thriftiness is key. Our total upfront costs, other than our own time came in at about £2.5k.
There is of course a certain risk that your more extreme cost-cutting measures will raise eyebrows. When I turned up in my inauspicious duffle coat to drop off our DCP at the Soho Screening Rooms prior to our NPS and explained that yes, I was honestly the producer and yes, the grubby envelope I was clutching was indeed the DCP of Beyond Clueless, a real film and everything, it was not exactly one of those moments where you feel like you've covered yourself in glamour. Of course, we didn't drop our DCPs off in person at every location. Most of them cost 94p to post first class in a Jiffy bag. Making our own DCPs by installing Linux on an old laptop was another major saving.
We went into our first weekend feeling reasonably confident, having taken £10,556 in previews. We were set to play eleven shows that weekend, at three venues. The risks were that the appetite for the film had been fulfilled by our previews, and that without Q&As and add-ons for all these screenings, audiences might not feel they had that added impetus to get out and see our film. We hadn't been able to afford to do any conventional advertising and were relying entirely on social media and press in terms of publicity, plus a generous reciprocal placement in the Popbitch newsletter and advertising on Picturehouse websites.
Our director, Charlie Lyne, wrote pieces for the Independent and Independent on Sunday and completed dozens of interviews with local and national press, while I went on Radio 4's Woman's Hour the Thursday before our release to talk about the film. Reviews were positive, with the film at time of writing standing at 88% fresh on reviews aggregator Rotten Tomatoes (and 100% for Top Critics). Particularly helpful was an endorsement from probably the most influential UK critic, Peter Bradshaw, whose suggestion that the film was "the one film you should watch this week" was obviously very important for a film of this size.
In the event, we took a pretty handy £6,289 from our eleven screenings (the film played across the weekend at Glasgow Film Theatre and the ICA, as well as one-off events at cinemas in Manchester and Dublin), for a UK total to date of £17,012. With revenue shares for us of between 35%-50%, depending on venue, across the tour and release, it's a model that can work for films of this size with a decent hook (who doesn't love teen movies?). Distributors continue to do incredible work on films of all sizes, but it's useful to recognise that new models are emerging which can make sense for filmmaking teams willing to put in the hours.
What next? Myself, Charlie and producer Anthony Ing have set up a production company, Loop, where we're in the early stages of development on our next project. Will it be self-distributed? It depends entirely on the film, but I wouldn't rule anything out.
Update: Beyond Clueless has now taken over £26,000 ($39,000) at the UK box office.
For further screenings and details of how to see Beyond Clueless please visit beyondclueless.co.uk