Director Francis Lawrence talked about how Star Wars influenced The Hunger Games sequel alongside stars Jennifer Lawrence, Josh Hutcherson and Liam Hemsworth.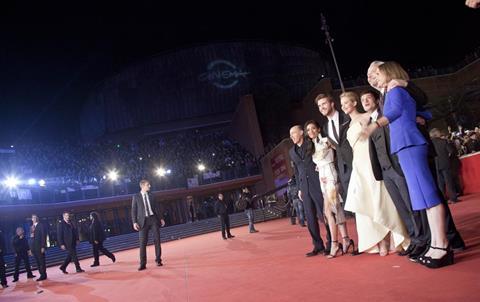 The director, producers and stars of The Hunger Games: Catching Fire met the press at the Rome Film Festival today, where the highly-anticipated sequel is playing Out of Competition.
Francis Lawrence took on directing duties for the second film of the franchise based on the best-selling trilogy of novels by Suzanne Collins. The first film was directed by Gary Ross.
The dark tone of the sequel has been compared to another second instalment – The Empire Strikes Back. Asked about the parallels, the director said that while the stories and characters have different motivations, they did consider the structure of George Lucas' sci-fi classics.
"I'm a huge fan of the Star Wars trilogy - the originals," he said.
"We did look - structurally in terms of storytelling and the way a story is built - at how the end of that movie works and how the end of our movie, Catching Fire, works."
Unobtainable image
Jennifer Lawrence, who won an Oscar earlier this year for her role in Silver Linings Playbook, was bombarded with the same old questions from what she has in common with her character ("I'd love to have more in common with Katniss") to how fame has changed her life ("I just go about my day") and the pressure she's under ("I feel pressured that I should feel pressure!").
However, a question about body image led her to criticise producers who urge young actresses to lose weight.
"I had no idea how to diet until I started acting," she said.
"I would do movies where the producers would tell me to lose weight and that's such a painful thing to hear at such a young age. I remember it broke my heart because it's hard to hear you need to lose weight when you don't think you're fat. And I'm not the only one.
"There are lots of filmmakers that have this idea of this unobtainable perfect body image and they put those unobtainable pressures on people.
"People are watching us actors and looking at our bodies and comparing themselves to Photoshop pictures and celebrities who have personal trainers and eat at Whole Foods every day. [laughs] I don't know where they eat.
"I feel the media refuses to take responsibility for the fact that we talk about each other the way we do and judge people in all the wrong ways. I'm tired of women calling other women fat.
"We have to think about the way we talk about each other and need to change the way we see beauty. I'm sick of diets."
Violence
Talking about the violence in the film, producer Nina Jacobson of production company Color Force said the movie was more about the impact of violence rather than the acts themselves.
"It's more important how the characters experience the violence than seeing the violence itself," said the producer.
"As Americans, our country has been at war for a decade and it's easy to forget these soldiers who go out tour after tour and carry with them the wounds of what they've seen, what they've witnessed, what they've participated in.
"As a filmmaker, Francis is very sophisticated and emotionally attuned to using this incredible cast and letting the audience experience the violence through their eyes."
Lawrence (no relation to Jennifer) added: "I'm really only interested in the consequences of violence. That's what the books are about.
"The loss, the damage it does to people who watch or participate in the violence was interesting to me. I'm more interested in the emotional impact.
"That's why at the beginning of the movie you feel instantly that Katniss and Peeta are changed. They survived the Games but have been damaged by them. It's the post traumatic stress and consequences of violence that we introduce and will do more so as we continue."
Fans
Italian teens camped overnight to get a place by the red carpet and thousands gathered at the Auditorium Parco della Musica theatre to watch the stars arrive for the evening's screenings, which were sold out weeks before the event.
Organisers compared it more to a rock show than a film festival event, with claims that it was the Rome Film Festival's biggest gala since its inception in 2006.
Josh Hutcherson, who plays Peeta Mellark in the film, said: "The fans of The Hunger Games have been so supportive from day one. They give us so much energy and drive to keep on going when we're on these 'victory tours' of ours that are very tiring.
"It's not very often you get to be a part of something that becomes so known and successful but also has so much meaning and weight behind it.
"One of the coolest things about being an actor is telling stories through great characters that develop in real ways. Normally you find those in indie movies, which I love.
"So to find a story like this that has such mass appeal, with a complex story and core values and themes throughout about love, family and fighting for what you believe in – it's a rare thing. To be part of it is absolutely incredible."
Lionsage releases The Hunger Games: Catching Fire in the UK on Nov 21 and the US on Nov 22. Universal Pictures International will distribute in Italy.