Dir: Andreas Prochaska. Austria-Germany 2013. 115mins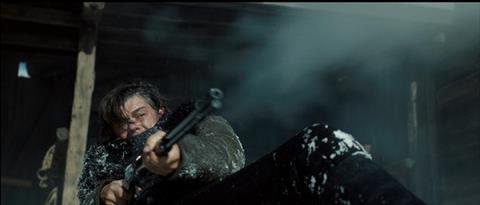 There's trouble up in them thar hills… except the hills are the Tyrol, and this Western happens to be Austrian. But Dark Valley (Das Finstere Tal) isn't quite such a bizarre proposition - not when when you think of the geographical similarities between Austria and classic oater terrain such as Colorado - or indeed, when you think of the Austrian tradition of mountain films, of which Andreas Prochaska's feature provides a genre variant.
While Brit lead Riley exudes a candid straight-arrow quality reminiscent of Kyle MacLachlan, he somewhat lacks the sheer steeliness you look for in a black-hatted man on a mission.
Intermittently entertaining, Dark Valley scores highly on magnificent photography and atmosphere but loses on limp storytelling and an overall stolidity in its prestige-costumer ambitions. Despite ambition and some elegance, Dark Valley is unlikely to travel much outside German-speaking territories, and it lacks swagger to score at fests as a midnight movie favourite.
Set in a distant high region of the Tyrol in the nineteenth century, the film begins with a pre-credit sequence in which a young couple in hiding are hunted down by a malevolent posse. Thereafter, a young local named Luzi (Beer, a candid ingenue) takes up the narrative in a portentous voice-over. Things kick off properly years later when a mysterious black-hatted stranger rides into Luzi's village and requests digs for the winter. He announces himself as Greider (Riley), over from America and supposedly in the area to take photographs. Moving in as a lodger with Luzi and her mother, Greider quickly incurs the dislike of the clan of thugs - old man Brenner and his six boys - who rule the region with, it turns out, more than just your average rod of iron.
It's not long before two Brenners die mysterious and bloody deaths - one of them in the film's best sequence, a tense and atmospheric snowbound sequence involving toboganning logs. It's pretty easy to guess who's responsible - and it's not long before Greider enters the local church like Gary Cooper striding into the Dodge City saloon, and insists on confessing to the priest.
Once the cat's out of the bag about what dire deeds Greider is (you guessed it) out to avenge, the film doesn't really have anywhere to go. The creakiness of the storytelling shows in the reliance on Luzi's voice-over to bolster the key flashback - and once Greider has had his gundown with the remaining Brenner boys, the final chapter feels over-extended and anti-climactic. The film also seriously fails to balance its solemnity with the genre tropes that it reworks, at moments skating perilously close to unintentional parody.
The film's certainly handsome enough - the stranger-in-town theme played out in visuals that suggest High Plains Drifter with a dash of Caspar David Friedrich. There are also some intriguing thematic overtones that aren't brought out to full advantage - the Catholicism, a strong streak of Freud (this is an Austrian film, after all), as well as echoes of twentieth-century history in the picture of a community in sway to a Nazi-like tyranny.
But the drama barely breathes, not least because of flat characterisation (the Brenners break down into a fat hairy one, a one-eyed one, one with a mad hyena cackle, and so on). And, while Brit lead Riley exudes a candid straight-arrow quality reminiscent of Kyle MacLachlan, he somewhat lacks the sheer steeliness you look for in a black-hatted man on a mission. Some of the musical choices too are misguidedly anachronistic.
Production companies: Allegro Film Productions, X Filme Creative Pool
International sales: Films Distribution, www.filmsdistribution.com
Producers: Helmut Grasser, Stefan Arndt
Screenplay: Martin Ambrosch, Andreas Prochaska, from the book by Thomas Willmann
Cinematography: Thomas W.Kiennast
Editor: Daniel Prochaska
Music: Matthias Weber
Main cast: Sam Riley, Tobias Moretti, Paula Beer, Thomas Schubert, Carmen Gratl