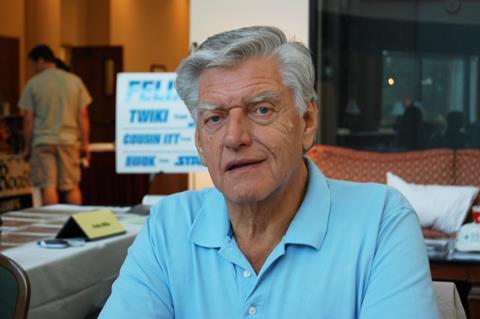 UK actor Dave Prowse, best known for playing Darth Vader in the original Star Wars trilogy, has died aged 85.
His death was announced by his agent Thomas Bowington on Twitter.
It's with great regret and heart-wrenching sadness for us and million of fans around the world, to announce that our client DAVE PROWSE M.B.E. has passed away at the age of 85. #DaveProwse @starwars #DarthVader #GreenCrossCodeMan #iconic #actor #bodybuilder #MBE pic.twitter.com/dL2RmdIqg8

— Bowington Management (@BowingtonM) November 29, 2020
Prowse played the iconic villain on set, though his lines were dubbed by James Earl Jones in the finished films, a decision that upset the former bodybuilder. Prowse also reportedly fell out with George Lucas in later years, and was banned from official Star Wars conventions.
His other film appearances included Casino Royale and A Clockwork Orange, as well as TV series The Saint.
Bristol-born Prowse was also hugely famous in the UK for playing the Green Cross Code Man in a series of road safety adverts, starting in 1975, that earned him an MBE.
Paying tribute on Twitter, Prowse's Star Wars co-star Mark Hamill said: "He was a kind man & much more than Darth Vader. Actor-Husband-Father-Member of the Order of the British Empire-3 time British Weightlifting Champion & Safety Icon the Green Cross Code Man. He loved his fans as much as they loved him."

Director Edgar Wright added: "As a kid Dave Prowse couldn't be more famous to me; stalking along corridors as evil incarnate in the part of Darth Vader & stopping a whole generation of kiddies from being mown down in street as the Green Cross Code man. Rest in Peace, Bristol's finest."