EXCLUSIVE: 108 Media has picked up US rights to the award-winning Canadian comedy and plans a one-week theatrical run in August.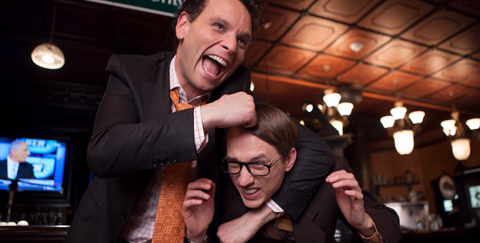 Matthew Kowalchuk directed Lawrence & Holloman, which recently won best feature at the 15th annual Canadian Comedy Awards and has picked up awards across the Canadian festival cicruit including Vancouver and Edmonton international film festivals.
The film charts the exploits of a suicidal debt collector and an ebullient suit salesman whose fortunes change as their friendship develops.
Kowalchuk and Daniel Arnold adapted the stage play by Morris Panych. Ben Cotton, Katharine Isabelle, Amy Matysio and Daniel Arnold star.
108 Media will release Lawrence & Holloman in Los Angeles at the Downtown Independent from August 7-13, followed by VOD release on iTunes, Amazon, Xbox, Vudu, Google Play and other platforms on August 11.
Paul Armstrong, Mary Anne Waterhouse, Andrew Currie, Robyn Wiener and Don Thompson produced.
"108 Media can't wait to introduce Lawrence & Holloman to the United States," said CEO Abhi Rastogi. "It's time they see what Canada has to offer when it comes to dark comedy. These characters are sure to make you laugh."
"Not all Canadian films make it south of the border," said Kowalchuk. "I'm thrilled to see 108 Media finding the right audience for Lawrence & Holloman and can't wait to see America's reaction to our classic odd couple story – with a dark twist."
108 Media most recently distributed the Tribeca Film festival selection Below Dreams by debut director Garrett Bradley and John Leguizamo's Fugly.