Drafthouse Films to make Oppenheimer's genocide documentary available as a free download from Sept 30.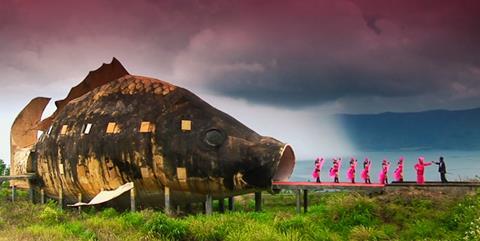 Drafthouse Films has announced that it will make Joshua Oppenheimer's The Act of Killing available for free to the people of Indonesia in perpetuity.
In partnership with global media company VICE, integrated digital platform VHX, Danish film production company Final Cut For Real ApS and the anonymous crew behind the film, Drafthouse will make the documentary available as a free digital download geo-blocked exlusively for Indonesia from Sept 30.
As a result of the Indonesian government typically banning films that deal with human rights violations, a traditional theatrical release for The Act of Killing is not possible. This has resulted in people organising over 500 underground screenings of the film in 95 cities, including a rice field where locals gathered around a mass grave of genocide victims to watch the film on a tube television.
Drafthouse Films founder/CEO Tim League commented: "Joshua Oppenheimer's film is a groundbreaking work that demands to be seen and its most essential audience is the people of Indonesia. We are deeply impassioned to assist in the quest to break the government's near 40-year silence of these atrocities."
Executed produced by Werner Herzog and Errol Morris, The Act of Killing centres on former Indonesian death squad leaders, who are challenged to reenact their real-life killings in the style of the American movies they love.