Searchlight sets December 9 release date for well-received Venice and Toronto drama.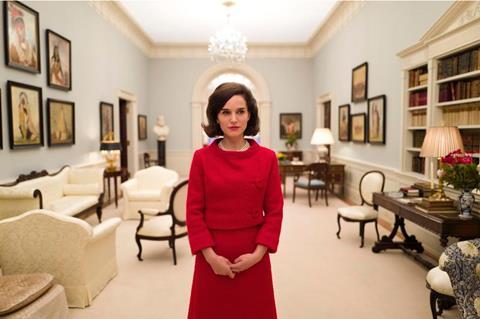 Fox Searchlight is understood to have paid in the high seven figures for US rights to Pablo Larrain's well-received Venice and Toronto drama Jackie, securing a strong awards contender at a time when Oscar prospects for The Birth Of A Nation remain unclear.
The studio has set a December 9 date for the film, which won best screenplay honours on the Lido and garnered raves for Natalie Portman as former First Lady Jacqueline Bouvier Kennedy.
Searchlight exercised its first and last rights position, which entitled the studio to a first option to buy and the ability to match any offer from a competing buyer.
The deal was brokered by Fox Searchlight's executive vice-president of business affairs Megan O'Brien and senior vice-president of acquisitions and co-productions Ray Strache, and CAA, which also packaged and arranged the film's financing, and Mickey Liddell on behalf of LD Entertainment.
"Pablo Larraín's Jackie is a daring, one-of-a-kind cinematic portrayal of a beloved icon. Led by an indelible performance from Natalie Portman and supported by a richly talented ensemble of actors and artists, the film is one we are thrilled to bring to audiences later this year," said Searchlight presidents Stephen Gilula and Nancy Utley.
Written by Noah Oppenheim, from LD Entertainment, Portman stars alongside Greta Gerwig, Billy Crudup, John Hurt, and Peter Sarsgaard. Producers are Juan De Dios Larraín, Darren Aronofsky, Mickey Liddell, Scott Franklin and Ari Handel.
Jackie follows the First Lady in the days leading up to and immediately after the assassination of her husband John F Kennedy on November 22, 1963. Known for her dignity and poise, the film paints a psychological portrait of the First Lady as she struggles to maintain her husband's legacy and the world of 'Camelot' that they created.
Oscar-winner Portman told a Venice press conference that the role was the "most dangerous" of her career.
Larraín and Oppenheim are represented by CAA and Management 360. Portman is represented by CAA.