Disney has moved Star Wars: Episode VIII from May 26 2017 to December 15 2017. Separately, Sony Pictures has moved Spider-Man forward by three weeks in summer 2017 while Paramount has taken Terminator 2 off the schedule.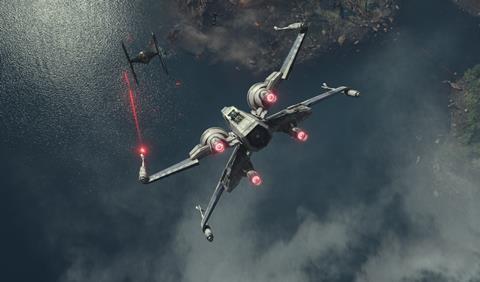 The new date for Star Wars: Episode VIII means it will occupy the slot that has proved so successful for The Force Awakens, which has reached $1.887bn worldwide and $861m in North America.
Rian Johnson directs the new instalment, set to begin principal photography in London next month. Kathleen Kennedy and Ram Bergman will produce and J.J. Abrams, Tom Karnowski, and Jason McGatlin will serve as executive producers.
Pirates Of The Caribbean: Dead Men Tell No Tales starring Johnny Depp, Orlando Bloom, Geoffrey Rush and Javier Bardem as Captain Salazar moves up to May 26 2017 from July 7 2017. Joachim Rønning and Espen Sandberg direct and Jerry Bruckheimer produces the film, which is in post.
Sony Pictures announced it has moved Spider-Man starring Tom Holland up to July 7 2017 from July 28 2017, a slot the Jumanji remake will now occupy. Jumanji was originally been set to open later this year on December 25.
Jon Watts directs Spider-Man and Sony Pictures partners with Marvel Studios on the tentpole.
Meanwhile, Paramount has replaced Terminator 2 with Baywatch on May 19 2017 and confirmed Skydance Productions' sci-fi sequel is now unset. Terminator Genisys opened last July and grossed $440m worldwide, of which only $89.8m came from North America.