EXCLUSIVE: Eli Roth's Amazonian horror will finally get a US theatrical release two years after its world premiere in Toronto thanks to a collaboration between Blumhouse Production's BH Tilt, Universal Pictures and High Top Releasing.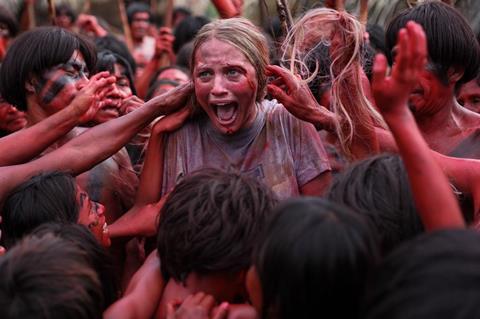 The Green Inferno will debut on September 25 on approximately 1,000 screens backed by a targeted digital and social media campaign to reach Roth's avid fan-base.
Jason Blum launched multi-platform distribution arm BH Tilt in September 2014 and will work in concert with Universal and High Top Releasing, the 'distribution-for-hire' subsidiary launched by FilmDistrict in spring 2013.
The plan is cause for celebration for Roth and his cohorts, who have endured a tortuous time trying to secure theatrical distribution ever since the film premiered at the Toronto International Film Festival in September 2013.
Open Road originally acquired US rights to The Green Inferno at the festival only to scrap the September 2014 release and withdraw from the film after escalating internecine warfare at the film's financier Worldview Entertainment caused complications.
Bloom, led by Alex Walton, continues to service international distribution arrangements. Walton kicked off international sales on the genre film several years ago while at Exclusive Media.
The Green Inferno follows student activists from New York who travel to the Amazon where they encounter a tribe of cannibals.
"The Green Inferno is a wild, fun ride that took us deeper into the Amazon than anyone has ever taken a film crew," said Roth. "BH Tilt is a forward-thinking label that is helping to redefine how genre movies can be released. I want to express my deep gratitude to the fans for their incredible support of this movie and to everyone at Blumhouse and Universal for making sure fans can experience the film in theaters across the country."
"When we launched BH Tilt we said our goal was to be part of the continuing evolution of distribution, whether it is through changing marketing strategies, changing revenue sources or changing windows," said Blum. "We are excited to capitalise on new developments in distribution and marketing to bring Eli's movie to horror lovers across the country."
Blumhouse has a 10-year first-look production agreement with Universal Pictures.