Universal Filmed Entertainment has joined strategic investors Participant Media, Reliance Entertainment, eOne, and Alibaba Pictures.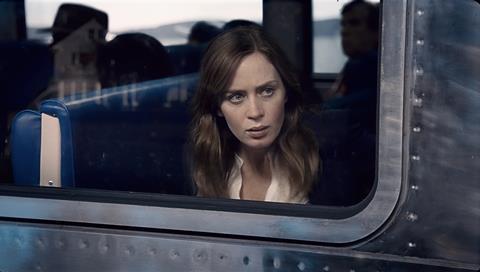 The development does not change the prior arrangement whereby Universal handles US distribution and select international markets on Amblin Partners titles.
Universal's distribution arrangement dates back to December 2015. The first release was The Girl On The Train (pictured), followed by current release A Dog's Purpose.
Focus will release Captive State, the sci-fi that Rupert Wyatt is scheduled to begin shooting this month and was made available to international buyers in non-output territories through Lionsgate International at the EFM in Berlin.
Universal Film Entertainment chairman Jeff Shell will join the board of Amblin Partners.
"We are big believers in Amblin Partners and its proven ability to create the kind of quality films that appeal to broad, global audiences," NBCUniversal vice-chairman Ron Meyer, Shell and Universal Pictures chairman Donna Langley said in a joint statement.
"Steven is a genius and has always been part of our family, as well as an incredible partner to Universal. We are thrilled to become strategic investors in the company that he, Michael and Jeff are committed to growing."
"Because Universal has been such a significant part of my life, it is an added pleasure to welcome its stake in Amblin," Spielberg said. "Together with Jeff Skoll and our other partners, we look ahead to creating and delivering the storytelling that defines our brands of filmed entertainment."
"We couldn't be happier that Universal has shown confidence in Amblin Partners by making this investment," Amblin Partners CEO Michael Wright and co-CEO Jeff Small said. "As the gold standard in our industry, Universal fits perfectly with our other esteemed partners, Participant Media, Reliance Entertainment, eOne and Alibaba Pictures, and we can't wait to welcome Jeff Shell to our board."
Participant Media founder and chairman Jeff Skoll added: "Participant is in the business of social impact, and Universal has always been an excellent partner in ensuring our stories reach engaged global moviegoers who are eager to help change the world. We are thrilled to have Universal invest in Amblin Partners and look forward to extending our relationship."