Dir: Nicolas Winding Refn. US. 2011. 100mins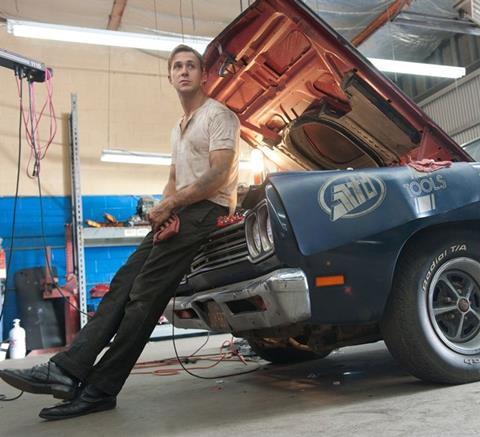 Nicolas Winding Refn's super-stylish and occasionally super-violent Drive is a magnificent homage to US crime films from the late 1970s and '80s, with Ryan Gosling impressive as the monosyllabic anti-hero caught up in a spiraling web of double-cross and violence. The moments of brutality and blood may well hamper its ability to reach large audiences, but is a film to be admired and should find an appreciative home.
A brilliantly staged opening car chase sets the scene quite perfectly.
Making his US film debut after critical acclaim in Europe with his Pusher films and prison drama Bronson, Danish director Nicolas Winding Refn makes great use of the LA locations to craft a stylishly memorable crime film that looks great in crisp widescreen and features a series of memorable performances. Perhaps best of all is Albert Brooks as a charmingly deadly crime boss – it is a performance that deserves to noticed by awards givers.
Its origins are clear right from the start – a pulsating soundtrack, beautifully shot nighttime overhead shots of Los Angeles and the credits in swirling bright pink quickly place the film alongside films such as Michael Mann's crime classic Thief, while a brilliantly staged opening car chase sets the scene quite perfectly.
Driver (Ryan Gosling) – no other name – is a movie stunt driver and part-time mechanic by day and by night he moonlights as a getaway driver…and he is exceptionally good at his job. His manager/mentor is Shannon (Bryan Cranston, from TV's Breaking Bad) who gets him jobs in movies as well as in crime, and is also trying to find investment for a stock car so that Driver can turn professional.
He is a solitary figure, happiest behind the wheel of his car even when not working, but his life subtly changes direction when he meets Irene (Carey Mulligan) who has moved into the apartment next to his with her young son Benicio (Kaden Leos). He is transfixed with her gentle beauty, and with her husband away in prison he slowly becomes part of their family life, discovering a peace he has never known.
But when he husband Standard (Oscar Isaac) is released from prison things change. He is in debt to a gang from prison and his family threatened unless he robs a pawnbroker. Discovering that Irene and Benicio are in danger, Driver agrees to help in robbery as getaway driver, but when things go dreadfully wrong he finds himself caught in a cycle of deceit and violence that is never going to end well.
The story – based on a novella by James Sallis – may not be massively original, but Refn's control and style gives the film a unique identity. This is no simplistic Hollywood action tale (no Jason Statham-style driver as in the Transporter movies) with noisy car chases and blaring police sirens… instead Refn and cinematographer Newton Thomas Sigel use the widescreen to given the film a sense of location, filming in little-used LA backstreets and giving the shots a timeless quality.
Ryan Gosling – dressed in clothes that could have come right out of the 1980s – plays Driver as contained and controlled and apparently gentle, though as the film draws on he shows an ease and ability at violence that is unexpected and shocking. Gosling fans who favour films where he takes his shirt off will be disappointed…but they have Warners' Crazy, Stupid Love waiting in the wings, which should more than make up.
Carey Mulligan is fine as the mild-mannered Irene, but in truth is given little to do except smile sweetly and be won-over by Driver's restrained charm. On the other hand, Albert Brooks grabs the role of gangster Bernie Rose and makes it his own – he is brilliant as the verbally witty and controlled mobster who is completely at ease dishing out the killings.
The film's strong support cast – including the ever-reliable Ron Perlman; Christina (Mad Men) Hendricks in a small cameo as Blanche, and Oscar Isaac (who starred in Robin Hood) as Standard – helps give Drive a real sense of quality.
There are some scenes of really tough violence – the Cannes press audience was even shocked at one particularly brutal fight scene – but somehow these moments make sense given the context of the story.
The film really only has a few actual car chase sequences – and very impessively shot they are too – because essentially this is a classically structured crime drama about hope and redemption. Driver glimpses the possibility of a better life, but before long he is deeper in the criminal mire than ever before…he has options but he finds himself no-longer the lone ranger, but instead a man with compassion and a need to do the right thing. And such feelings – in the world of movies at least – usually lead to nothing but trouble.
Production companies: Bold Films, Oddlot Entertainment, Motel Movies US distribution: Filmdistrict Pictures
International sales: Sierra/Affinity, www.sierra-affinity.com
Producers: Marc Platt, Adam Siegel, Gigi Pritzker, Michael Litvak, John Palermo
Executive producers: David Lancaster, Gary Michael Walters, William Lischak, Linda McDonough, Jeffrey Stott
Screenplay: Hossein Amini, based on the book by James Sallis
Cinematography: Newton Thomas Sigel
Editor: Mathew Newman
Production designer: Beth Mickle
Music: Cliff Martinez
Main cast: Ryan Gosling, Carey Mulligan, Albert Brooks, Bryan Cranston, Oscar Isaac, Christina Hendricks, Ron Perlman, Kaden Leos