EXCLUSIVE: Opportunities available for new and emerging filmmakers, and pitching sessions among programme.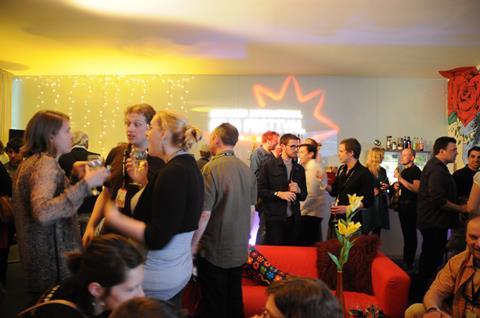 Edinburgh International Film Festival (EIFF) has announced the line-up for this year's Industry Programme, which will run for nine days from June 16-24, as well as EIFF's Talent Development Programmes.
The programme will include workshops, practical sessions, talent labs and one-to-one meetings with industry experts, all of which will take place at the EIFF Delegate Centre at the Traverse Theatre.
Programme highlights include two sessions hosted by the BFI NET.WORK looking at opportunities available for new and emerging filmmakers across the UK, offering tips from execs and filmmakers on how to make the best short film on a short film budget.
Script consultant David Pope will deliver a pitching workshop with advice on how to develop confidence and how to tailor a pitch for an audience, followed by the chance for filmmakers to pitch to a panel of industry experts.
PRS for Music and Bafta Scotland will host a composer/director mixer to support the development of new collaborations.
Jordan Stories will look at the British Council's work with Jordanian filmmakers and the co-production experiences for the filmmakers of Queens Of Syria and Theeb.
Scotland's Screen Summit
At a time of intense conversation around the future of film and television in Scotland, Scotland's Screen Summit will aim to provide a platform for the sector to discuss, debate and shape the future.
Informing the discussion and debate, the day (June 14) will have keynote speakers, including the chair of the Screen Sector Leadership Group, John McCormick.
Distribution Rewired
Distribution Rewired will return to EIFF for a second year. The two-day focus will aim to develop communication and collaboration between filmmakers and film distribution professionals working with new and emerging distribution methods.
The focus will include guest speakers and will offer attendees the chance to take part in a number of discussions, talks, presentations, one-to-one meetings and networking events.
At the centre of the focus will be a dedicated marketplace where pre-selected projects can arrange meetings with key representatives from the industry to look at more creative approaches to distribution.
EIFF will also offer delegates the opportunity to sign up for a number of one-to-one sessions with industry experts where they can receive professional advice on their projects.
EIFF Works in Progress
As previously announced, EIFF launch a new Works in Progress section, as part of its industry offering.
The industry-facing event showcase some of the most exciting new films from across the UK to an invited audience of sales agents, distributors, financiers and festival programmers helping them reach their ambitions of completion, distribution and exhibition.
Talent
EIFF is giving a major push to talent development at this year's festival, delivering a number of programmes supporting both emerging and more established film makers.
EIFF Talent Lab (June 17-20)
A total of 30 filmmakers will take part in this four-day event which will include workshops, panels, masterclasses and specially tailored one-to-one sessions.
Selected from a record-breaking number of applications, this year's participants will meet with distributors, sales agents, producers, talent agents, financiers and development professionals to increase their knowledge, expand their professional network and gain new skills.
Industry guests taking part in the Lab programme this year include representatives from Film4, BBC Films, United Agents, Met Film, Bold Films, Soda Pictures, HanWay Films and Protagonist Pictures.
Talent Lab 2016 participants will include:
screenwriters Alan Campbell, James Pearson, John Gibb, Jonathan Stewart, Laura Anderson, Marcus McPeake and Raymond Friel;
writers and directors: Andrea Harkin, Anwar Boulifa, Claire Oakley, Duncan Nicoll, Gabriel Robertson, Louise Cooke, Nirpal Bhogal, Spencer Brown and Robin Haig;
producers: Amy Thornton, Angharad Elen, Carter Ferguson, Chiara Ventura, Emma Duffy, Emily Barttelot, Emilie Jouffroy, Kristian Brodie, Michelle Antoniades, Patrick Campbell, Renate Farkas, Savannah James-Bayly, Simone Bett and Tom Wood.
EIFF Connections
EIFF Connections will aim to support UK screenwriters, directors and producers in developing their filmmaking careers and feature fiction film projects.
Delivered with story editor Kate Leys and with mentors including producer Ivana MacKinnon and writer/producer Peter Ettedgui, participants will be connected with each other and with the wider industry to help them move faster and more effectively through the development process.
EIFF Connections participants this year include writer/director Ben Sharrock and producer Irune Gurtubai with their feature Sputnik, about a Syrian refugee meeting a former astronaut in the Arctic Circle; writer/director Adina Istrate with her sci-fi feature set in a training camp for Mars explorers, The Trojan Candidate, produced by Giannina La Salvia; and writer/director Paul Frankl with Roxanne, his transgender story about a sex worker moving on and growing up, produced by Gavin Humphries.
Other projects include screenwriter Emer Kelly and director Isabelle Sieb with their film Delphine, a darkly funny rites of passage story about a stubborn twentysomething and her even more stubborn grandmother; artist filmmaker Sven Werner with Oculista, a mystery-adventure story; and writer/director Eva Riley and her producer Jacob Swan-Hyam, with The Circle, a story about power, politics, violence and teenage girls.
Other initiatives taking place in as part of the 2016 Festival include the 'Write To Research Ideas Lab' in partnership with the Wellcome Trust where women screenwriters and researchers will be inspired by the latest scientific developments and explore future film ideas.
Raising Films will host sessions for emerging filmmakers to access expert personalised advice and support on balancing film and family.
The Scottish Documentary Institute will present the Edinburgh Pitch; and Encounters Short Film & Animation Festival will deliver their Producers Course for animation producers exploring traditional methods and practices whilst covering the most up to date issues in animation and short film production.
EIFF unveils the full programme for its 70th edition next Wednesday (May 25).