Highlights include the UK premiere of Finding Dory and the world premiere of the 4K restoration of Highlander [pictured].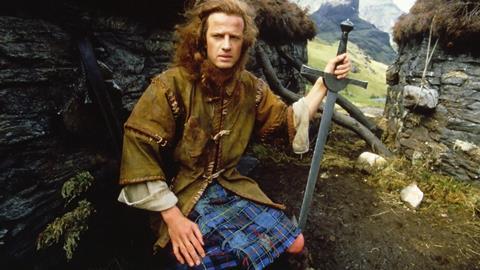 Scroll down for competition titles
The line-up for the 70th Edinburgh International Film Festival (EIFF) has been unveiled this morning by artistic director Mark Adams.
This year's EIFF (June 15-26) will comprise a total 161 features from 46 countries including: 22 world premieres, five international premieres, 17 European premieres and 85 UK premieres.
Highlights include the UK premiere of Disney-Pixar animation Finding Dory, in-person events that include US indie filmmaker Kevin Smith and Sex & The City actress Kim Cattrall, and the opening and closing gala world premieres of the previously announced Tommy's Honour and Whisky Galore!.
Old classics will be re-imagined with the Royal Scottish National Orchestra performing the score to E.T. The Extra-Terrestrial live at Edinburgh's Festival Theatre and the world premiere of the newly-restored 4K version of Highlander, celebrating its 30th anniversary with star Clancy Brown in attendance.
The Best Of British strand will include 12 titles that will compete for the Michael Powell Award (see below), including opening film Tommy's Honour and The Library Suicides, the debut feature of director Euros Lyn, whose TV work includes Daredevil, Sherlock, Black Mirror and Doctor Who.
Other titles in the strand, playing out of competition, include Rachel Tunnard's comedy-drama Adult Life Skills, starring Jodie Whitaker; the world premiere of Rita Osei's teen runaway drama Bliss!; Janos Edelenyi's retired actor comedy-drama The Carer, starring Brian Cox; and the world premiere of Charles Henri Belleville's hedonistic backpack thriller Jet Trash, starring Robert Sheehan.
Also in Best of British is the world premiere of Chris Foggin's coming-of-age drama Kids In Love, starring Will Poulter and Cara Delevingne; Jane Gull's Down's syndrome drama My Feral Heart; the world premiere of Graeme Maley's Nordic noir A Reykjavik Porno; Simon Dixon's mercenary drama Tiger Raid; and Benjamin Turner's Ibiza-set crime thriller White Island, also a world premiere.
Competition titles
WP = World Premiere / IP = International Premiere / EP = European Premiere / UK = UK Premiere
The Michael Powell Award for Best British Feature Film
British films in competition for the Michael Powell Award - for Best British Feature Film and Best Performance in a British Feature Film - include nine world premieres, a European premiere and two UK Premieres.The contenders are:
Tommy's Honour, Jason Connery (opening film) WP


Away, David Blair (WP)
Brakes, Mercedes Grower (WP)
The Library Suicides (Y Llyfrgell), Euros Lyn (WP)
Macbeth Unhinged, Angus Macfadyen (EP)
Moon Dogs, Philip John (WP)
Pale Star, Graeme Maley (WP)
A Patch of Fog, Michael Lennox (UK)
Pikadero, Ben Sharrock (UK)
Seat in Shadow, Henry Coombes (WP)
Starfish, Bill Clark (WP)
The White King, Alex Helfrecht, Jorg Tittel (WP)
International Feature Film Competition
The competitive international competition highlights filmmaking from around the world that EIFF programmers term "imaginative, innovative and deserving of wider recognition". All are UK premieres, except Brahman Naman and The Fundamentals Of Caring, which are European premireres. Titles include:
The Actor, Satoko Yokohama (Jap)
Brahman Naman, Q (Qaushiq Mukherjee) (Ind)
A Conspiracy Of Faith, Hans Petter Moland (Den-Ger-Nor)
The Fundamentals Of Caring, Rob Burnett (US)
Go Home, Jihane Chouaib (Fra-Swi-Bel)
Halal Love (And Sex), Assad Fouladkar (Ger-Leb)
Hunt For The Wilderpeople, Taika Waititi (NZ)
The Lure, Agnieszka Smoczynska (Pol)
Saint Amour, Benoit Delepine, Gustave Kerven (Fra-Bel)
Sand Storm, Elite Zexer (Isr)
Sparrows, Runar Runarsson (Ice-Den-Cro)
Suntan, Argyris Papadimitropoulos (Gre)
Best Documentary Feature Film
Returning for a second year will be 'Doc of the Day', with a select number of documentaries supported by an associated event. All are UK premieres, except Gary Numan: Android In La La Land, The Islands And The Whales and Shadow World, which are European premireres. Titles include:
Becoming Zlatan (De unge Zlatan), Frefrik Gertten, Magnus Gertten (Swe-Neth-Ita)
Brothers (Brodre), Aslaug Holm (Nor)
Bugs, Andreas Johnsen (Den)
The First Monday In May, Andrew Rossi (US)
Gary Numan: Android In La La Land, Steve Read, Rob Alexander (UK)
Homo Sapiens, Nikolaus Geyrgalter (Aus)
The Islands And The Whales, Mike Day (UK-US)
The Lovers And The Despot, Ross Adam, Robert Cannan (UK)
The Pretty Ones, Melisa Liebenthal (Arg)
Shadow World, John Grimonprez (US)
Sick (Bolesno), Hrvoje Mabic (Cro)
Under The Sun (V luchakh solnca), Vitaly Mansky (Rus-Lat-Ger)
Other documentary titles playing during EIFF include:
Burden, Tim Marrinan, Richard Dewey
Chicago Boys, Carola Fuentes, Rafael Valdeavellano
Cinema, Mon Amour, Alexandru Belc
The Founders, Charlene Fisk, Carrie Schrader
Harold and Lillian: A Hollywood Love Story, Daniel Raim
Lost In France, Niall McCann
Mom & Me, Ken Wardrop
Santoalla, Andrew Becker, Daniel Mehrer
Twice Upon A Time, Niam Itani
Zero Days, Alex Gibney
Audience Award
This year's nominees for the Audience Award, from across the programme, include:
Adult Life Skills, Rachel Tunnard
The Carer, Janos Edelenyi
A Conspiracy Of Faith, Hans Petter Moland
The First Monday In May, Andrew Rossi
Forsaken, Jon Cassar
The Fundamentals Of Caring, Rob Burnett
Hunt For The Wilderpeople, Taika Waititi
Irreplaceable, Thomas Lilti
Ithaca, Meg Ryan
Little Men, Ira Sachs
Maggie's Plan, Rebecca Miller
A Man Called Ove, Hannes Holm
Moon Dogs, Philip John
Mr. Pig, Diego Luna