Dir. Jean-Paul Rappeneau. France. 2014. 113mins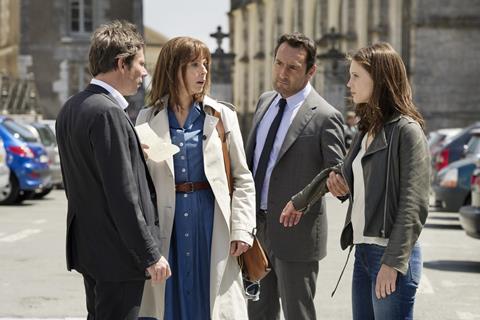 The fate of a gorgeous country home hangs in the balance in Families, a light confection without enough flavour. Director Jean-Paul Rappeneau, making his first feature since 2003's Bon Voyage, examines the secrets and lies of a wealthy French family, but this comedy-drama never goes beyond a skin-deep portrait, filling the screen with humdrum romantic tension and dull legal machinations. Families aspires to be a page-turner, but it's rather easy to put this book down.
Because there are so many hidden intrigues in Families, the viewer may need to keep notes to stay on top of all the scandals
The film, which premiered in Toronto, does have the benefit of a name cast, including Mathieu Amalric, Marine Vacth and Gilles Lellouche. Families will appeal to older audiences who may eat up the soap-opera plotting, but it seems unlikely this wan melodrama will be a huge theatrical player outside of France, where it's set to open October 14.
Amalric plays Jérôme, a businessman living in Shanghai who stops in Paris on the way to a critical meeting in London, accompanied by his partner and fiancée Chen-Lin (Gemma Chan). Jérôme wants to surprise his mother (Nicole Garcia), but she actually has the bigger shocker for him: in the village of Ambray, the family's onetime sumptuous estate, which long ago was closed, is in the midst of a legal battle that will determine what becomes of the property.
Looking into the matter, Jérôme discovers that there's a dispute about who actually controls the rights to the house, an emotional realisation that brings him face-to-face with Louise (Vacth), who's the much younger lover of his best friend (Lellouche) and also a woman who despises him for reasons he wasn't aware of. Nonetheless, a sexual tension develops between them, while Chen-Lin waits for Jérôme to arrive in London.
That plot description merely scratches the surface of the twists, affairs and hidden connections going on within this large ensemble. But because the family estate forms the story's focal point, Families is stubbornly uninvolving, the wrangling over the property, which involves two families as well as the town of Ambray, creating a needlessly complicated narrative drive.
Unfortunately, the potentially juicier plot points aren't much better, with the secrets Jérôme unearths about his family, especially his dead father, not all that deliciously revealing.
As the head of the ensemble, Amalric provides some pathos as a seemingly happy man whose impromptu family reunion excavates a lifetime of insecurities and unresolved regrets. But Jérôme is largely a reactive character, mostly putting out fires and hesitantly spending more and more time with Louise.
Vacth, a fashion model and the breakout star of François Ozon's Young & Beautiful, is a bewitching figure, but the actress can't do much with a bland character meant to represent a fresh start for Jérôme. Unlike Ozon, Rappeneau fails to make Vacth hauntingly enigmatic, and the 25-year age difference between Vacth and Amalric comes across as vaguely creepy rather than romantic.
Because there are so many hidden intrigues in Families — just about every character is either having an affair, been cheated on or at one point had a clandestine relationship with another character — the viewer may need to keep notes to stay on top of all the scandals. In a rich melodrama, those long-buried secrets have a combustible quality, the fallout affecting all the other participants. But Rappeneau's film lacks the elegance or the tartness to be the grand saga it longs to be. And that leaves underused supporting players such as Karin Viard and André Dussollier feeling very much like the audience: on the outside looking in.
Production companies: ARP, TF1 Films Production, Canal +, OCS, TF1, HD1, Région Ile-de-France, Centre National du Cinéma et de l'Image Animée
International sales: TFI International, sales@tf1.fr
Producers: Michèle and Laurent Pétin
Screenplay: Jean-Paul Rappeneau, Philippe Le Guay, Julien Rappeneau; based on an original idea by Jean-Paul Rappeneau & Jacques Fieschi
Cinematography: Thierry Arbogast
Editor: Véronique Lange
Production design: Arnaud de Moléron
Music: Martin Rappeneau
Main cast: Mathieu Amalric, Marine Vacth, Gilles Lellouche, Nicole Garcia, Karin Viard, Guillaume de Tonquedec, André Dussollier, Gemma Chan