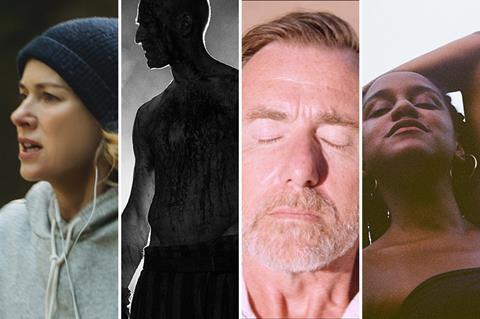 Ben Foster playing a concentration camp survivor, Jessica Chastain and Ralph Fiennes dealing with the aftermath of a fatal accident, and Naomi Watts as a mother during a school shooting are among the crop of acquisition titles in selection at 2021 Toronto International Film Festival (TIFF).
Joining them are well received available films that just premiered in Venice from Mexico's Michel Franco, 2015 Golden Lion winner Lorenzo Vigas, Argentine duo Gastón Duprat and Mariano Cohn, and Uruguayans Rodrigo Plá and Laura Santullo.
The first public screenings in Toronto and P&I screenings (or digital screenings where accessible worldwide) are listed for each film in Eastern Time. Individual browsers will post times based on the viewer's location. Check the TIFF website for the full schedule. TIFF runs September 9-18.
The Survivor (US-Can-Hun), Gala Presentations
Dir. Barry Levinson
Ben Foster stars in the true-life drama as Auschwitz survivor Harry Haft, who was ordered to contest dozens of bare-knuckle bouts against fellow inmates and moved to New York after the war in the hope of finding his lost love. Vicky Krieps, Billy Magnussen, Peter Sarsgaard and Danny DeVito also star in the Bron Studios and New Mandate Films production.
Premiere: September 13, 5.30pm, Roy Thomson Hall; P&I 8.30pm, Scotiabank
Sales: worldwide – Endeavor Content
Lakewood (Can), Gala Presentations
Dir. Phillip Noyce.
Naomi Watts plays a mother who races to save her child as authorities pursue a shooter. The drama financed by Limelight and Boies/Schiller Entertainment filmed during the pandemic and wrapped in Ontario last October. Mister Smith has sold multiple territories including France, Germany, Austria, Italy and Spain to Wild Bunch.
Premiere: September 12, 12.30pm Roy Thomson Hall; P&I 4pm TIFF Digital Cinema Pro
Sales: international – Mister Smith; US – CAA Media Finance / Endeavor Content / UTA Independent Film Group
Dashcam (UK-US), Midnight Madness
Dir. Rob Savage
Blumhouse Productions and Savage (Host) team up on a horror framed as a livestream about a musician who breaks quarantine in Los Angeles and flees to London where a bad reunion with former bandmates sparks a chase through the English countryside.
Premiere: September 11, 11.59pm TIFF Bell Lightbox; September 12, P&I 12.30pm Scotiabank
Sales: Endeavor Content
The Good House (US), Gala Presentations
Dirs. Maya Forbes, Wallace Wolodarsky
Sigourney Weaver and Kevin Kline star in the adaptation of the Ann Leary novel about a New England realtor who confronts decades-old issues when she rekindles a romance with her high-school flame. Forbes previously directed Infinity Polar Bear.
Premiere: September 15, 7pm Roy Thomson Hall; September 16, P&I 11am TIFF Bell Lightbox
Sales: worldwide – ICM Partners / UTA Independent Film Group
Montana Story (US), Platform
Dirs. Scott McGehee, David Siegel
Haley Lu Richardson and Owen Teague play estranged siblings who return to the family ranch to care for their ailing father. McGehee and Siegel are TIFF regulars whose prior selections include What Maisie Knew, Bee Season and Uncertainty. The film shot in Montana late last year during the pandemic.
Premiere: September 11, 4.30pm TIFF Bell Lightbox; September 12, P&I 1pm TIFF Digital Cinema Pro
Sales: worldwide – ICM Partners

The Forgiven (UK), Gala Presentations
Dir. John Michael McDonagh
Ralph Fiennes, Jessica Chastain, Matt Smith and Caleb Landry Jones star in the latest drama from McDonagh (Calvary, The Guard) about a divorced couple who must reckon with the fallout after they accidentally kill a Moroccan man on the way to a debauched party. MadRiver International licensed international rights to Focus Features.
Premiere: September 11, 5.30pm Roy Thomson Hall; September 12, P&I 4pm TIFF Digital Cinema Pro.
Sales: US – CAA Media Finance
Beba (US-Mex), TIFF Docs, TIFF Next Wave
Dir. Rebeca Huntt
New York-born Afro-Latina Rebeca "Beba" Huntt's self portrait documentary uses a variety of visual techniques as she explores historical, societal, and generational trauma.
Premiere: September 11, 6pm TIFF Bell Lightbox; September 12, P&I 4pm TIFF Digital Cinema Pro
Sales: UTA Independent Film Group
Charlotte (Can-Fr-Bel), Special Presentations
Dirs. Eric Warin and Tahir Rena
Keira Knightley leads the English-language voice cast on the animated feature about Charlotte Salomon, a German-Jewish artist who comes of age on the eve of the Second World War. Marion Cotillard leads the voice cast on the French-language version. Elevation will release in English-speaking Canada and mk2/Mile End will distribute in Quebec.
Premiere: September 13, 6pm Princess of Wales; September 14, P&I 9.30am TIFF Bell Lightbox
Sales: Ashley Alexander, Sierra/Affinity
All My Puny Sorrows (Can), Special Presentations
Dir. Michael McGowan
Sarah Gadon and Alison Pill play sisters – one a suicidal concert pianist, the other a children's author with a complicated life – who contemplate their father's suicide and their strict Mennonite upbringing in an adaptation of Miriam Toews' novel. Mongrel Media will distribute in Canada.
Premiere: September 10 P&I 2pm Scotiabank; September 11, 5.30pm Princess of Wales
Sales: Voltage Pictures
Dionne Warwick: Don't Make Me Over (US), Special Presentations
Dirs. Dave Wooley, David Heilbroner
The documentary about music icon and Black and LGTB activist Warwick comes at a popular time for music-related documentaries and films. Alison Klayman's Alanis Morisette doc Jagged screens in TIFF and Todd Haynes's The Velvet Underground went down well in Cannes this summer.
Premiere: September 11, 2pm Princess Of Wales; September 12, P&I 9.30am TIFF Bell Lightbox
Sales: international – Mister Smith; US - Endeavor Content
Hold Your Fire (US), TIFF Docs
Dir. Stefan Forbes
Forbes spent seven years and interviewed hostages and gunmen on the Interpositive Media documentary about the longest hostage siege in New York Police Department history — a stand-off that began with a robbery at a sporting goods store in Brooklyn.
Premiere: September 10, 6pm Scotiabank; September 11, P&I 10am TIFF Bell Lightbox
Sales: Ben Schwartz, Submarine Entertainment
From Venice:
The Other Tom (Mex-US), Contemporary World Cinema
Dirs. Rodrigo Plá, Laura Santullo.
The US-set story from the Mexico-based filmmakers centres on a headstrong single mother in El Paso, Texas, who risks losing her son to social services when she refuses to administer his ADHD medication. Julia Chávez and Israel Rodríguez Bertorelli make their acting debuts. The film premieres on the Lido today (September 9) before its North American debut a week later.
Screening: September 15, P&I 4pm TIFF Digital Cinema Pro; September 16, 6pm TIFF Bell Lightbox
Sales: Paul Hudson, Outsider Pictures
Official Competition (Sp-Arg), Special Presentations
Dirs. Gastón Duprat, Mariano Cohn
The Argentine duo behind The Distinguished Citizen earned rave reviews in Venice for their film industry satire about a difficult director (Penelope Cruz) who shoots a prestige film starring two equally taxing actors played by Antonio Banderas and Oscar Martinez.
Screening: September 14, 9.30pm Princess of Wales
Sales: international – Protagonist; North America – CAA Media Finance
Sundown (Mex), Special Presentations
Dir. Michel Franco
Franco's returns to the fall festival circuit one year after the shocking New Order with a more sedate albeit no less disturbing exploration of class and violence. Tim Roth and Charlotte Gainsbourg play wealthy holiday-makers in Acapulco who receive bad news.
Screening: September 12, 7.30pm Scotiabank; September 13, P&I 1.30pm Scotiabank
Sales: international – The Match Factory; North America – ICM Partners
The Box (La Caja, US-Mex), Special Presentations
Dir. Lorenzo Vigas
The director of 2015 Venice Golden Lion winner From Afar focuses on the Mexico-set tale of a young boy who becomes exposed to a sinister underworld when he goes to collect his father's ashes and believes he sees the man on the street.
Screening: September 9, 5pm TIFF Bell Lightbox; September 10, P&I 1.30pm TIFF Bell Lightbox
Sales: international – The Match Factory; US – ICM Partners