Margot Robbie earned a double Bafta nomination for two powerful performances this season - Bombshell and Once Upon A Time… In Hollywood. The actress talks to Screen about her year of plenty.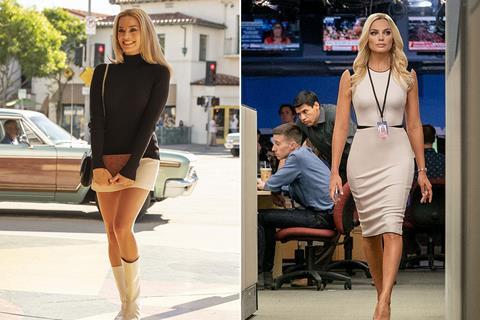 As soon as Margot Robbie read Charles Randolph's screenplay, she felt a moral obligation to join the cast of Bombshell — the #MeToo drama that offers a searing look at the predatory workplace culture prop­agated by late Fox News chief Roger Ailes. In fact, the very first line pulled the rug from beneath her feet.
"It defines sexual harassment as any unwanted sexual advance and so on," notes Robbie, who said the breadth of the definition made her reflect, and realise it "covered a whole grey area that people had been taking advantage of, and that was what Roger Ailes had been doing".
The Australian actress plays Kayla Pospisil in the film, a (fictitious) newcomer at the network where more experienced (real life) colleagues Gretchen Carlson and Megyn Kelly (played by Nicole Kidman and Charlize Theron, respectively) have already set wheels in motion that will bring down Ailes (John Lithgow). Kayla is finding her feet at Fox News, and in one scene ends up alone in Ailes' office as the executive coaxes his increasingly distraught employee into hitching up her skirt.
"I wanted other people to recognise… it's a danger when people, as Roger Ailes did, took it one step further than a person thought they could ever tolerate and did it again and again and again until they were in this horrific circle of abuse," says Robbie, who has earned Golden Globe, Screen Actors Guild and Bafta supporting actress nominations for her role.
Power play
Besides the ethical compulsion to be part of the project, Robbie — who before the cameras rolled on Bombshell in autumn 2018 had broken out in Martin Scorsese's The Wolf Of Wall Street, starred in Suicide Squad and earned an Oscar nomination for I, Tonya— knew she could not pass up the opportunity to work with director Jay Roach and the high-calibre cast. "It was a no-brainer from a professional point of view."
On her first day on set, she recalls being transfixed by an exchange where Ailes enters the newsroom and yells at Carlson, the Fox News anchor who eventually sued him for sexual harassment in July 2016, triggering events that led to his departure later that month.
"Nicole was giving the lines on the page so much meaning and power and I thought, 'Holy shit, that is why she's Nicole Kidman — because of that, right there.' You could feel waves of energy coming off her, it was quite surreal. And then the same thing in my first scene with Charlize. I was blown away by her, even more so when I watched the cut of the film. You could see how she mapped out the trajectory of her character."
As for the scene in Ailes' office, Robbie says she was in safe hands with Roach and Lithgow — two men who she describes as kind, sensitive and responsible. She and Lithgow, buried under prosthetics to play the corpulent executive, would check in with each other after every take. "I wouldn't have wanted to be in that room with anybody else… It was a strange scene as an actor. You know the situation isn't real, but you know situations like this are occurring all the time right now in different industries around the world, and it felt real because of that. It had a gravitas behind it."
Robbie has felt the power of being in a room with male decision-makers, and while she acknowledges a "huge amount of opportunity and respect" from men she has worked with, there is no getting away from the gender politics. "I started producing when I was 24 and I've always been very aware that I'm not just a woman in the room, I'm also a young woman in the room, and on top of that a young female actress.
"There are many reasons I've felt people might be reluctant to take me seriously as a producer or as a businesswoman. I don't know how much of that is inside my head or from whatever else is going on in the room. But yes, there is a subconscious tendency to direct the questions at the men I'm standing next to… even when it's a question directed at me."
Robbie can also be seen this season as Sharon Tate, the late wife of director Roman Polanski who glides through Quentin Tarantino's Once Upon A Time… In Hollywood in wide-eyed wonder, offering an ethereal alternative portrait of a woman whose name will forever be associated with her untimely demise at the hands of the Manson Family. She says she knew very little about Tate, and fell in love when she researched the role. "She was pure of heart and hopeful and innocent and in that way she represented the hopefulness of the 1960s… I often think about the roles she might have taken next."
As an actor and producer at her LuckyChap Entertainment (she produced and starred in Craig Gillespie's I, Tonya, Vaughn Stein's Terminal and Miles Joris-Peyrafitte's Dreamland), Robbie — now reprising her role as Harley Quinn in the Suicide Squad off-shoot Birds Of Prey — has carved out an impressive career since starting out on well-known Australian soap Neighbours 11 years ago.
"The Wolf Of Wall Street [in 2013] was my first US movie and in a lot of ways it was my introduction to the industry and not to mention was a Martin Scorsese film, so already a dream come true," she says. "It was a huge milestone. I learned so much. The next milestone was I, Tonya [in 2017], which was the first time I had played a lead role and I was also producing — it was the second film we [LuckyChap Entertainment] ever produced and it worked out exactly as we'd hoped, which is not always the case with independent movies."