In Bombshell, the story of the harassed women who took down Fox News boss Roger Ailes, Charlize Theron initially resisted the role of network star Megyn Kelly. She tells Screen what changed her mind.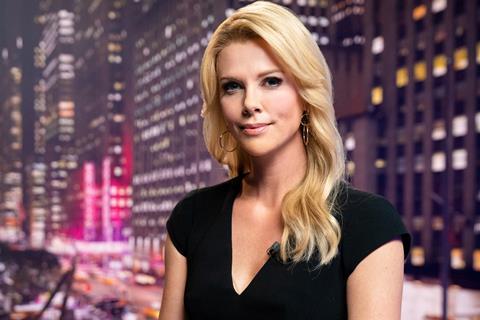 Charlize Theron says it was an easy decision to board Bombshell as producer when Annapurna Pictures sent her the script about the female Fox News anchors who brought down network head Roger Ailes over sexual harassment allegations.
Committing to the lead role of hard-hitting network journalist Megyn Kelly was not so straightforward. "It's the quintessential actor insecurity," says Theron. "Maybe there's somebody out there that can do this better than I can and am I going to fuck the movie up?"
She loved Charles Randolph's screenplay and admits she leapt at the chance to help tell a story with strong women as the leads. Once Theron approached Jay Roach (Trumbo, and the Meet The Parents and Austin Powers franchises) and secured his services to direct, she felt confident she could play the role. "That's part of the process I needed to go through," she says. "I don't know if I could have got there by myself."
Roach and Theron conducted rigorous research, flying all around the US to speak confidentially to around 20 women who had worked at the network. With Bron Studios on board as producer and eventually financier, after Annapurna pulled out as Megan Ellison reviewed her company's strategy, Bombshell shot at the end of 2018. Lionsgate will distribute the film in the US on December 20 and in the UK on January 17.
With the aid of uncanny make-up work by Kazu Hiro, the prosthetics wizard who won an Oscar for turning Gary Oldman into Winston Churchill in Darkest Hour, Theron transformed into Kelly, who alleged sexual harassment by the late Ailes a couple of weeks after anchor Gretchen Carlson (played by Nicole Kidman) filed her lawsuit against the Fox News chairman and CEO in July 2016. Many other women followed. Ailes resigned shortly thereafter and Carlson (who remains under a non-disclosure agreement) and 21st Century Fox settled the suit for $20m in September that year.
"I made a conscious decision not to talk to Megyn," says Theron, "because I wanted to have a little bit of breathing room - I didn't want to put pressure on her and I didn't want her to put pressure on me. If I had to do it all over again, I would do it the same way."
Bombshell plays like a thriller as Kelly and Carlson weave their way through the Fox News labyrinth, huddle with their teams, try to ascertain who is doing what to whom, and finally find the courage to take on Ailes, played to suitably oleaginous effect by John Lithgow under heavy prosthetics. Margot Robbie plays a fictitious entry-level journalist who, in one disturbing scene, is sexually harassed by Ailes after she is ushered into his office by his loyal female secretary.
Personal experience
The depiction of toxic masculinity chimed with Theron, a no-nonsense personality who nevertheless has seen gender dynamics play out. "I haven't had an experience like a lot of these women are talking about, but I know the feeling of being in a situation with powerful men where you know how to behave. That tends to be, make yourself smaller, put them up a little higher and, in a weird way, be a good soldier. Partly, I'm to blame because I've played the role and I'm now asking myself where did that come from, because I wasn't raised by a mother that ever taught me to do that."
The conversation turns to the portrayal of Ailes' secretary and female complicity - women who enable men to prey on other women. Theron makes a reference to Ghislaine Maxwell, the socialite who has denied claims she groomed young women for the late, disgraced financier Jeffrey Epstein. "We're not going to get to the bottom of changing anything until we're honest about people's behaviour, and that includes women in all these things we're talking about right now," she says.
Theron is known for her gallery of striking female characters who are tough to like - be it her Oscar-winning portrayal of serial killer Aileen Wuornos in Monster, Imperator Furiosa in Mad Max: Fury Road or corporate executive Meredith Vickers in Prometheus - yet Kelly was a particularly nuanced prospect. "She always talked about [Ailes and sexual harassment] in a very honest way," says Theron, "which was, 'Listen he was great. I liked him. He was charming.'
"Ultimately, it was really hard for her to decide what to do [after Carlson filed suit] and for two weeks she didn't do anything, and left everybody hanging, which sounds really shitty, but when you look at her circumstances she was a rock star at Fox. She was renegotiating her contract over there. She had drive. These are things that a lot of women worked their entire lives for and she was at this fork in the road where she realised she could throw all of this away."
What especially intrigued the actor/producer about Kelly was how she didn't conform to what Theron calls the "Madonna-whore complex" archetype of the female victim expected to behave a certain way and do the right thing. "They're not the women I know," she says. "The women I know are way more complicated than that and I've always wanted to be a part of storytelling that could reflect a little bit more on what it is to be a woman in whatever story you find yourself in, and how the complexities are what make us so interesting. That we can be just as, if not more, conflicted than men. That's incredible. Why are we not celebrating that?"
Theron believes #MeToo has changed things in Hollywood. "In the last five years, I can tell a difference in people's behaviour and their awareness level, and the fact you're seeing more [female] camera operators and focus pullers and it feels way more balanced. I always worry we become complacent because we are seeing change, and we all know what complacency brings. As a producer, I take that responsibility on myself because it's up to us to keep going."
She loved working with her co-stars. "Nicole and I have been trying to work together for over two decades - isn't that so sad that it's taken that long? Nicole was somebody I brought up that Jay was just crazy about and Charles really loved. Margot was the same.
Margot has been somebody for the last five years who has been top of my radar… There was this feeling we were supporting each other. We're told women in Hollywood are competitive among each other, and it wasn't true."