Comedies, action thrillers and family films are just some of the highlights of the eclectic slate on offer from Korean film-makers at AFM.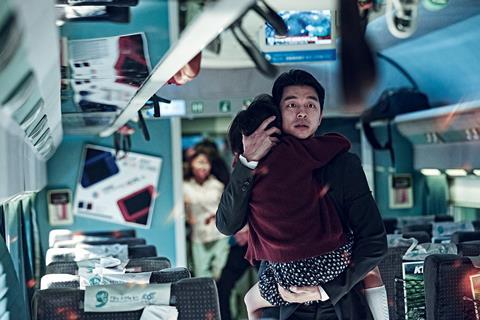 Contemporary South Korean cinema has always been characterised as dynamic, with roots in the country's turbulent social and political realities. This year's crop of films has been no different. Critically acclaimed hits such as Kim Jee-woon's espionage tale The Age Of Shadows, Na Hong-jin's horror film The Wailing, Park Chan-wook's erotic thriller The Handmaiden and two top disaster thrillers with social commentary - Kim Seong-hun's The Tunnel and Yeon Sang-ho's Train To Busan - have all showcased the country's cinematic strengths.
The last of these is the year's top local box-office hit to date. Train To Busan has grossed more than $83.5m in South Korea and almost $45m internationally, according to sales company Contents Panda. Other sellers at Busan's Asian Film Market last month attributed the film's success to renewed interest from buyers looking for more Korean content.
At this year's AFM, Korean sales companies are offering another dynamic raft of films that range from Han Jae-rim's political action drama The King to Park Jung-woo's nuclear disaster film Pandora, as well as films that deal with more personal desperations and fantasies, such as mystery drama A Day or Yunjin Kim-starrer House Of The Disappeared, as well as lighter fare such as romantic comedy Because I Love You
Because I Love You
Dir Ju Ji-hong
This romantic comedy stars Cha Tae-hyun (My Sassy Girl, Hello Ghost) as a man who is preparing to propose to his girlfriend when he is involved in a car accident and left in a coma. He wakes up to find himself in another person's body with no memory of his former self. But he learns that he is capable of waking in other people's bodies and sets out to solve their problems - such as those of a couple on the verge of divorce or another couple in high school dealing with teen pregnancy. Directed by Ju Ji-hong, the film is in post-production, aiming for a November release in Korea.
Contact: Contents Panda sales@its-new.co.kr
Bluebeard
Dir Lee Soo-youn
Lee Soo-youn (The Uninvited) directs this mystery thriller, starring Cho Jin-woong (The Handmaiden, Assassination) with Kim Dae-myung (The Last Princess) and Shin Gu (TV's Dear My Friends). When a doctor sedates his landlord before a medical check-up, the old man starts to make a convincing confession to murder. Later, a young woman's severed head is discovered in a butcher shop run by the landlord's son, and the doctor begins to suspect father and son are serial killers. The film is in post-production.
Contact: Lotte Entertainment international@lotte.net
A Day
Dir Cho Sun-ho
Kim Myung-min (Proof Of Innocence) stars in this mystery drama as a man who keeps living the day he lost his daughter over and over, and tries to find the secret to saving her. Jo Eun-hyung, who played the young Hideko in Park Chan-wook's The Handmaiden, features as the daughter. Byun Yo-han (Madonna, Socialphobia) also stars. Cho Sun-ho makes his feature directorial debut. The film is in post-production and is set for local release in 2017.
Contact: Finecut cineinfo@finecut.co.kr
Hide-And-Never Seek
Dir Doo Lee
Ryu Deok-hwan (Nobody's Daughter Haewon) stars as VJ Glow, a video jockey on a hit horror-based online channel called Glow World. While looking for stories, urban legends and haunted places to showcase, he happens upon a frightening video featuring a girl who went missing while playing one-man hide-and-seek, a game that is said to call forth ghosts. In the video, the girl goes slowly mad. VJ Glow senses a hot scoop and starts searching for her, broadcasting live online. Hide-And-Never Seek is the feature debut from Doo Lee, who has a background in TV commercials.
Contact: Finecut cineinfo@finecut.co.kr
House Of The Disappeared
Dir Lim Dae-woong
Yunjin Kim (Ode To My Father, TV's Lost) stars in this mystery thriller along with K-pop group 2PM's Ok Taec-yeon (A Night Before The Wedding). Directed by Lim Dae-woong (Horror Stories; To Sir, With Love) and written by Jang Jae-hyun (The Priests), House Of The Disappeared is about a housewife who is caught up in a mystery when she returns home after spending 25 years in prison for the death of her husband and her son's disappearance. Currently in production, the film is planned for a 2017 release.
Contact: Finecut cineinfo@finecut.co.kr
The King
Dir Han Jae-rim
Directed by Han Jae-rim (The Face Reader), The King is a political action drama about the glamorous lives, corruption and betrayals of the top 1% of powerful prosecutors in Korea. The film stars Cho In-sung (aka Zo In-sung from A Frozen Flower, A Dirty Carnival) as a young man from a poor family who works through politically turbulent times to become a prosecutor. Jung Woo-sung (Asura: The City Of Madness) appears as a member of an elite group of powerful prosecutors who draw him in and exploit him. The film also features Bae Seong-woo (Inside Men) and Ryu Jun-yeol (TV's Reply 1988), and is in post-production.
Contact: Contents Panda sales@its-new.co.kr
Lucid Dream
Dir Kim Joon-sung
This fantasy thriller stars Ko Soo (The Royal Tailor, The Front Line), Sul Kyung-gu (Cold Eyes) and Park Yu-chun (Haemoo). When Dae-ho's son is kidnapped in a theme park, he gives up his career as a journalist to search for the boy, but to no avail. His psychiatrist friend suggests a new treatment whereby patients fall asleep with the awareness they are dreaming in order to recall lost memories. Dae-ho decides to use the treatment to search for his son and in the process, experiences various side effects and makes unexpected acquaintances. Directed by Kim Joon-sung, Lucid Dream is in post-production.
Contact: Contents Panda sales@its-new.co.kr
Master
Dir Cho Ui-seok
Directed by Cho Ui-seok (Cold Eyes), crime action film Master stars Lee Byung-hun (The Magnificent Seven, Red 2), Gang Dong-won (A Violent Prosecutor, The Priests) and Kim Woo-bin (Twenty, The Con Artists). An investigation into Korea's biggest pyramid scheme reveals a network of conspiracy and corruption extending to CEOs, politicians and bureaucrats. Produced by Zip Cinema, the film is in post-production and is planned for a December release.
Contact: CJ Entertainment filmsales@cj.net
Missing
Dir E.oni
Directed by E.oni (Love Exposure), Missing stars Uhm Ji-won (The Phone, The Silenced) as a hardworking mother in the middle of a custody battle over her daughter. When the girl disappears with her nanny, played by Kong Hyo-jin (Boomerang Family, Crush And Blush), her mother does not dare call the police for fear of losing custody. Instead, she takes on the search herself, chasing after dwindling clues over the course of four desperate days. The film is set for release in Korea on November 30.
Contact: M-Line Distribution sales@mline-distribution.com
Pandora
Dir Park Jung-woo
Korea's first nuclear disaster film, Pandora stars Kim Nam-gil (The Shameless, The Pirates) as a reluctant worker at a nuclear power plant where he lost his father and brother in an accident. With old pipes in the plant corroding, an unexpected earthquake hits and he must prevent an explosion and save his loved ones. The film also features Kim Young-ae (Proof Of Innocence, TV's Doctors), Jung Jin-young (Ode To My Father) and Kim Dae-myeong (Inside Men). Directed by Park Jung-woo (Deranged), Pandora is in post-production. Backed by Next Entertainment World (Train To Busan), the big-budget film is set for wide release in Korea this December.
Contact: Contents Panda sales@its-new.co.kr
The Prison
Dir Na Hyun
Starring Han Seok-kyu (The Royal Tailor, The Berlin File) and Kim Rae-won (Gangnam Blues, Sunflower), The Prison tells the story of what happens when an ex-policeman convicted for a hit-and-run joins a secret crime syndicate behind prison walls, which includes not just inmates, but the warden and guards as well. Na Hyun directs the film, which is planned for release in the first quarter of 2017.
Contact: Showbox sales@showbox.co.kr
Vanishing Time: A Boy Who Returned
Dir Um Tae-hwa
Starring Gang Dong-won (A Violent Prosecutor) and Shin Eun-su in her feature debut, Vanishing Time: A Boy Who Returned is a fantasy drama directed by Um Tae-hwa (INGtoogi: The Battle Of Internet Trolls). Friends Su-rin and Sung-min venture into a cave and find a magical egg which, according to local folklore, contains a time-eating monster that turns children into adults. When Sung-min finds the egg and disappears, the police investigate the case as a kidnapping, but a mysterious grown man turns up and tells Su-rin he is actually her missing friend. The film is set for local release on November 10.
Contact: Showbox sales@showbox.co.kr