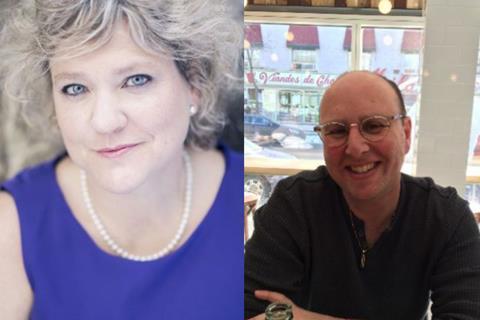 Montreal-based sales company WaZabi Films handles independent and arthouse films from Québec, Canada and the rest of the world.
An independent division of Quebec production group Sphere Media, it also represents the Seville International catalogue. Anick Poirier and Lorne Price are WaZabi's co-presidents.
What's your focus at AFM?

Anick Poirier: We're going to focus on finished films. Drunken Birds, which is representing Canada in the Oscars' international film category, is top of our agenda. And we're working hard on finding partners worldwide for Cadejo Blanco, from Guatemala, which has a thriller side but also interesting character evolution. Then we have genre films we launched at TIFF [Toronto International Film Festival] – Flee The Light and Lantern's Lane.
What's the strategic significance of AFM for you?

Poirier: At TIFF buyers are focused on screenings and AFM is an opportunity to focus on everyone you haven't covered at TIFF. When it happens live, Europeans come to AFM because of the weather, so we're able to zone in on them. It's also a good opportunity for all the Latin American buyers that are coming up now.
What are buyers responding to these days?

Poirier: There's been activity on films aimed at transactional platforms, films that have recognisable casts and a genre side to them. Those films are doing well. It's more challenging for arthouse films that in normal times would have screened at higher level festivals. Producers have suffered because a lot of those films did not go to the festivals they were initially invited to because other films came in and took over.
We're diversifying what we're offering because it's necessary in order to cater to various sides of the market. But we believe in auteur films and films that have a strong vision and strong storytelling.
How do you see the state of theatrical markets around the world?
Lorne Price: Maybe this is wishful thinking but I do think independent film will return to cinemas. We're still in the throes of Covid and there are countries around the world where theatres haven't opened up, or haven't opened to full capacity. Until that happens we won't know where we're going to be.

Poirier: When we're talking to theatrical buyers in Europe, a film really needs to hit the spot of what they're looking for. Those small, first-time auteur films are going to struggle to find a place in cinemas for sure. Films that get recognition at the A-list festivals are struggling unless they win prizes at the festivals.
It's important that we're fighting for the theatrical lives of these films. And I think what's happening is the smaller distributors that maybe weren't getting strong films before now have strong films because the bigger guys are focusing on bigger films.
Film markets have changed during the pandemic. Will elements of virtual markets endure once the pandemic is behind us?
Poirier: A lot of companies find it much cheaper to operate virtually. But there's another side of the business where everyone's dying to see people and get that energy. Sales people need to get motivated, buyers are used to personal contact and distributors want to talk to peers in other territories so they can exchange notes. All of this is very important.
My question is, will there be as many markets as there are now. Maybe you'll have a virtual part of your market and then limit the number of days you go to the physical market.
Has the Canadian film industry received enough government support during the pandemic?
Poirier: The Canadian industry is in okay shape because the government's so present. The Quebec government has been very supportive of its filmmakers. These are important businesses for Canada because they're very lucrative, they provide high-paying jobs, they provide solid employment for many people.
Has there been enough support for Canadian film sales companies?
Poirier: It's an everlasting battle. The Quebec government has been a little bit more supportive. When you're a big government institution like Telefilm Canada [which funnels support from Canada's federal government], reinventing programmes is a bit more difficult. There needs to be a little more concern for the sales agents in Canada, there's no question.
WaZabi has been a champion of Canadian film and emerging filmmakers. Are they still coming through in the country?
Price: There's a lot of talent coming out of Quebec and Canada. Quebec is kind of separate from Canada in terms of how it develops talent. It doesn't hurt that the biggest filmmaker in the world today, Denis Villeneuve, is from Quebec. That inspires people, and hopefully it makes the rest of the world look to Quebec to figure out who's next.