Afterimage producer Michal Kwiecinski tells Geoffrey Macnab why Andrzej Wajda's film about a great Polish artist is a fitting tribute to the late director's remarkable career.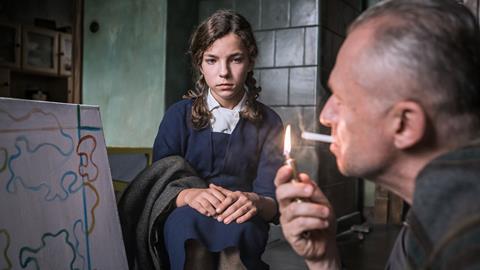 The last words uttered by the great Polish film-maker Andrzej Wajda before his death in October 2016 were to do with his work. The 90-year-old director, who had just been admitted to hospital, apologised to his producer Michal Kwiecinski that he had not had the time to read a new script he had been given.
This was only a week or so after Wajda's latest feature, Afterimage, had been chosen as Poland's foreign-language Oscar candidate. The director had a heart problem but he did not think it was serious and expected to travel with his film to Rome Film Festival. In the event, he died a few days later.
Afterimage marks a fitting endpoint to a directorial career that began more than 60 years ago. It is a film about the last days of Polish avant-garde artist Wladyslaw Strzeminski, who fell from grace in the late 1940s because he refused to accept the Stalinist doctrine of social realism.
Strzeminski, who died in 1952, had taught at the arts school in Lodz, and Wajda - then a young student at the Polish city's renowned film school - was old enough to remember him at first hand.
Kwiecinski produced Wajda's passion project Katyn (2007), about the massacre of Polish officers by the Russians in 1940, and had also worked with him on documentaries, plays and TV projects.
"Twenty years ago, when I met him [Wajda], he had this list of films he wanted to make," Kwiecinski recalls. There were many titles on the list which, over the years, was whittled down. Some projects were completed, others put to one side. "Afterimage was the last title on this list he wanted to do."
The story is about an artist struggling to keep afloat in a totalitarian society, and many different writers worked on versions of the screenplay, the most influential of whom was Andrzej Mularczyk, who also worked with Wajda on Katyn. The film concentrates on a few years towards the end of its subject's life, and does not deal with Strzeminski's relationship with his wife and artistic partner, Katarzyna Kobro, a major figure in Polish culture herself. The director believed that would have taken another movie.
Wajda was initially wary about the decision to put Afterimage forward as Poland's Oscar candidate. He had received an Academy Award for lifetime achievement in 2000, and felt that it might be more appropriate to give the opportunity to a younger film-maker. When the Film Commission decided Afterimage was the film with the best chance of Oscar glory, however, the director was delighted - and energised. "He said it made him feel younger than 90," says Kwiecinski.
Contemporary themes
Afterimage was not intended as a directly political film but many regard it as allegorical of contemporary Poland, where the right-wing Law and Justice party swept to power last year. To its critics, the new party seems as repressive and authoritarian as its Soviet antecedents. Wajda, who lived through the Second World War, the Communist era and the Solidarity period, was well accustomed to political upheaval. Kwiecinski says the film-maker was "depressed" about the election of the new government, but that he did not make Afterimage to attack the politicians.
The Polish government has not yet responded to the film, which will have its official premiere in Poland in January. Yet, in the wake of Wajda's death, Kwiecinski is not expecting a hostile response. The storyline attacks the Communist system in the Soviet era and the Law and Justice party is strongly anti-Communist itself, so is likely to approve of at least that aspect.
Kwiecinski suggests that Wajda's interest in Strzeminski was not primarily in the artist's political life but in the fact an artist of such stature, who knew and worked with Kandinsky, Chagall and Rodchenko as equals, ended up dying such an obscure death. Strzeminski (played by Boguslaw Linda) had lost an arm and a leg during the First World War, and the film uses CGI and green-screen to portray his disability. He was a stubborn figure, absolutely dedicated to his work, outspoken and "very serious".
"I think he [Wajda] would have liked to be an artist like this but it was impossible," Kwiecinski suggests. As a film-maker, the producer explains, you have to compromise and collaborate in a way that an artist does not.
Afterimage, which has been feted at festivals all over the world, is sold internationally by Films Boutique. The US release is being handled by Film Movement. It is fitting that Wajda was working at full tilt right until the very end. And to his producers, it is the perfect film with which to round off the 90-year-old auteur's career, the last on that long list of titles he was determined to make before he died.