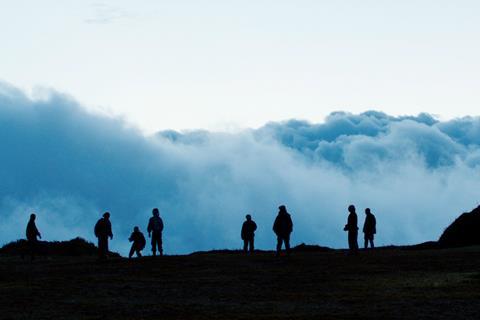 Alejandro Landes has summoned a mighty spirit in his third film and Sundance World Cinema Dramatic selection Monos that crowbars its way into the psyche and squats there long after viewing.
Ostensibly a survival drama involving the titular unit of Colombian child soldiers on the run from government forces, the co-production between Colombia, Argentina, Netherlands, Germany, Sweden and Uruguay evokes Lord Of The Flies and Heart Of Darkness, but might also be described as Beasts Of The Southern Wild through a glass darkly.
"I like to think of it more of a tattoo than a picture," says Colombian-Ecuadorian filmmaker Landes, whose Cocalero played Sundance in 2007 and seems happiest talking up the film's fever dream element, intensified by Mica Levi's sparse score. The chief locations were the ethereal high-altitude Chingaza national park setting where the youngsters live a feral existence in isolation far from civilisation, and the rarely-seen jungle setting of the Samana River where the action heats up.
Landes, who moved to New York about 18 months ago, says Monos "is very much its own type of cat" and can stand on its own two feet as a survival adventure story. However there's no getting away from the fact that it is also a metaphor for Colombia's uneasy peace after years of civil war. "There was this very young and fragile dream of hope [in Colombia] and I saw that coming and the film was a desire to make something that flirted with the war genre and had that Buñuel idea of film as a waking dream."
Julianne Nicholson plays the unit's American hostage and joins former Disney child actor Moises Arias and a cast of Colombian unknowns plucked from a nationwide pool of more than 800 hopefuls. Landes put them through boot camp so they would bond, and rewrote parts of the screenplay to suit the actors once he settled on roles.
With Le Pacte on board at script stage, the nine-week production started in late 2016 and took its toll. Oxygen was sparse in the cold, remote highlands. They slept in tents in the jungle and ate rations. Everyone got sick with something or other, while the director himself came down with suspected appendicitis and was carried by gold prospectors on a stretcher for five hours to the nearest medical centre.
The director recalls howling in frustration because renowned underwater cinematographer Peter Zuccarini (All Is Lost, Pirates Of The Caribbean) was due to arrive for a three-day stint. There was no appendicitis and Landes managed to complete his film, which also screens in Panorama in Berlin next month. "It was the most beautiful thing I've ever done."