Annemarie Jacir's Nazareth-set father-son story Wajib explores Palestinian traditions and familial responsibility. The filmmaker talks to Screen about the 'crazy' decision to shoot in the biblical city.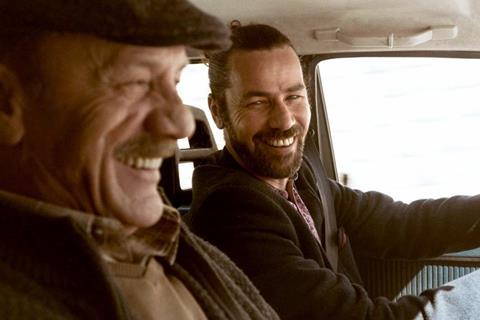 Palestinian filmmaker Annemarie Jacir returns to the foreign-language Oscar race for the third time in her 17-year career (after Salt Of This Sea in 2008 and When I Saw You in 2012 were also her country's submissions, although neither made the nominations shortlist) with Nazareth-set estranged father and son comedy-drama Wajib. "It's about a father and son who have a fragile relationship, a tension between them, but they have to spend a day together hand-delivering these wedding invitations per the local custom in which the men of the family go house to house inviting each guest," explains Jacir.
It is the first time the director has filmed in Nazareth. Beyond its biblical fame, the city has strong cinema links as the birthplace of filmmakers Michel Khleifi, Elia Suleiman and Hany Abu-Assad, who shot their respective features Wedding In Galilee, Chronicle Of A Disappearance and Omar in the city. Previous history, however, did not make people open to the shoot of Wajib.
"It's a tough place to shoot in," Jacir admits. "Hany and Elia both told me, 'You're crazy if you want to shoot a film there.' And it's true. I've shot in so many Palestinian cities: Ramallah, Jaffa, Jericho, Bethlehem… In Ramallah, they went out of their way to help us, brought food to the set — that was not the case in Nazareth. Maybe it's like New York; they've had so many films shoot there that they're just sick of cinema."
Call of duty
Jacir's initial inspiration for Wajib, which translates from Arabic to English as "duty", came from observing her husband, who hails from Nazareth, delivering invitations with his father for her sister-in-law's wedding. It also grew out of a desire to explore the crosscurrents in the city provoked by the complicated status of its 76,000 inhabitants, who are Palestinian but administratively classed as "Arab citizens of Israel" due to Nazareth being situated within Israel's 1948 borders.
"It is a city that is undergoing such an identity crisis and living so many contradictions," says Jacir. "This is one Palestinian tradition that they're really holding on to, more than in other cities where their identity isn't being threatened in the same way.
"It's a very tense place," she continues. "At the same time, there is this very dry humour, which is typical of people all over the world when they're living in difficult conditions. All you have sometimes is humour, it's a survival mechanism. I wanted to capture that. Those are the conversations I hear, those are the people who I know, who I recognise. That's the life in Nazareth despite all this craziness."
Veteran actor Mohammad Bakri co-stars opposite his real-life son Saleh Bakri, a longtime Jacir collaborator, as father and son Abu Shadi and Shadi. Jacir admits she hesitated before casting Palestinian acting royalty Bakri Sr. "When Mohammad enters a room, all eyes are on him," she says. "But the character of Abu Shadi is not this cool, good-looking man with confidence. He's a broken man. We met for a coffee and had a frank conversation about my concerns and he was like, 'I know it will be the challenge of my career.' He completely transformed himself for the role."
Life changes
Much has changed in 43-year-old Jacir's personal life since her previous feature, 2012 Berlinale selection When I Saw You, about a young boy growing up in a refugee camp in Jordan in the late 1960s, won a number of festival prizes. She has become a mother and also moved from Jordan, where she was living in semi-exile, to Haifa in northern Israel. It is one of the few places in Israel where Palestinians and Israelis live relatively peacefully side-by-side, although Jacir suggests there is little interaction.
Jacir retains strong links with her birthplace of Bethlehem, where she and her sister Emily are restoring and transforming her family's 138-year-old ancestral home — Dar Jacir — into a cultural centre and artists' retreat. She is also mulling future projects. "I would like to work with a writer because I always write my own films," she says. "I have an idea but would be open to other ideas. As a Palestinian, I know there is always another side to the story. I like underdogs and stories of marginalised people because I relate to that. It would always be something about outsiders."
Wajib, a multi-territory co-production (between Palestine, France, Germany, Colombia, Norway, Qatar and UAE), premiered at Locarno Festival in August and has gone on to play Toronto, London and Busan. Pyramide International is handling world sales rights and will also release the film in France.