Screen's inaugural Arab Stars of Tomorrow showcases the region's up-and-coming young talent. Writer-director Mounia Akl's short Beirut, I Love You set the former architecture student on a path to Cannes and DIFF.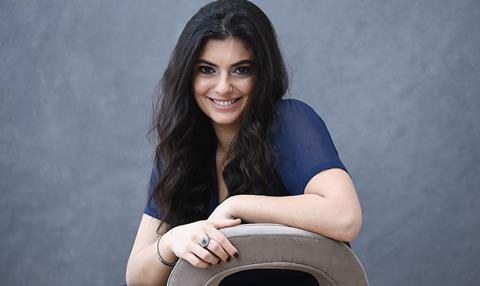 Mounia Akl
Writer-director (Lebanon)
"I think I started watching Bergman films way too young," jokes Lebanese film-maker Mounia Akl, the daughter of cinephile architects whose passion for cinema stoked her early ambition to become a director. Akl took a while to embrace her childhood dream, however, opting instead to study architecture at the prestigious Lebanese Academy of Fine Arts (ALBA) on leaving high school.
"At 17, I was too scared to plunge directly into cinema. It seemed too risky. I half regret that but at the same time going to architecture school was a wonderful experience. It taught me a lot of things, from work discipline to my understanding of space, and got me where I am today. What I learned there became an inherent part of my film-making," says Akl.
Alongside her official studies, Akl devoured books on film-making and attended cinema workshops when possible. It was at one of these events that she met future collaborator Cyril Aris, who was working at prestigious management consultant Booz & Co, but was also desperate to move into cinema.
The pair decided to collaborate on a joint short film, Beirut, I Love You (I Love You Not), in which they made a short visual letter to one another on a VHS camera. "It's not a masterpiece, but it started everything for me. We posted it online for our friends to see, at a time when YouTube was not really what it is today. A week later the movie went viral," recalls Akl.
Following that success, Akl and Aris were approached by the Lebanese Broadcasting Corporation (LBC) to create a spin-off. It became the hit series Beirut, I Love You, which spanned some 50 short episodes. "It was scary because we didn't think we had enough experience, but at the same time it turned out to be our film school. We started out with a group of four people and ended up with a crew of 40," says Akl.
Roughly 60% of the crew on Beirut, I Love You serviced her latest award-winning short Submarine, which premiered at Cannes in May and is competing in Dubai International Film Festival's (DIFF) Muhr Short Film Competition.
Inspired by the Beirut garbage crisis of 2015, Submarine is about a young woman who refuses to evacuate her home despite the health threat posed by mountains of rotting refuse. Akl made the work as part of her MFA in directing at Columbia University in New York. She will graduate in January.
She applied to the school in 2012 after completing her architecture degree and when the popularity of Beirut, I Love You was at its height. "I wanted to stop learning on the ground. I really felt the need to actually study film," says Akl. "I came in with a lot of experience but Columbia helped me understand who I was and wanted to be as a film-maker." Beyond that, it has also connected Akl with a group of budding film-makers from across the globe who are now her close collaborators.
They include Spanish writer-director Clara Roquet — who co-wrote Submarine and is now collaborating on Akl's first feature, about a family living in isolation from the world — and Georgian film-maker George Sikharulidze, who edited the short. Further cementing their relationship, Akl, Roquet and Sikharulidze have joined forces with Aris, who is also studying at Columbia, as well as Francisca Alegria and Ugla Hauks, to create the Breaking Wave Pictures film-making collective.
Akl's priority right now is to complete the script for her next feature ahead of Cannes 2017, with the aim of shooting it in early 2018. The Cannes deadline is linked to the fact she is participating in the fourth edition of Directors' Fortnight initiative The Factory Project, which next year will put the spotlight on emerging talent from Lebanon, having previously focused on young directors from Taipei, the Nordic territories and Chile.
As part of the programme — which pairs an emerging director with a more established talent to make a short film — Akl has been paired with Costa Rican director Ernesto 'Neto' Villalobos. Their joint short film I Can't Hear You Well revolves around a man whose hermetic lifestyle is disrupted by the arrival of his estranged sister. It will shoot in Lebanon early next year.
Contact: Mounia Akl, mounia.akl@gmail
More Arab Stars of Tomorrow: