SCREEN SUBSCRIBERS: In an exclusive interview only weeks into his four-year term as the head of Argentina's national film body, Alejandro Cacetta speaks to Jeremy Kay about partnering with private investors, embracing a multi-platform future and working with the new government.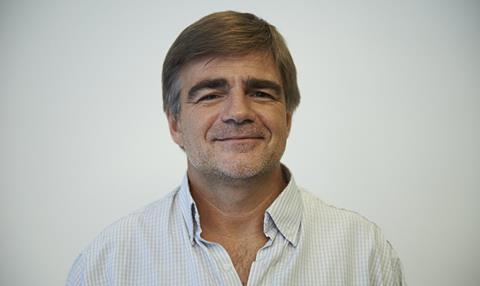 Alejandro Cacetta worked at Patagonik Film Group for the past nine years, serving as producer and CFO. Previously he spent five years at Pol-ka Producciones. Now he is in the hotseat as president of national film body INCAA.
What are INCAA's goals in the years ahead?
We have five clear points: create a new audience with educational programmes and analyse the best distribution platforms; generate multiplatform productions; support and assist production in the interior of our country, which in turn will generate the creation of new audiences; develop and strengthen our international relations with multilateral original productions and production services; and work with private investors to develop a more sustainable audiovisual business.
Does Mauricio Macri's government pose challenges or offer opportunities?
Both. We have great challenges ahead, which create new and better opportunities. We must increase the quality of our productions and the way we reach a broader audience. We have a more competitive economy and we have more experience in comparison to five or 10 years ago, so we can capitalise on both aspects offering our services abroad.
Will economic circumstances allow the Argentinian film business to grow?
In general terms, yes. We have to discuss the way to invest money and create new forms of financing within our industry. One of our goals is to have more private investment in addition to public investment.
What are the strengths of the Argentinian film industry?
Our stories, our writers, directors, the experience of our producers and the quality of our technicians.
What needs to improve?
We need to generate a larger audience for our films and merge our efforts in film, TV and other platforms. It is the challenge we are proposing to the audiovisual industry.
What are the production incentives for local producers? When do they come under review and will you try to increase them?
The main production incentives are the subsidies that INCAA gives to producers. We will analyse and discuss our plan. I want to increase possibilities to obtain more incentives/investment coming from the private and financial sector and work with the TV business. We want to propose synergies between our film and TV industries and other platforms and we are talking to industry players, different areas of the national government and private investors. There is a lot of work to do, but we are working hard to develop a more sustainable audiovisual industry.
What is the level of local-language productions?
I am collecting information now and plan to make the information public. We have produced more than 120 local films each year. The challenge is to reach the audience for different types of productions.
And international productions shooting in Argentina?
Foreign films shooting in Argentina will increase because we are more competitive now, with the adjustment of the dollar exchange rate, the elimination of financial restrictions [currency controls] plus the great quality we have in our industry. We can receive and send money internationally, which will allow us to be more open.
How has the box office in Argentina performed in the last five to 10 years?
The performance of the box office in Argentina has increased year-by-year. Last year was our best since 1997 — we reached more than 50 million admissions.
What needs to be done to give the best support to local-language films so they can compete with Hollywood imports?
We are working seriously to create and generate audiences for our films… through education programmes and multi-platform [distribution] for different types of productions is a good example to follow. They have developed these kinds of programmes and have a strong audience for local films; auteur films that are less commercial but perform well.
Does INCAA support diversity and women film-makers?
Yes. More specifically, there is a programme called Cine Inclusion and INCAA has supported local festivals with different profiles. Diversity will always be on our agenda.