Armando Iannucci's approach to Charles Dickens' David Copperfield was typically inventive, but in an age of status anxiety the book's key theme needed no updating.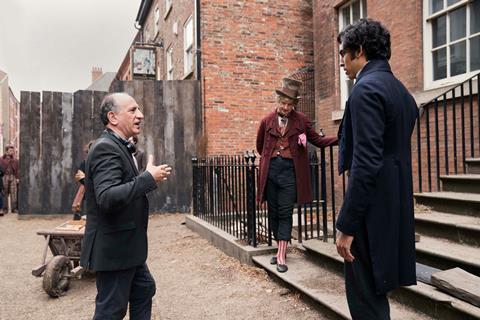 Armando Iannucci departed his hit HBO show Veep after four seasons in the spring of 2016, citing the challenge of maintaining a family life while commuting between the UK and Baltimore. The exit allowed him to make his second feature: satirical comedy The Death Of Stalin, which followed 2009 debut In The Loop.
Around the same time, FilmNation Entertainment approached Iannucci, offering to finance his next film. He surprised the New York-based producer/financier/sales agent by saying he wanted it to be an adaptation of Charles Dickens' 1850 novel David Copperfield — the adventure of an orphan travelling through poverty and relative wealth as he finally finds his calling as a writer.
Born in Glasgow to a family originally from Italy, Iannucci remembers himself as a "bookish, nerdy" child who "lived in the library" and "spent all my pocket money on Marvel comics". It was in the library that he discovered Charles Dickens, not deterred by the author's reputation as "a fusty, bearded Victorian pompous wordsmith", as Iannucci puts it. The young bookworm began, as many do, with Great Expectations: "It's fresh and it's funny, and it's about snobbery and anxiety and do I fit in?"
A conversation about Dickens with regular co-writer Simon Blackwell (The Thick Of It, In The Loop, Veep) prompted Iannucci to reread David Copperfield about a decade ago, and he immediately felt inspired to make a film version of it. His producer partner Kevin Loader was encouraging, despite the fact Dickens adaptations have not always had an easy ride at the box office: versions of Great Expectations by Mike Newell (2012) and Alfonso Cuaron (1998), as well as Roman Polanski's Oliver Twist (2005), all failed to crack £3m ($3.9m) at UK cinemas, although the Cuaron and Polanski films fared well enough globally, clocking up $55m and $43m respectively at cinemas worldwide.
"I remember going to the BBC saying, 'I want to do a political show,' and people there were saying, 'But audiences aren't interested in politics,'" says Iannucci. "So it depends how you do it. I wanted to make David Copperfield funny and not like a costume drama."
The filmmaker says Dickens' book felt especially relevant in the age of social media. "David's defining problem is status anxiety — do I belong here? Will I be found out?" notes Iannucci, who also set out to ensure The Personal History Of David Copperfield (the film reflecting the novel's even lengthier full title) would be unlike all previous Dickens adaptations by virtue of its casting, which sees actors of different races playing roles related to each other by blood. This was partly driven by his desire to cast Dev Patel in the title role.
"I wanted my David to be a little bit like Dickens, and I always imagined Dickens to be the precursor of someone like Chaplin — a comic presence, around whom things revolve, but to whom he can respond in different ways and different styles," says Iannucci. "I'd seen Dev play dorky, awkward, teenage, embarrassed. But it was when I saw his performance in Lion, where he was strong and focused and charismatic, that I said, 'That's David Copperfield.'
"Once Dev is cast as David," he continues, "there is a second of, 'So what do we do? Do we say he had an Indian father who is now dead?'"
Instead, Iannucci cast this thought aside and decided to take inspiration from theatre, where colour-blind casting has been part of the mix for more than a decade. "Having seen [colour-blind casting] in theatre, it's always struck me, why don't we do that in film?" he says. "I wanted this film to sit both in 1850 and in the present day. I was saying to the cast, 'Don't act Victorian, act like we're here now because this is the present day for these people.'"
Actors of colour who joined the cast alongside Patel include Anthony Welsh as Ham, Nikki Amuka-Bird as Mrs Steerforth, Benedict Wong as Mr Wickfield and Rosalind Eleazar as Agnes.
From page to screen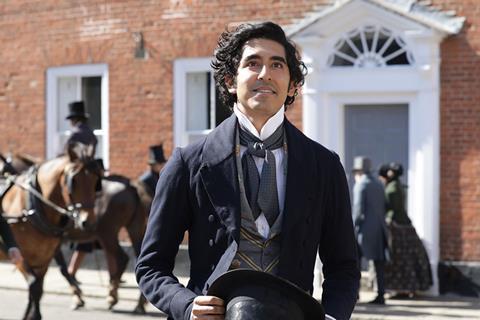 The Personal History Of David Copperfield shot for just over nine weeks in the long, hot English summer of 2018, straddling multiple locations in London, Hull, Bury St Edmunds, Norfolk and Cornwall. The $15.6m (£12m) budget represented a slight step up from the $13m (£10m) for The Death Of Stalin, but, says Iannucci, "It was a bigger beast — a longer shoot, a bigger spread of locations."
FilmNation spread its risk by inviting Film4 on board in May 2018, shortly before shooting began, with Lionsgate UK announced at this time as the UK distributor. Fox Searchlight came in for North America in August 2019, a couple of weeks before the film's world premiere at Toronto International Film Festival.
All of David Copperfield's early backers were willing to go along with the distinctive working method of Iannucci, who directs, writes alongside Blackwell and produces alongside Loader. "I see the script as a starting point," he explains. It is only in the extensive rehearsals that occur shortly before the shoot that the screenplay finds its final form. This means the film is greenlit before the screenplay is camera-ready.
"That's how we did The Death Of Stalin; that's how we did In The Loop," says Iannucci. "They have to sort of trust me. They know how I work and they know there's no point asking to see the final script two months in advance, it's just not going to be like that. But there's nothing secret about it. They're invited along to table reads."
Lionsgate releases The Personal History Of David Copperfield on January 24 in the UK — qualifying the film for February's Bafta Film Awards — but Fox Searchlight is opting for May 2020 in the US, pushing it into the 2021 Oscars. Iannucci faced the same challenge with The Death Of Stalin, which earned two Bafta nominations following its October 2017 UK release via eOne, and then rolled into US cinemas the following March courtesy of IFC Films. "It is what it is and I have no control of that," he says.
David Copperfield has already begun its awards run with five wins at the British Independent Film Awards — for screenplay, casting, costume design, production design and supporting actor Hugh Laurie.
The filmmaker is meeting Screen International in the Soho post-production house for his new HBO comedy series Avenue 5, which is set 40 years in the future and revolves around space tourism. Laurie stars as the captain of the spaceship, which is taking thousands of tourists on a journey to Saturn and back, with Josh Gad as the "Richard Branson-esque figure" who runs the travel company. "Inevitably something goes wrong and the journey isn't eight weeks any more," says Iannucci. "It's not sci-fi, it's really about behaviour and 5,000 people on a massive ship having to get along."
Concluding with a discussion around Iannucci's prominent social media activity (on Twitter he espouses the pro-Remain cause regarding the UK's relationship with the European Union), he connects it to the impact he would like The Personal History Of David Copperfield to have on audiences.
"It so easy in the current debate to portray Britain as isolationist, exclusive, narrow-minded, and that's not Britain," he says. "So this is really a celebration of what I feel Britain is, which has to do with its creativity and scale and ambition and variety."