While cinema closures have become the new normal in most of Europe and North America, several Asian markets managed to keep their doors open for business most of last year. Screen talked to some of the key Asian buyers who are still active in buying and releasing films.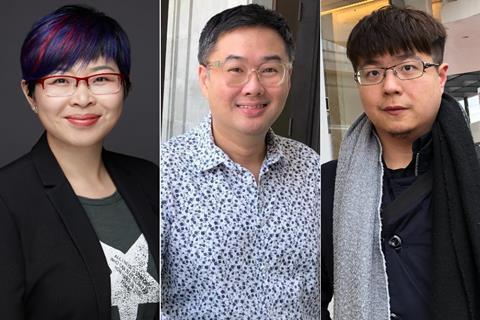 Lim Teck, founder, Clover Films (Singapore)
How has the pandemic affected your business?
We pride ourselves as one of the best distributors of Asian movies in the region. The pandemic has created many new factors which made it very hard to plan. We've experienced the most stressful and chaotic months mainly because the release dates kept changing. Seobok was pulled from December when its domestic release was moved back, which means our $100,000 p&a has gone to waste, including bus stop banners which had to be taken down.
But we are blessed with great timing. It's our joke that we are a lucky charm as the first international territory that Contents Panda's Danny Lee licensed for Train To Busan, way before its Cannes premiere. For Peninsula, we seized the opportunity for a day-and-date with South Korea in Singapore, Malaysia and Vietnam, which delivered an impressive box office of $7.5m from these three territories combined.
Since cinemas reopened last July in Singapore, we have released more than 20 titles, including a new release every week in the last six weeks of 2020. Although cinemas are still capped at about 50% seating capacity, we did well with The Rescue, Soul Snatcher and Shock Wave 2. We also released less commercial but acclaimed titles like the Golden Horse winner Dear Tenant from Taiwan. All in it was still a very productive year for us in 2020.
Did the pandemic change your acquisition patterns? Do you still continue to buy for all of Southeast Asia?
We have great relationship with most sellers, built over many years of collaboration. We have also found new partners such as MirrorFiction and acquired from them another acclaimed Taiwanese title A Leg for all of Southeast Asia.
We have to acquire for Southeast Asia as it gives us a competitive edge. Our recent regional acquisitions include Soul Snatcher, I Remember, Josee and the Chinese New Year title Endgame. But the current pandemic has made it tough to release them in Southeast Asia, other than Singapore. We had titles that were screened for a week in Cambodia and Malaysia that had to be halted due to community outbreak.
What is next?
In the coming months we aim to release in multiple territories Korean titles The Roundup, Pipeline and Seobok. We truly believe in the theatrical window and hope to give audiences the cinematic experience. However, we just have to evolve along with the market and find a balance. Hopefully things will get better soon!
Cindy Lin, founder, Infotainment China Media (China)
During this Chinese New Year, China has delivered two record breaking local hits, with a combined $1.47bn (RMB9.6bn) box office. Will this translate to growth in independent foreign films?
Chinese New Year did very well because people couldn't travel outside the country and chose to go to the cinemas. If you look at the market share, 80% belonged to the top two films, with only 20% left to split among the rest. In the past, the competition was between the top three films, but this year became more extreme, only the top two mattered.
This is a reflection of the K-shaped market in China – big titles get bigger, leaving little room for smaller films. When we released The Aeronauts last November, postponed from March because of the pandemic, it opened at number four in the first weekend and ended up with $3.37m (RMB22m). But we couldn't recoup given the high p&a, including the high print costs on various formats like Imax and 4D. The market for independent foreign films will shrink further in 2021.
If the outlook is less than positive, how will your company cope? Are there new strategies?
Around 5,000-6,000 film and TV companies have closed down in 2020. I feel blessed that we are still in business. I don't want to be too pessimistic, but it's getting extremely tough, like walking on thin air. Audiences are into local films, which are well supported by the government. In a pandemic situation like this, people tend to be more inward looking and have less energy to embrace foreign culture, not just in China, but around the world too.
As a buyer, we can only be more selective and pick films which are really good – films that are just good are not good enough – and we won't rush ourselves into decisions. In addition to our regular niche titles, we are branching out to bigger titles. The Blacksmith that we pre-bought during the pandemic is our first action genre title.
What's next on your slate?
We usually pre-buy a couple of years in advance. Persian Lessons was bought in 2019 before its premiere in Berlin competition in 2020. The film was submitted to the censors around last September and we have just received their approval [on March 9] that it can open on March 19. It's not unusual in China to be given such a short promotion time. We are used to it and we always try our best to promote our titles with the given timeframe. As we speak, the lab is producing 10,000 print copies for release across China. Releasing a film is like preparing for war.
We also have Slalom from Cannes 2020 label on our slate, but its release depends on its worldwide strategy. To complement our theatrical business, we also handle straight to VOD titles. Last year, we put 13 such titles on Youku for streaming. The top three most popular titles from that batch are Pure As Snow, The Disastrous Life Of Saiki K and Eating Woman.
Albert Yao, head of acquisitions, Swallow Wings Films (Taiwan)
Taiwan is one of the rare markets in which cinemas remained open throughout the pandemic. Has it been business as usual for you as a specialist in foreign-language films?
We slowed down in the first half of 2020 due to uncertainties. As the seating limitations for cinemas were removed in early June, we started to release two to three titles a month from July onwards, with a total of 21 foreign titles in 2020. These included Oscar winner and nominee Les Miserables and For Sama, and several European local box office hits like Pinocchio, Just Retired and The Collini Case.
The most successful from last year was Lunana: A Yak In The Classroom, a surprise hit from Bhutan which grossed over $250,000 in 15 cinemas. This year, we will release approximately 12 titles by the end of June.
You are a regular at film markets. How did you conduct business and discover new gems during the pandemic?
After Berlinale 2020, my last physical market, we continued to set up meetings with sales agents during virtual markets. It would be tough to do acquisitions for independent films without festivals and media coverage.
Some of our recent acquisitions are Gagarine, Gunda, The Painter And The Thief from virtual Cannes, and independent Irish film Extra Ordinary, the HD version of The Lives Of Others, five restored films by Abbas Kiarostami such as The Wind Will Carry Us and Taste Of Cherry from virtual AFM. We are still able to acquire exciting titles online, but we miss the human interaction in the pre-Covid days when we could chill out with people over drinks.
How did you find the first virtual EFM?
We were looking for new titles for fall or for 2022 in EFM. The market was quite short and intense, all packed within five days, but it's a good experience with this first virtual edition. I can select my time zone in Taiwan and didn't have to stay up late for the screenings. We usually secure the acquisitions before the awards announcement. Among the several titles we bought was Bad Luck Banging Or Looney Porn, which is the sixth film that became a Golden Bear winner that we have acquired since 2011's A Separation.