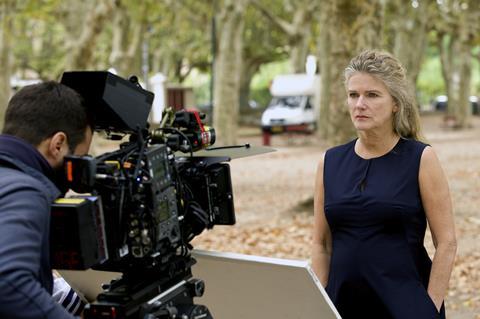 Over the years, Barbara Sukowa has played many formidable and glamorous characters on screen: philosophers and political firebrands such as Hannah Arendt and Rosa Luxemburg as well as her share of femmes fatales. She was one of Rainer Werner Fassbinder's muses.
But it is her sly, tough presence in what might superficially appear to be a relatively low-key role — a woman of a certain age who has been in a closeted lesbian relationship for many years with her next-door neighbour — that is winning a whole new generation of fans.
Two Of Us — in which she stars opposite Martine Chevallier, the equally renowned French stage and screen star, for first-time dramatic feature director Filippo Meneghetti — is France's submission to the international feature film Oscar, and made the shortlist of 15. The film was also nominated at the Golden Globes in the foreign-language category, losing out to Minari.
Meneghetti had written the script with his partner Malysone Bovorasmy. Sukowa wanted to check he was more than just a talented writer before committing to the project. "So I tried to find out more about him. I found out he was a young man. I thought that was really interesting, the view of a young man on two older women," she explains.
Mature insights
When Sukowa finally met the director, she was struck by his passion and patience. At the time, she was still shooting Syfy's 12 Monkeys TV series and Chevallier was working on stage. "I was quite impressed when he said, no, he was going to wait for us. I thought he had mature insights," she says. "He had quite a hard time financing it. If they were two younger actresses, it would probably have been easier for him."
Italy-born but French-resident Meneghetti, for his part, says he had followed Sukowa's work for many years, "and have always loved her charismatic presence on screen. She has the boldness needed to play the character of Nina as I imagined the role, and also the courage to represent age in an honest way."
Sukowa and Chevallier had little time to prepare. "What we did was open up to each other quickly — we told each other about intimate things that you wouldn't just tell a stranger. We talked about love and heart pain, erotic [desire] and things like that."
The two women quickly struck up a rapport. The production — which shot around Montpellier — went very smoothly. Nonetheless, Sukowa has been taken by surprise by the fuss now being made over the film. It has been picked up by Magnolia for the US and Peccadillo in the UK. The New York Times recently ran a long and laudatory interview with her.
"You do this little film with a first-time director. Obviously, I saw his quality and thought it was a good script but I never thought it would get this kind of attention," she says
When the film premiered at Toronto in 2019, before screening at Paris's Chéries-Chéris LGBTQ film festival and International Film Festival and Awards Macao, Sukowawas heartened by the response of younger audiences, given this was a movie about ageing lesbians. "That really surprised me too."
New fans now embracing Sukowa will discover a rich history of roles — she has worked with many top European and North American directors including Lars von Trier, David Cronenberg, Volker Schlöndorff and Michael Cimino. And then there is Fassbinder, for whom she memorably starred in Lola (1981) and as Mieze in TV series Berlin Alexanderplatz (1980).
Fassbinder, who died aged 37 in 1982, is a legendary figure in German cinema but is as well known for his drug taking and extreme behaviour as for the brilliance of his work. Oskar Roehler recently made a biopic with the telling title Enfant Terrible.
In spite of the auteur's notoriety, Sukowa remembers him with great fondness and admiration. "I never encountered the Fassbinder described in that 'enfant terrible' way. I think Fassbinder treated people in the way he thought he got the best out of them for his work. Sadism doesn't work with me at all — I am torturing myself enough so I don't think he bothered to do that," she says with a laugh.
Sukowa marvels at the precision of Fassbinder's working methods. "I think he had the film completely in his head. Oh, I loved working with him. I loved this idea of just having one take. You could put everything in it."
Sukowa is still in touch with writer/director Margarethe von Trotta, another of the towering figures of German cinema in that period — "she is one of my best friends". Sukowa describes von Trotta as "smart, very educated and passionate". As a female filmmaker, she was patronised relentlessly: "You know, she didn't have it easy."
The Fassbinder and von Trotta classics were made during the 1970s and early '80s, the era of the Baader-Meinhof Group and of huge political and social turbulence. This was also a time when filmmaking thrived.
"It all had to do, of course, with the fact we were all in rebellion against our parents because we were all children of people who had gone through the Nazi time," says Sukowa. "We were very suspicious. There was this blanket of silence everywhere. This generation, they really poked holes into this blanket and demanded answers. We were suspicious with our teachers, our parents and grandparents. We just wanted to know — and that gives you energy."
Next challenge
The German star will next be seen as the imperious Gaia Dali, wife of artist Salvador, in Mary Harron's Dali Land, due to shoot soon in Liverpool. It comes as a slight surprise therefore to discover what she has been watching for relaxation during the lockdown. The New York-based Sukowa, who has been dividing her time between Brooklyn and Long Island, has an unlikely passion for tweedy, low-key UK crime drama. "I can't watch things that are too exciting. I just can't because I really get into it. I get so nervous and so excited. So, for relaxation, I just watch these BBC detective series, which play in very quaint villages. I enjoy very much those actors that look like real people."
No, there was not much work during the pandemic. She went briefly to Philadelphia to appear in an episode of M Night Shyamalan's Apple TV+ series Servant. For most of the time, though, she was at home, taking walks, reading Balzac and Flaubert novels… and watching all those Miss Marple-style English TV sleuth dramas set in sleepy rural towns.
But now Sukowa is getting in trim to play Gaia. "I've never played a character like this. She is quite a bitch," she says with obvious relish. "The resentment people have [toward her]! They hate the person."
Sukowa says she does not have any overall career plan. "Things come to me… I don't strategise in any way. Usually, someone comes and offers something to me. I see if it is something different to what I've done before. I don't like to do exactly the same thing again."