Wedding planners, serial killers and dead kaijus all feature in the Japanese films set to launch at this year's Berlinale and European Film Market.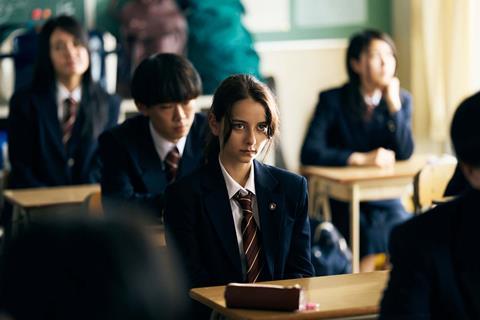 As the Berlinale and European Film Market ramp up, Japan is in the midst of an Omicron wave, with several prefectures, including Tokyo, under a quasi-state of emergency. Cinemas are open, however, with no restrictions on seating. And final figures showed that admissions in Japan increased 8% in 2021 compared to 2020, and box-office grosses were up by 13%.
This year, Japan has been well-represented during awards season, with Ryusuke Hamaguchi's features Drive My Carand Wheel Of Fortune And Fantasy as well as Mamoru Hosoda's animated film Belle picking up nominations and wins, including the Golden Globe for best picture — non-English language for Drive My Car.
Local titles of note opening in Japan in the coming months include Masaki Tachibana's Blue Thermal (March 4), Akiko Ohku's Wedding High (March 12) and Ryutaro Nakagawa's One Day, You Will Reach The Sea (April 1).
Berlinale
My Small Land
Dir. Emma Kawawada
This debut feature from Kawawada — assistant director on Hirokazu Kore-eda's The Third Murder — follows high-schooler Sarya (Lina Arashi), a 17-year-old Kurdish refugee living in Japan. Sarya dreams of university and has a blossoming love interest, but her life is thrown into chaos when her family's refugee status is revoked and her father is jailed after turning to illegal employment. My Small Land will have its world premiere in the festival's Generation Kplus section and is set to be released in Japan in 2022.
Contact: Keiko Yoshida, Gaga Corp
European Film Market
Joint
Dir. Oudai Kojima
The debut feature from New York-based Kojima, Joint is a story about criminals trying to go legit. The action kicks off when mid-level criminal Takeshi (Ikken Yamamoto) is released from prison and reunites with an old friend, after which the two begin a scam that relies on personal data scavenged from smartphones. Takeshi eventually goes legit, founding a start‑up that uses their illegally obtained data, but he is soon dragged into a war between rival yakuza clans. The film was released in Japan in November 2021.
Contact: Momoko Nakamura, Free Stone fsp-sales@freestone.jp
Lesson In Murder
Dir. Kazuya Shiraishi
A thriller helmed by Shiraishi (The Blood Of Wolves), Lesson In Murder is a serial‑killer tale with a twist. A university student receives a letter from a killer who has been convicted of multiple murders, admitting that he is guilty of all the crimes — except one, for which he claims he was framed. The university student begins his own investigation to find the truth. Lesson In Murder stars Sadawo Abe and Kenshi Okada, and is set to be released in Japan in May. Contact: Mami Furukawa, Nikkatsu
Let Me Hear It Barefoot
Dir. Riho Kudo
The second feature from director Kudo (Orphan's Blues), Let Me Hear It Barefoot is a drama about two young men who become closer as they spend time together, recording the sounds of different places for their blind friend so that she can 'travel' via their audio tapes. The two young men slowly begin to have feelings for each other, but their awkwardness prevents them from expressing themselves. The film was completed in 2021. Contacts: Mami Furukawa, Nikkatsu (sales); Yuri Kubota, Pia Film Festival (festivals)
Offbeat Cops
Dir. Eiji Uchida
The latest feature from acclaimed director Uchida (Midnight Swan, The Naked Director), Offbeat Cops stars Hiroshi Abe (Still Walking) as a hardheaded homicide detective who has been demoted to his police department's brass band. Initially reluctant to play, he must soon team up with his bandmates to solve a robbery. The film is set for a summer 2022 release in Japan.
Contact: Keiko Yoshida, Gaga Corp
One Day, You Will Reach The Sea
Dir. Ryutaro Nakagawa
Helmed by Nakagawa (Silent Rain), One Day, You Will Reach The Sea is a tale of love and loss that plays out in the shadow of Japan's 2011 earthquake and tsunami. It is the story of friends Mana (Yukino Kishii) and Sumire (Minami Hamabe), the latter of whom is presumed to have died in the disaster. Mana visits Sumire's mother and watches the home videos her old friend created, uncovering hidden feelings and confronting her sense of loss. One Day, You Will Reach The Sea is set to be released in Japan on April 1. Contact: Mami Furukawa, Nikkatsu (Asia); Yuji Sadai, Bitters End (rest of world)
Remember To Breathe
Dir. Masakazu Sugita
A unique mother-daughter relationship forms the core of Remember To Breathe, which sees an adult woman move in with her elderly mother. With their relationship already strained, deeply held past memories begin to re‑emerge. Director Sugita's Joy Of Man's Desiring was given a special mention in Generation Kplus at the 2014 Berlinale. In post-production, the film is set for a 2022 release in Japan. Contact: Momoko Nakamura, Free Stone
Tsuyukusa
Dir. Hideyuki Hirayama
Helmed by veteran filmmaker Hirayama (Begging For Love), Tsuyukusa centres on Fumi (Satomi Kobayashi), a woman whose car is hit by a meteorite. Believing this stroke of bad luck is destined to be followed by a good one, Fumi becomes intrigued when a man from Tokyo moves to her small town. The two bond over tragedies they have both experienced, baring their souls and helping each other heal. The film is complete, and due for release in Japan in the spring. Contact: Momoko Nakamura, Free Stone
Wedding High
Dir. Akiko Ohku
A wedding is crashed and the bride, groom and wedding planner must scramble to save the day in the latest film from director Ohku, whose Hold Me Back won the top award at the 2020 Tokyo International Film Festival. Wedding High's bride, groom and planner are respectively played by Nagisa Sekimizu (The Confidence Man JP: Princess), Tomoya Nakamura (Kiba: The Fangs Of Fiction) and Ryoko Shinohara (The House Where The Mermaid Sleeps). The film is due for a theatrical release in Japan on March 12.
Contact: Shion Komatsu, Shochiku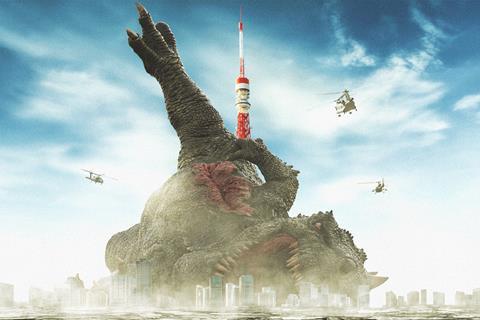 What To Do With The Dead Kaiju?
Dir. Satoshi Miki
The death of a giant kaiju brings its own set of problems in this comedic monster movie from director Miki (Adrift In Tokyo). The kaiju may be dead, but its corpse is beginning to rot and bloat — and if it explodes, the nation is done for. It is up to a cast including Ryosuke Yamada (Assassination Classroom) and Tao Tsuchiya (Food Luck) to deal with the problem. The film was released in Japan on February 4. Contact: Shion Komatsu, Shochiku