Goliath star Billy Bob Thornton says the TV world is a haven for indie-focused actors.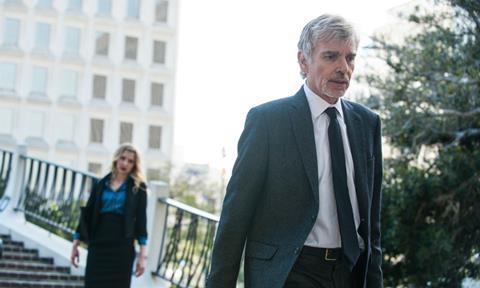 After forging a prolific big-screen career in the likes of Armageddon, Monster's Ball and Sling Blade (which garnered him an Oscar for best adapted screenplay alongside a nomination for best actor), Billy Bob Thornton was hesitant to enter the world of television as so many of his contemporaries have done. With time, however, he began to see the small screen as a new haven for actors, particularly those with a keen interest in the world of independent cinema.
"I come from a different era when it wasn't cool to do TV," Thornton says. "But since the independent film world is pretty much gone, and that's what I really love, I realised that places like Amazon and HBO are where you do independent film now; it's just in a longer format."
Thornton made his first foray into television in Noah Hawley's adaptation of Joel and Ethan Coen's 1996 feature Fargo, co-produced by MGM and FX Productions and broadcast on Channel 4 in the UK, in which he plays a sadistic hitman with a penchant for creating chaos. After starring as a laconic barber in the Coens' 2001 crime drama The Man Who Wasn't There, Thornton felt a familiarity with Hawley's teleplay for Fargo. "Noah wrote such a tight series, very much like the Coen brothers do in movies," he says.
The three-time Oscar nominee (he earned a supporting actor nod for A Simple Plan in 1999) credits his positive experience on Fargo for his subsequent embracing of the television medium. A major draw, he says, is having longer to develop both character and narrative on the small screen.
Playing the outsider
That can certainly be said for Amazon Studios' drama series Goliath, created by TV veteran David E Kelley and Jonathan Shapiro, which has been renewed for a second series. Thornton plays lawyer Billy McBride, who has the opportunity to face off against the law firm from which he was ousted. "[McBride] is someone who used to be somebody," the actor explains. "He was at the top of his profession and then took a tumble, mainly from his own doing."
It is a character to which Thornton feels a natural affinity, describing himself as something of an outsider in his chosen profession. "I've always felt different from a lot of the people I'm around in Hollywood," he reveals. "My background and the way I got here are a lot different. I think I have a natural insecurity that I'm not like everybody else. I like playing a character who is trying to prove himself. This character operates a little differently to your regular attorney, outside the decorum of what most lawyers do."
Whatever role he inhabits, authenticity remains key for Thornton and he enjoys learning the terminology of whatever profession he is playing. "When I was in Pushing Tin, where I played an air-traffic controller, I went to air-traffic control school in Toronto," he says of his methodical approach. For Goliath, he relied on series co-creator Shapiro, himself a former federal prosecutor and law professor, for legal information. "When [a scene] had a bunch of legalese, I knew what I was saying. That really helps. You don't just want to learn the dialogue."
Top performer
Goliath has enjoyed immediate success — according to market analytics company Jumpshot, it achieved a 97% share of Amazon viewers in its debut week, and Amazon reported it was the 'top binged' first season of a US-produced Amazon original series ever over its first 10 days. That reception, together with rave reviews and a best actor Golden Globe award for Thornton, means it is no surprise the show will return for a second season, with a new showrunner in the form of Clyde Phillips (Dexter).
"In season two, the writers have come up with some things that we didn't explore in season one about my character's history," Thornton says. Despite these new dramatic additions, he says he will not have any trouble acclimatising to any changes in story or character. "I was playing myself in the show," he notes, "so a lot of it I just had in my own head."