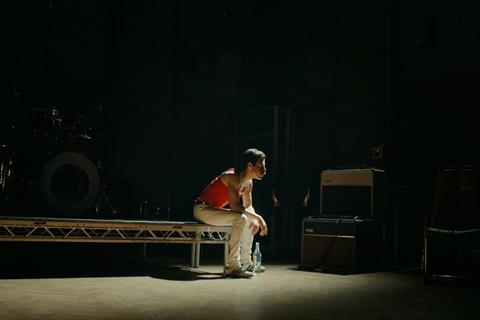 Renowned production designer Aaron Haye will be appearing at this year's Media Production Show in a session called 'How we made Bohemian Rhapsody'.
The Media Production Show is on 11-12 June at Olympia London; Screen's sister publication The Knowledge caught up with Haye ahead of his appearance at the event to get some background and insight into his career.
What was your route into production design?
The transition from VFX to art department was not a perfectly direct segue; it came about through a series of choices and connections that opened my eyes to new possibilities.
I began as a practical model-maker in miniature VFX. These early days exposed me to the process of filmmaking in a very interesting way, and to all sorts of different layers of fabrication and design.
I spent years learning how to build in the wood shop, in the machine shop, in mould-making and paint finish. I learned about mechanical SFX, about sculpting, about electrical wiring and about computer-aided design [CAD] and fabrication, as well as how to work on set with the shooting crew."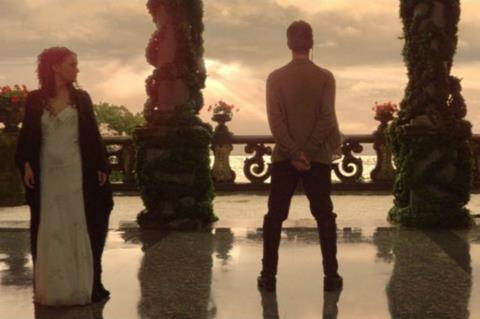 By my later years at ILM [Industrial Light & Magic] I had the opportunity to be responsible for large teams of fabricators and artists on films like Star Wars: Episode II – Attack of the Clones. Although all of these skills and exposures are valuable to me today, it would be the later years in VFX that provided the bridge to production design. I took an interest in CAD as a tool for design and decided to learn 3D as a natural transition into the digital world.
Although I never had any real training in drafting or design it felt like a natural transition for me and I began drafting as a set designer shortly after leaving ILM.
How closely do you work with the director?
In some instances the script is very well developed and the story and setting strongly established. You come on board knowing that you have only a few months to design and build a movie and you get straight to it. Other times you are working from an outline or an early draft and a great deal of the world has yet to be fleshed out.
Either way you try to build a cohesive world for the narrative, but I prefer the latter option, when we get to propose visual ideas to the writer or director to help them tell their story. In these times the art department is able to work hand-in-hand with the writer or writers to help establish the world.
I don't think I've ever had to say, 'That isn't possible'; maybe 'That could prove incredibly difficult' instead. Unless I'm being asked for something impossible at the last minute, I will always try to find a solution to whatever challenge is thrown my way.
You've worked on several sci-fi/fantasy/futuristic films, including Blade Runner 2049, Star Trek and Terminator Genisys. Do you find this allows you more creative freedom than projects that need to accurately recreate a time period or known location backdrop, such as Bohemian Rhapsody?
No matter if I am recreating a historically accurate event or attempting to come up with something entirely new, we try to build a world that supports the narrative.
So in a way the process is quite similar, though I really love the creative sparks that can come from trying to build a world from scratch. Often there is a thread you are trying to follow, as in the case of the three [sci-fi] films listed above. Each had films that came before it that needed to be honoured and built upon as we created the new film.
But I will say that there is nothing more exciting than the feeling of reading a script with no visual baggage, allowing the mind to wander and sketch as you read.
Blade Runner 2049 was this kind of experience for me, where I had an early draft of the script and an empty room. From there we built a team and started pitching visual ideas to the director and studio. Building up a 'war room' of images that tell the story of a film is one of my great joys. The creative freedom that comes from this process is unparalleled.
That being said, one of the first things that I like to do during this process is start to limit ideas. That may seem counter-intuitive when you are trying to create a new visual language for a story, but I always think that worlds feel more cohesive if they obey certain rules.
Can you describe some of the challenges you faced while working on Bohemian Rhapsody, and also some of the highlights of the shoot?
Bohemian Rhapsody was a great joy of a project but of course there were many challenges. The first was that I would be working in an unfamiliar location where I knew very few people.
Producer Richard Hewitt introduced me to supervising art director David Hindle and set decorator Anna Lynch-Robinson right away. We hit it off immediately and basically hired them on the spot. It was thanks to their connections we were able to bring the rest of the team together.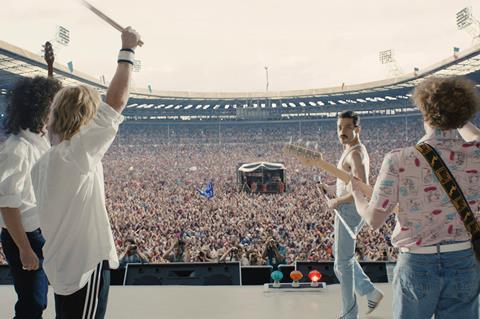 Designing the sets seemed to flow easily. Finding locations was a bit more challenging. Simply locating a flat, empty space large enough to build our Live Aid set proved difficult. In the end we went with the former Bovingdon Air Base, a very popular filming location, but even there we hit obstacles. Our footprint ended up crossing four different property lines, so logistically our locations department, led by Camilla Stephenson, had its work cut out.
The weather was a constant challenge on that set. We faced brutal winds and rain at some point nearly every week during construction. That being said, the Live Aid shoot was an incredible highlight of the film.
Thankfully we had done a tremendous amount of research and had an amazing team who were all as detail-oriented as I am. The first couple of months in the art department were spent filling the walls with reference images, colour palettes and graphic and material samples. We were also lucky enough to have had access to Roger Taylor and Brian May who would come into the art department early on and later come to set on multiple occasions.
Brian was also kind enough to invite us to the Queen archive at his home, filled with an enormous amount of material covering the entire history of the band.
In the end, the band was incredibly surprised and impressed at the level of detail and accuracy we brought to each set. I can only imagine the strange sense of deja vu they must have felt seeing these moments of their lives recreated!
Where do you turn for inspiration?
The world is a visual feast, filled with images and incredible stories.
Interestingly, I often find inspiration from my background in science and biology. I did not get a degree in art or design, but studied evolutionary biology, animal behaviour and genetics. I feel strongly that an imagined world needs to feel evolved.
For instance, an advanced alien technology needs to feel that it is derived from the physicality of the alien species that developed it. And, likewise, that alien species needs to feel evolved from the world in which itself developed.
Of course, I have also been inspired by all of those incredible artists and designers I have worked with over the years. Each one has a unique vision and approach to design and storytelling that has left a mark on my process. I continue to be inspired by the work of my peers and mentors.
What advice could you give aspiring production designers?
I would tell young filmmakers not to be afraid to take their own path. In this business very few people come straight out of school and go directly to their dream job.
Don't be afraid to learn on the job! Watch, listen and learn from those around you. They are the best resources you will ever have. And of course, strive to do the best work you can, whatever it is that you are doing! People will notice and opportunity will come to you.
To register for the Media Production Show, click here.
This article first appeared in Screen's sister publication The Knowledge.