"It was very hard. We had flashbacks," says Sarajevo-born director on making of film about Syrian children impacted by war.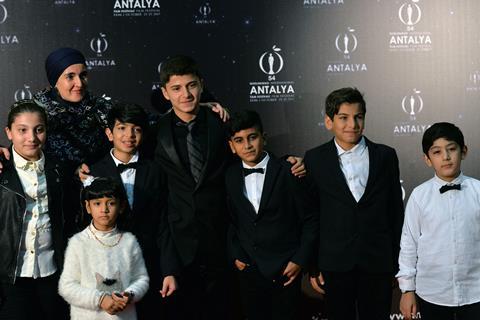 Bosnian film-maker Aida Begic's Syrian orphan drama Never Leave Me opened Turkey's Antalya International Film Festival over the weekend (Oct 21-22).
The tale of three Syrian boys who meet in a refugee children's home in the historic, mystic city of Sanliurfa in eastern Turkey, it was a timely opening film for a festival in a country that has taken in three million people fleeing Syria's civil war since 2011.
Isa has lost both parents, Ahmad sees daily visions of the father who went missing in Syria never to be seen again, while Motaz dreams of winning first prize in a local talent contest so the mother who abandoned him will see his worth and take him home.
As in her previous features Snow and Children Of Sarajevo, Begic worked with a young cast, this time drawn from a series of drama workshops with Syrian refugee children.
Begic has taken care to keep the tone mainly light, almost fairy-tale like, in spite of the horror of the conflict in the backdrop, with the war-damaged trio slowly coming together to create a new place of belonging through a series of mainly innocent adventures on the ancient streets of Sanliurfa.
Screen International caught up with the film-maker in Antalya, on the eve of her departure for Jia Zhangke and Marco Muller's new Pingyao Crouching Tiger Hidden Dragon International Film Festival in China where the picture will also get a gala screening.
What was the initial inspiration for the picture?
I was approached by Besir Dernegi, a Turkish NGO dealing with orphan issues around the world, on whether we could work together on something around this topic. I suggested a series of workshops called My Dream.
I wasn't quite sure where it would go but I did these workshops with a few hundred children. I wanted the kids to forget their suffering and their problems in the war. I tried to play with them to understand their feelings.
You are a child of the Siege of Sarajevo in the early 1990s, how did this experience influence your approach?
I remembered how the adults didn't deal with our needs as children. They were too caught up in the challenges of day-to-day existence. During war-time nobody asks you what you would like to be when you grow up.
I wanted to give these kids a few hours of a safe and nice environment where we could discuss their dreams. It was really touching. They wanted to be doctors, ministers, artists, directors although I knew that thanks to the war in Syria they had already lost three or four years of their education.
How did this help you develop the screenplay for the film?
What I wanted to deal with in the movie was these very intimate, very personal perspectives, children's perspectives, of the war. Often in films about conflict there is this male perspective. I don't know if it's politically correct to say that or not, I don't care, but I think that there is this megalomaniac perspective, this need to explain everything about history and politics, life and death, that is very male. There are of course women who take this approach too. But more often the female perspective is more intimate, personal and human.
How did the cast come together?
After these workshops, we had a certain group of kids who we thought could be part of the film. Then I wrote a script inspired by but not literally about their lives. I could not get the kids to act their own lives. I had to protect their integrity and their emotions. I've worked with children before and I know that if they are talented and motivated enough that you can get amazing results. The most important thing is to build up trust.
Was it hard for you and the other members of your crew who grew up during the Bosnian War to be making a film about children caught up in another conflict?
It was very hard. You're absolutely right. We had flashbacks of what we'd been through, all the Bosnian crew. I remembered how during our war, I had been distrustful of the foreigners who came to help us. There were many great people but there were some who took advantage of our misery. All the time I was asking myself, "Are we like those foreigners?" We told ourselves we weren't because we were those kids during our war. I lived in Sarajevo throughout the siege, my casting director was a refugee with her little brother alone in France and Germany, our producer was a little kid, the same age as Ahmad or Motaz."
This film reminded me a bit of The 400 Blows. Was it a source of inspiration?
Thank you. The 400 Blows was my reference. I had a photo of Isa where he was on a bike turning his head so I could see just part of his face. I thought, 'My God, he looks like the boy from François Truffaut's movie'. It's also in the dramaturgy, I was trying to follow this cinema where not everything is explained, and events and emotions are cut before they fully play out.
Your previous films Snow and Children Of Sarajevo premiered at Cannes and won prizes there before playing all over the world so I was surprised to learn that this film has not been selected by a single European film festival or found a sales agent as yet.
Me too. I'm sure I have made a good movie, or at least a movie that I am not ashamed of. For me it is of a similar calibre to my previous films. It's a mystery to me, a real mystery to me but I am sure this movie will find its way. I believe that every good story, every honest approach will find its way sooner or later. And then it was also good the world premiere was here. The cast cannot travel outside of Turkey because they are refugees. There is only one world premiere and I guess it was their right to be there.