BIFF matters for everyone doing business with Asia. But will international visitors be affected by the continuing row between the festival and the city authorities?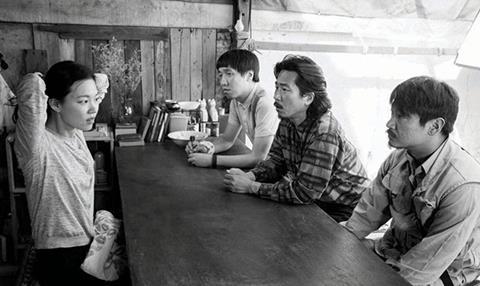 In the face of an ongoing political struggle regarding its programming independence, BIFF, which runs October 6-15, has unveiled a vibrant line-up of films, many of which tackle the issue of repression and the fight for freedom of expression. Directors Hou Hsiao-Hsien, Hirokazu Kore-eda and Lee Chang-dong are participating in a Special Talk about solidarity in Asian cinema, while the festival is hosting several further events and forums to discuss similar themes.
Of the festival's total 301 features, 96 are screening as world premieres, cementing Busan's status as a must-attend event for everyone doing business with Asia. It is opening with the world premiere of Zhang Lu's South Korean drama A Quiet Dream, which stars Han Ye-ri (Haemoo) as a young woman caring for her comatose father while running a bar and handling three suitors. They are played by a trio of young Korean directors who have also previously acted in their own critically acclaimed independent films: Yang Ikjune (Breathless), Yoon Jong-bin (The Unforgiven) and Park Jung-bum (Alive).
The international premiere of The Dark Wind, by Iraqi director Hussein Hassan, will close the festival. The Iraq-Germany-Qatar co-production is about the abduction of a young Kurdish Yazidi woman who is sold into slavery by terrorist organisation Isis and subsequently rescued. She then has to contend with being ostracised by her community on her return.
Sociopolitical issues are also explored in Mohsen Makhmalbaf's 1990 film The Nights Of Zayandeh-rood, which will receive a Special Screening in BIFF's A Window on Asian Cinema section. Set before and after the Iranian Revolution, the film was banned in Iran after one screening at the Fajr Film Festival 26 years ago, but a print was recently recovered and remastered - albeit with 37 minutes of footage missing - and shown last month at Venice.
More recently, Kamal Tabrizi's 2009 film Reward, a comic story based on the tradition of journeying to Mecca, felt the wrath of Iran's censors. Its ban was lifted earlier this year and it is also making its world premiere as a Special Screening in A Window on Asian Cinema.
Climate of controversy
BIFF's programmers have put together the line-up despite a partial boycott of the festival by some industry organisations which objected to attempted political interference. "To not open the festival was unthinkable," says festival director Kang Soo-youn of the difficult position in which she finds herself.
The boycott is in opposition to Busan city officials, who demanded in vain for former festival director Lee Yong-kwan to withdraw controversial ferry disaster documentary The Truth Shall Not Sink With Sewol from the 2014 line-up. (The documentary claimed government ineptitude hampered the rescue effort when the Sewol ferry sank off the south-west coast of Korea, with the death of 304 people, many of them schoolchildren.)
Seen as part of a widespread, mounting encroachment on freedom of speech in South Korea, the controversy worsened when the national government's support for the festival through the Korean Film Council was cut last year. With long-stated goals to become a media hub for Asia, Busan City was not going to reduce its funding of its star festival, but it did call for an audit which resulted in the indictment of four festival executives earlier this year. They included Lee, whose contract ran out in February, and former Asian Film Market head Jay Jeon. Lee is now standing trial for mismanagement of funds and Jeon for fraud. Both insist the charges are politically motivated.
In April, a coalition of nine major South Korean film industry organisations, known collectively as the Korean Film Groups' Emergency Committee, declared a boycott in support of freedom of expression. It successfully called for a change to the festival's 'articles of association' - the rules determining its constitution and structure. Most significantly, the festival chairperson is now no longer automatically the Busan mayor. Instead, founding festival director Kim Dong-ho now has that title. However, the committee's call for an apology from Busan mayor Suh Byung-soo has gone unheeded.
After the articles of association were changed, the Emergency Committee took another vote and announced in August that its member groups were at an impasse and the boycott could only be lifted if a majority voted to do so. But four groups had voted for, four against and one abstained. They have since come to the decision that each group could move as their members had voted.
The end result is that BIFF's Korean Cinema Today - Panorama section seems largely unaffected, and will showcase 17 films including Kim Jee-woon's The Age Of Shadows - South Korea's submission to the foreign-language Oscar category - and Cannes titles such as Park Chan-wook's The Handmaiden and Na Hong-jin's The Wailing.
But two high-profile films are missing, both disaster thrillers: Kim Seong-hun's The Tunnel and Yeon Sang-ho's Train To Busan.
There are no notable holes in the Korean Cinema Today - Vision section, known as a global launchpad for local independent directors.
Where the political crisis can most be felt is in the festival's budget. It is down to around $9.9m (won11bn), compared with $11m (won12.2bn) last year. This is mainly because of a dip in sponsorship from brands unsure about being drawn into the controversy. Busan City funding has remained the same year-on-year at $5.3m (won6bn), while national government funding has increased slightly to $799,000 (won900m) from $710,000 (won800m) last year.
Attendees undeterred
So far, the ongoing challenges do not seem to be having an impact on international industry attendance. "This year, [as of mid-September] we have registered 1,009 participants and 548 companies from 46 countries and expect more by the time the market opens," says Susan Chae, a selection committee member of the Asian Film Market and Asian Project Market Selection. "Last year, the market had about 930 participants, excluding participants for BIFCOM and the Asian Casting Market, with 535 companies from 42 countries."
European Film Promotion (EFP) is hosting 36 sales companies at the umbrella stand it operates with UniFrance. It is also bringing in 18 film-makers and actors from 13 countries.
"This is where networking is done, discoveries are made and new relationships built," says Sonja Heinen, co-managing director of EFP. "BIFF and the Asian Film Market work together in perfect tandem. Festival screenings are an indicator of the film's performance and essential for subsequent sales negotiations. BIFF has a very educated and lively audience which never ceases to impress European directors."
Positive word of mouth from festival screenings helps films in their subsequent local releases in more ways than one. "Distributors look at audience reaction in Busan to help them decide marketing strategies and size of release," says programmer Hong Hyosook.
A good example of that is Damien Chazelle's Whiplash, which translated an explosive response at a sold-out BIFF screening to box office of $11.4m in South Korea in 2014. The country was the film's highest-grossing international territory.
BIFF has created a vibrant festival hub that extends out from the Busan Cinema Center in the Centum City neighbourhood. Most of the festival's multiplex venues are within walking distance, as is the Asian Film Market's base at the BEXCO exhibition centre. Many guests stay a 10-20 minute shuttle bus ride away in Haeundae Beach, with some market guests staying in Centum City.
Most festival parties are held along the stretch of Haeundae Beach, in and around the major hotels. After-parties can run late into the night at neighbouring restaurants and bars, including at the famous beachside fish-tank tent bars. Sales deals might happen mostly at BEXCO, but discoveries of like-mindedness in potential film-making partners can often happen over soju and seafood on the beach.
Toasts will surely be held for friends and colleagues absent as well as present, as BIFF soldiers on in its quest for freedom of expression and solidarity in Asian cinema.