Indian film-maker talks about his narrative debut, which premiered in Busan's New Currents competition, and the state of filmmaking in northeast India.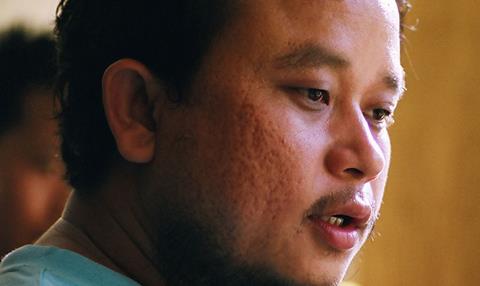 Although the cinema of northeast India is not well-known internationally, a growing number of films from states such as Manipur, Assam and Arunachal Pradesh are starting to break through at film festivals in India and beyond.
Most recently, Haobam Paban Kumar's Lady Of The Lake received its world premiere in the New Currents competition at Busan International Film Festival (BIFF) and has also been selected for the India Gold competition in Mumbai. Also produced by Paban Kumar, through his Imphal-based Oli Pictures, the Manipuri-language film is hitting the festival circuit after being selected for the Work-in-Progress Lab at India's Film Bazaar in 2015.
Set on Manipur's Loktak Lake, the film follows the real-life plight of the local fishermen, who are being driven from their homes on the floating biomass that covers the lake by local authorities who claim they are causing pollution. One of the fishermen, who is suffering almost catatonic depression at the prospect of losing his home, comes across a gun, which he believes could be the answer to all his problems. However, nightly visits from a mysterious woman help him reconsider his plans.
All the actors in the film are real-life fishermen, who Paban Kumar first worked with on award-winning documentary Floating Life (Phum Shang). "I've always wanted to work with non-professional actors, but thought I should get to know them better by shooting a documentary before the feature," he explains. "This also made them more comfortable with the camera."
While the documentary focuses on the fishermen and their clashes with police, the narrative feature brings in supernatural elements and the story of the gun. "When I started thinking about making fiction films, there were guns everywhere in Manipur," Paban Kumar remembers. "It's changed a bit now that the government is putting more emphasis on development, but everyone still forgets that guns instill further anxiety and mistrust among us. I realised that we need to look back on our cultural values. If we can revive those values, perhaps we can propagate a society based on tolerance and trust."
Paban Kumar's previous films have also examined aspects of life in Manipur, a state that has been rocked by clashes between insurgents and the government since Indian Independence in 1947. A graduate of Kolkata's Satyajit Ray Film and Television Institute (SRFTI), he made his first documentary, AFSPA, 1958, about the controversial Armed Forces Special Powers Act, in 2006.
His credits also include Mr. India (2009), about an HIV positive body builder, and Ruptured Spring (2012), about child soldiers. Three of this films – AFSPA, 1958, Mr. India and Floating Life – have won National Film Awards in India, while Floating Life also scooped best documentary at the Kolkata International Film Festival in 2015.
He says that all of his films, including Lady Of The Lake, have been made with the help of friends and former film school classmates, who have offered their time, skills and resources. Floating Life also secured funding from the Films Division of India's Ministry of Information and Broadcasting, despite its sensitive subject matter. "I see myself as a storyteller, rather than an activist, which probably helps when it comes to funding," he says. "There are many stories to tell about Manipur and we've always wanted to bring them to the outside world."
Thanks to the emergence of digital technology, Manipur has seen a big increase in film production in recent years, although many films simply attempt to fill the gap left by Bollywood, which has been banned in the state since 2000. Paban Kumar laments the lack of cinemas in Imphal – "we only have one now, compared to a dozen in 2000" – but is encouraged by the recent opening of the Manipur State Film and Television Institute, headed by his former film school mentor Nilotpal Majumdar: "He'll make a huge difference – he was instrumental in raising the standards of documentary filmmaking in India."
For his second narrative feature, Paban Kumar aims to explore one of the biggest issues affecting Manipur – the concept of ethnic identity in a state that is home to around 30 different tribes and languages. "This is something new for Indian cinema – we don't usually discuss ethnic divides because, largely in this country, we have issues that are religion-based," Paban Kumar says. The project, which has the working title Joseph's Son, has been selected for the Co-production Market of this year's Film Bazaar.