Screen highlights the buzz titles ready to entice international buyers at the Cannes film festival 2022.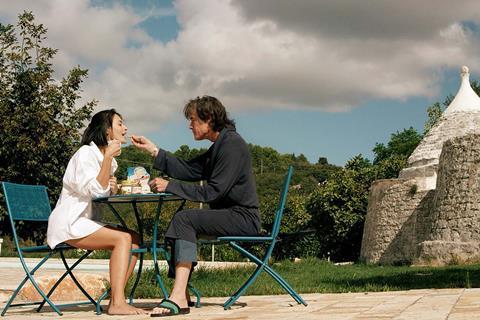 Italy sellers
True Colours will start sales on its Competition title Nostalgia by Mario Martone. The film, which stars Pierfrancesco Favino (The Traitor) as a man who returns to his Neapolitan neighbourhood and is swept away by memories, is an Italy-France co-production by Picomedia, Mad Entertainment, Medusa Film and Rosebud Entertainment Pictures.
Rai Com brings period drama The Shadow Of The Day by Giuseppe Piccioni. Riccardo Scamarcio and Benedetta Porcaroli star, and it is produced by Lebowski and Rai Cinema. It also has Italian horror title Flowing, directed by Paolo Strippoli (co-director of Netflix's A Classic Horror Story) and produced by Propaganda Italia and Belgium's Gapbusters.
The Open Reel's Cannes line-up is led by Isabel Coixet's latest The Yellow Ceiling — a documentary that pieces together Spain's infamous Lleida Theatre case where nine former students filed sexual abuse claims against two of their teachers. Miss Wasabi Films produces.
Minerva's slate includes Italian-­American romantic comedy Surprise Trip starring Ron Moss and Italian comedy veteran Lino Banfi. Roberto Baeli directs with DevRonn Entertainment and Bros Group producing. The company is also selling and co-produced Italian-Czech Second World War drama Terezin by Gabriele Guidi.
Rome-based TVCO will kickstart sales on Andrea Zuliani's Italian coming-of-age drama Girls Don't Cry, produced by Raindogs and Twister Film.
Intramovies' line-up features Venice Horizons premiere The Blind Man Who Did Not Want To See Titanic by Finnish filmmaker Teemu Nikki, as well as Italian mafia drama Una Femmina — The Code Of Silence by Francesco Costabile.
Summerside is selling Lithuanian adventure film Unknown Treasures by Agne Marcinkeviciute, and Italian actress Claudia Gerini's directing debut Tapirulan, a thriller produced by Milano Talent Factory, Rai Cinema and Sky.
Fandango's founder and producer Domenico Procacci makes his own directing debut with tennis documentary La Squadra. His sales outfit will also be selling Emanuele Scaringi's horror film Pantafa.
Coccinelle is bringing to the Marché its LBGTQ+ drama The Neighbor, directed by Pasquale Marrazzo and produced by Noi Film, and Danish romantic drama Esther's Orchestra from director Alexander Sagmo and producers New Sales.
Spain
Film Factory Entertainment's busy line-up is headed by Alberto Rodriguez's Prison 77, set in the Spanish prison system just after the end of Franco's dictatorship; Javier Gutierrez and Miguel Herran star. Film Factory's slate also includes horror movies The Communion Girl by Victor Garcia and Mar Targarona's The Cuckoo's Curse starring Belen Cuesta (The Endless Trench), which is in post, alongside arthouse titles such as Jaime Rosales's Wild Flowers and Carlos Vermut's Manticore.
Latido Films is handling sales on Cannes Premiere title The Beasts (As Bestas) directed by Rodrigo Sorogoyen. The thriller, starring Marina Foïs and Denis Ménochet, centres on a French couple who clash with their new neighbours in rural Galicia. The Madrid-based company also has a market premiere for Staring At Strangers by Felix Viscarret. Based on a novel by Juan Jose Millas, it is a thriller with a touch of surrealism about a man who spies on a family from a closet. Leonor Watling, Paco Leon and Juan Diego Botto star. Latido will also be pre-selling action film All The Names Of God, directed by Daniel Calparsoro and set to star Luis Tosar and Inma Cuesta.
Filmax is screening four titles as market premieres. Stories Not To Be Told is a new comedy from Truman director Cesc Gay, with an all‑star Spanish cast including Maribel Verdu and Antonio de la Torre. The thriller Lost & Found, starring Alvaro Morte (Money Heist), has just completed in time to show buyers. The Barcelona-based firm is also showing arthouse titles Vasil, directed by Avelina Prat and produced by Miriam Porte (The Odd-Job Men), and Amazing Elisa, written and directed by Sadrac Gonzalez-Perellon and starring Asier Etxeandia and Ivan Massagué.
Feel Content is handling the San Sebastian New Directors title Josefina, directed by Javier Marco and starring Emma Suarez and Roberto Alamo. Also on its slate is the newly acquired Places Where We've Never Been by the late Spanish director Roberto Perez Toledo, which was recently feted at Malaga Film Festival.
Begin Again Films, which focuses on auteur-driven features and documentaries, will bring Luc Knowles' debut feature Dragonflies (Libelulas), starring Milena Smit (Parallel Mothers), and Duo by Meritxell Colell (Facing The Wind). Both premiered at Malaga Film Festival.
Bendita Films is selling The Volunteer, directed by Nely Reguera (Maria And The Others) and starring Carmen Machi. The arthouse-focused firm is also handling sales for They Carry Death, Me & The Beasts and Carajita, which won the HBO award for best Latin American film at Miami Film Festival and is also screening at Tribeca. It premiered at San Sebastian.
Nordics
TrustNordisk has added Michael Noer's Birthday Girl starring Trine Dyrholm; the cruise-ship set suspense drama is now in post. The company also has first screenings (buyers only) for Gabriel Bier Gislason's dramatic horror Attachment starring Sofie Grabol, David Dencik and Ellie Kendrick, which will premiere at Tribeca, and Frelle Petersen's drama Forever. It also has Lars von Trier in post on the final chapter in his cult TV series The Kingdom Exodus, with a cast including Mikael Persbrandt, Lars Mikkelsen and Nikolaj Lie Kaas.
REinvent's busy film slate includes Nils Gaup's The Riot, a Norwegian historical action drama about the origins of the labour movement in the mining city Sulis in the early 20th century. The film will be delivered in late-2023. The Swedish Crazy Pictures collective is in post on UFO Sweden. Described as "the love child between The X-Files and Stranger Things, set in a small town in 1990s Sweden", the cast includes Eva Melander (Border). A promo is available and delivery is set for late 2022. Also in post is Swedish psychological thriller Love Proof, starring Rolf Lassgard (A Man Called Ove) and directed by Richard Hobert. REinvent has recently boarded Alex Herron's Norwegian horror thriller Dark Windows.
LevelK has added Abbe Hassan's Exodus, a fast-paced drama about a people smuggler whose life is changed by a Syrian child. The film will be delivered by autumn 2022. The company also has two films in post: Bille August's 1913-set Danish romance The Kiss; and Max Seeck and Joonas Pajunen's Finnish horror film The Knocking, starring Pekka Strang, for which a promo and script is available. LevelK is also selling the completed UK comedy All My Friends Hate Me, directed by Andrew Gaynord.
The Yellow Affair has just picked up Tomas Masin's Czech Republic-Germany co-production Brothers, written by Marek Epstein, to shoot later this year. The fast-paced drama tells the true story of two brothers who, in 1953, tried to escape communist Czechoslovakia to join the US army in West Berlin and the manhunt that ensued. The company is hosting a private buyers-only screening for New Zealand drama Punch, starring Tim Roth. Mika Kaurismäki's comedy sequel The Grump: In Search Of An Escort is in post.
Eyewell's slate includes Denmark-Sweden romantic drama A Thousand Hours, directed by Carl Moberg and starring Josefine Tvermoes, Niels Anders Manley and Alba August; plus Ali Suliman-starring drama Deserted by Kadri Kousaar, whose previous film Magnus screened in Un Certain Regard.
Rest of the world
The Match Factory is launching The Hotel by Wang Xiaoshuai and Memory Of Water by Saara Saarela. The Cologne-based firm has several films in official selection, among them Close by Lukas Dhont in Competition, and Burning Days by Turkish filmmaker Emin Alper and More Than Ever by French-Iranian, Berlin-based director Emily Atef in Un Certain Regard. Another title on its Marché slate is Blind Willow, Sleeping Woman, the animated Haruki Murakami adaptation by Pierre Földes that is set to screen at Annecy International Animation Film Festival next month.
German powerhouse Beta Cinema is giving a market premiere screening to Ofir Raul Graizer's second feature America, a drama about an Israeli swimming tutor living in Chicago who returns to his home country to bury his father after 10 years away. The company is also screening Leon Prudovsky's comedy My Neighbour Adolf, starring Udo Kier, which is about a Holocaust survivor in Colombia in 1960 who suspects his new neighbour is Adolf Hitler.
Berlin-based Picture Tree International is giving a market premiere to Anika Decker's Love Thing, a romantic comedy about a big-time movie star who falls in love while on the run from the media and his own past. It will be released in Germany by Constantin Film later in the summer. The company also screens Thomas Roth's dark drama Schächten, about a Jewish businessman's son who takes the law into his own hands against the Nazi commandant who tortured his parents.
Philippe Bober's Coproduction Office is pre-selling Club Zero by Jessica Hausner, which is due to shoot this summer in the UK, and is continuing sales on Ruben Ostlund's Competition title Triangle Of Sadness.
Munich's Global Screen will be giving buyers a first look at family animation The Amazing Maurice, from Toby Genkel. The film, based on a book by Terry Pratchett about a streetwise cat, has an illustrious English-language voice cast including Hugh Laurie, Emilia Clarke, David Thewlis, Himesh Patel, David Tennant and Gemma Arterton.
Films Boutique is beginning sales on its Un Certain Regard selection Domingo And The Mist from Ariel Escalante Meza. The film is a drama about a Costa Rican widower who has his own stubborn reasons for standing up to contractors that want to take over his land to build a new highway. The Berlin-based company is also selling Competition title Pacifiction by Albert Serra, and Maryam Touzani's The Blue Caftan in Un Certain Regard.
Berlin's m-appeal is launching sales on Camiel Schouwenaar's family movie Bigman, about two young Dutch friends whose love of football helps them overcome a life-changing event. Also new in the market is Jan Gassmann's 99 Moons, an erotic drama about an obsessive affair between a young female scientist specialising in tsunamis and an older man with an appetite for drugs and chaos. The m-appeal slate also includes sexually explicit LGBTQ+ Australian drama Lonesome, directed by Craig Boreham.
Sola Media will be presenting its fantasy family adventure The Magic Flute, notable for being executive produced by Roland Emmerich. The Stuttgart-based company will also have the first market screening of Danish family film My Robot Brother, produced by Nimbus and directed by Frederik Norgaard.
The Playmaker Munich has several new acquisitions to present to buyers. It will be giving a market premiere to family movie Lucy Wanted, directed by Till Endemann, about a well-mannered girl who decides to go off the rails for a few weeks. Also on its slate is horror comedy Holy Shit, directed by Lukas Rinker, in which an architect is trapped in a building-site toilet. The company will also launch a trailer for 13th century-set mystery horror The Black Spider, starring Lilith Stangenberg.
Munich-based Atlas International is presenting Roxy, a thriller from Georgian writer/director Dito Tsintsadze, which will be shown to selected buyers and launch at a festival in late summer. Atlas is also presenting a double feature spin-off of Simsala Grimm, the animated kids' story based on the Grimm fairy tales. The TV version sold to more than 100 countries.
Media Luna has world sales rights on Splendid Isolation, a drama from Netherlands-based filmmaker Urszula Antoniak. The Cologne-based company will also give a first market screening to Dwight Fagbamila's Femi, about a troubled young man dealing with the prospect of becoming a father.
Stuttgart-based Kinostar Filmverleih is selling Polish director Patryk Vega's English-language crime thriller Exodus and Uwe Boll's thriller Hanau, about the first QAnon serial killer.
Austrian documentary specialist Autlook has the classical-music documentary Knowing The Score, about conductor Simone Young who has been fighting for gender parity in the music world. Autlook is also screening Innocence, a feature documentary from Guy Davidi about young people who died in military service, and topical documentary The Business Of Birth Control from Abby Epstein.
Poland's New Europe Film Sales has Hlynur Palmason's Godland in Un Certain Regard, about a 19th-century Danish priest (played by Elliott Crosset Hove) who travels to remote Iceland. It will also have a market screening of Signe Baumane's animation My Love Affair With Marriage, which will premiere at Tribeca, and a new promo for Polish-language, hand-painted animation The Peasants from Loving Vincent director Dorota Kobiela.
NFI World Sales, the distribution arm of Hungary's National Film Institute, has The Grandson, the feature debut of Kristof Deak, who won an Oscar in 2017 for his live-action short Sing (Mindenki). The film is billed as a coming-of-age drama masquerading as a crime thriller. Another recently completed project on the NFI slate is Katinka, The Movie, a feature documentary about Katinka Hosszu, a three-time Olympic swimming champion nicknamed the Iron Lady. NFI is also introducing buyers to 1960s spy thriller The Game.
Belgian outfit Best Friend Forever is talking up Perlimps, Brazilian director Ale Abreu's animated feature that will have a market premiere here; the official world premiere will follow in Annecy. Abreu's previous film Boy And The World received an Oscar nomination for best animated feature in 2016. The company also has a pair of Cannes Acid selections: Jacky Caillou from Luca Delangle and Magdala from Damien Manivel.
Netherlands-based Dutch Features will be handling international sales on Totem, the latest feature from rising local filmmaker Sander Burger (whose previous feature The Judgement won four Golden Calf Awards last year). Totem is about Anna, an 11-year-old swimmer born to Senegalese parents and raised in the Netherlands but who has little interest in her heritage — until her family is threatened with deportation. The company is also introducing buyers to The Hullabaloos, a Finnish family drama in which twins have to get their dog back after it is swapped with one belonging to the country's president, and giving a market premiere to David Lynch-style drama Repulse, written and directed by Emil Krizka.
Also from the Netherlands, DFW International is selling romantic comedy Costa!! by Jon Karthaus, a remake of Johan Nijenhuis's 2001 Dutch cult classic of the same name, as well as Nijenhuis's latest film Yasmine's Wedding. DFW will also give market premieres to Sea Of Time by Theu Boermans and Pim van Hoeve's family yarn Ninjas Down The Street.
Amsterdam-based outfit Fortissimo Films is handling Untamed, the first UK-China co-production since Covid. Directed by Justin Chadwick together with Chinese director Peng Fei, it is based on the story of Zhu Shenghao, who translated almost all of Shakespeare's works into Chinese. Fortissimo's slate also has Natalia Sinelnikova's dark comedy We Might As Well Be Dead, in which life in an apartment building turns strange after the caretaker's dog disappears.
Netherlands' Incredible Film is hoping to tickle buyers' tastebuds with Mannin de Wildt's Foodies, a Dutch romantic comedy with a Turkish flavour. On a darker note, Incredible will be introducing buyers to Peter Monsaert's road movie Nowhere, produced by Jan De Clercq and Annemie Degryse of Lunanime and starring Koen De Bouw as an ex-lorry driver who befriends a homeless teenager.
Australian outfit Odin's Eye Entertainment is beginning the sales drive on Second World War family saga Out Of The Darkness, the sequel to Anders Refn's Into The Darkness (2020), set as Denmark slips into fascism under the shadow of the Nazis. Odin's Eye is also pre-selling new animated movie The Alebrijes, produced by Shrek's Aron Warner and directed by Mexican brothers Gabriel and Rodolfo Riva Palacio.