The Finnish director makes his debut feature with a boxing story more about romance than the ring.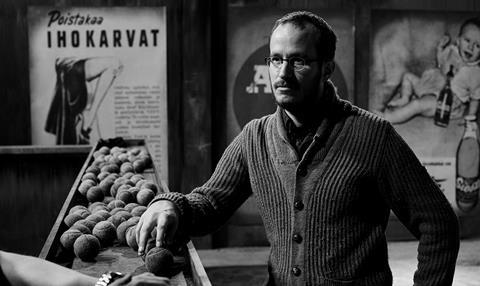 Juho Kuosmanen makes his feature debut with The Happiest Day In The Life Of Olli Maki, based on the true story of the Finnish boxer who has a shot at the world championship in boxing in 1962, but is more preoccupied with the love of his life, Raija.
The film, which premieres in Un Certain Regard on Thursday May 19, is produced by Aamu Film Company, One Two Films, Film Väst and Tre Vänner. Les Films du Losange handles sales.
Did you grow up knowing the story of Olli Maki?
I knew about Olli Maki because I am from the same town he is [Kokkola]. Then I went to see a theatre play that was about him….but that wasn't really about Olli Maki. I started to think about what kind of story would I tell about Olli Maki. Maybe there was a different angle. I had some ideas that I was developing for my first feature but this story stayed in my mind. I knew about the championship fight, and I learned about his engagement after doing some research. I got more interested.
I felt that it needed to relate to this character who gets this chance of a lifetime, who blows it. I was preparing my first feature film knowing it would screen in Cannes (his 60-minute film The Painting Sellers had won the Cinefondation prize in 2010). It felt like quite big pressure when writing, but with this kind of story I could deal with those same issues and emotions I was having myself. It was fun to deal with this old boxing story and somehow also put myself in there.
It seems you love characters, not boxing.
I was in love with this set up, but the problem for me was the boxing (laughs) and it's a period piece. If someone had to asked me a few years ago, 'Would you like to make a boxing film set in the '60s? I would say, "No absolutely not." I think it worked well that we weren't that interested in the period and also showing the violent side of boxing. We were more interested about the characters, and the things "backstage."
When I started to follow boxing, I went to see the weigh-ins and the rehearsing and press conferences. I thought those things were more interesting, the things that are hidden, not in the foreground. I was interested in the private, not the public.
I guess you didn't study Rocky and Raging Bull?
I Watched lots of boxing films but I also watched boxing documentaries. And then I read some books about boxing — my favourite one was Joyce Carol Oates' On Boxing.
I had watched so many bad boxing films and I thought, "This is not going to work, I can't escape this boxing theme in the film." But this Joyce Carol Oates book gave me like the courage to continue with this.
I watched a lot of films dealing with boxing but were there not that genre like Rocky. Like films by Jerzy Skolimowski and old boxing films like The Set-Up and Body and Soul. There are lots of boxing documentaries worldwide, about boxers that we don't actually know. And Sons of Cuba, about young kids learning boxing.
But I also started to like watching matches, and my reaction to how I was watching boxing was complicated.
You shot on 16mm, and a special black-and-white stock?
When we tested different film materials and digital and we felt that with this Kodak Tri-X black-and-white film stock, we almost don't need post production or colour grading because we really felt this material takes us to the '60s.
When we decided it has to be shot on Tri-X, we first ordered all the material from Kodak warehouses in Europe and the US and then I heard that they had to make some more just for us. It was not easy to get, but we got all we needed.
The lab was in Berlin but then the transfer to digital was in Brussels. So we didn't get dailies, we got materials like once a week. After the first shooting day it took more than two weeks before we saw the first day's shoot. That was very, very stressful. When we saw it we were very relieved, it was exactly what we wanted.
Your leading man, Jarkko Lahti, is someone you grew up with?
Yes. I've worked with him in two short films before and also in the theatre. So we knew each other very well. I told him first that there could be a chance to make a film about Olli Maki. I didn't promise anything but immediately he started to train in boxing, he's a very dedicated guy.
He was a decent boxer, he was training since 2011 — the moment when I got the first idea for this film. He even two fights, he lost them both but they were unequal. One of his trainers was the son of Olli Maki.
Will the real Olli and Raija come to Cannes?
Olli has Alzheimer's and Raija takes are of him, so they felt like the trip would be too rough. So they want to see the film at the Finnish premiere later. They have been very supportive in this process.
It's refreshing that the tone of the film is quite light. You don't seem to be the kind of filmmaker who wants to "cue the strings" so the audience feels like crying.
When I'm watching films myself, of course I like to be moved by a film. But when it's done with a manipulative style it feels too rude. It feels you don't have the freedom to feel whatever you want. I hate that kind of stuff really. I wanted this one to be not sentimental in the end but have more feelings than the films I made before. With The Painting Sellers, my one-hour film, some people liked it, but it's a bit too introverted. With this one, I felt like we needed to give a bit more to the audience. It was also like a process of my own identity as a filmmaker, to find the joy of filmmaking again.
As a Finnish filmmaker it's a very rare opportunity to go to Cannes, so there is a lot of pressure. What kind of film should it be? What's enough, I want to make a film that I can enjoy while making it and laugh. I wanted to make this kind of film that will make people smile. With the situation of violent attacks in the world, I sometimes feel that this is not a film that we should make during this time, but I thought this is what I need personally and what we also need. Not every film can deal with terrorism or refugees. We need other stories also.
Did Kaurismaki give you any advice on going to Cannes?
I know him a bit, we have played football together, we have been at the Midnight Sun Film Festival together. We have talked mostly about films by other people and football.
What's your next project?
I don't have the scripts ready but I have a few ideas, let's see what will be the next one. I hope we can make it soon. This one took quite a while, I don't want the next one to take five or six years. Maybe in two or three years.