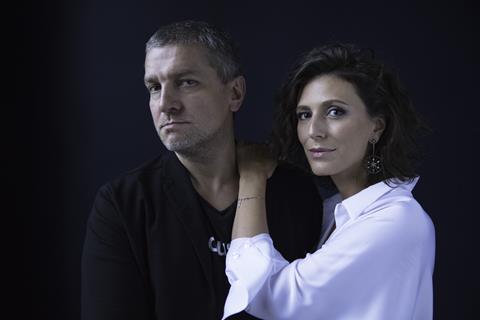 Captain Volkonogov Escaped was not an easy film for Russian directing duo Natasha Merkulova and Aleksei Chupov to make.
The drama, which screens at the Busan International Film Festival following its premiere in competition at Venice, is set against the backdrop of the Soviet political purges of 1938 and stars Yuriy Borisov as a captain in the secret police who goes on the run to evade prosecution. World sales are handled by Memento International.
Depicting death and extreme violence did not come naturally to the filmmakers. "It still burns, it still leaves some imprint on you, traumatises you… you really do fall ill after films like this," says Merkulova. "After this film, we want to shoot a romantic comedy."
The film is described as "a post-modernistic parable with the elements of a mystical thriller" by its co-directors, who previously worked together on 2013's Intimate Parts and 2018's The Man Who Surprised Everyone.
They are now working together on Netflix's first original Russian drama series, Anna K, a contemporary re-telling of Tolstoy's Anna Karenina. "We have to recover, the actors have to recover. Making Anna K may help us in that sense," says Chupov, suggesting the Tolstoy adaptation will feel like light relief in comparison to the darkness of their feature.
"Up to 2 million people perished in that period," says Merkulova of the era in which Captain Volkonogov Escaped is set. The "Great Purge" did not just see executions. Many were sent to labour camps.
Merkulova comes from Irkutsk in Siberia, a city with under 800,000 inhabitants - less than half of those who are thought to have died. She says she can "hardly grasp" the numbers who lost their lives.
"There were no close relatives of mine among the people who were oppressed in that period. But there was a legend in the family, which I heard as a child, about a distant relative who was a shoemaker," Chupov recalls. "At a certain point, he was arrested as a spy. He was accused of putting some documents with secret messages into the shoes of the diplomats."
As Chupov acknowledges, there are still plenty of people today who have a "positive opinion" about Stalin and about the former Soviet Union. "For many people, it's part of their past and helps them keep going on, living in the present," he says of their nostalgia. Such viewers are likely to be shocked by the casual bloodshed and state sanctioned violence in Captain Volkonogov Escaped.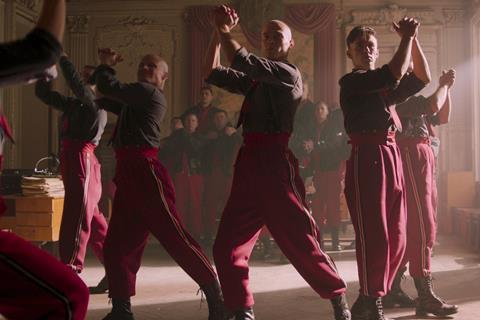 The film was shot in buildings in St Petersburg which, the director says, all "have their own history". For example, the opening scenes showing the secret police were filmed in an abandoned mansion in St Petersburg that used to belong to one of the most prominent merchant families in the city. Other locations include the Stieglitz Academy and the library of the Botanical Garden.
In their work together, Merkulova and Chupov have their own distinct responsibilities. Merkulova is the "lead director… she commands on the set." Chupov, meanwhile, has the responsibility for getting the script right.
Producers were initially very sceptical about dealing with two different directors on the same project. However, Valeriy Fedorovich and Evgeniy Nikishov, the founders and managing partners in Moscow-based 1-2-3 Production, were ready to support the couple. Captain Volkonogov Escaped is produced by 1-2-3's new arthouse label Place of Power and Look Film, Estonia's Homeless Bob Productions and France's Kinovista.
Updating Anna Karenina for Netflix
They are also involved both as producers and directors on the new Netflix version of Anna Karenina on which Merkulova and Chupov are also working. The two directors cannot say much about the project, titled Anna K.
"As you know, the story is now set in contemporary Russia so it is all adapted, but we tried to leave in as much of Tolstoy's original language as possible," Merkulova says of the new version. "It is our personal challenge, how to adapt it to present-day life."
Borisov, the young star of Captain Volkonogov Escaped, looks poised on the edge of an international breakthrough. He is also in Anna K, playing Konstantin Levin, having recently starred in a selection of festival hits including Cannes titles Compartment No 6 and Petrov's Flu, and Gerda, which screened in Locarno.
"Yuri is extra true, an extremely rare quality in an actor," Merkulova observes of her film's lead. She talks of his chameleon-like quality, the way his image changes from role to role and of how he "never repeats himself".
"Furthermore, he has a very special instrument, which is his eyes," she adds. "He changes his gaze as if he changes glasses. We have no doubt that he is a star… the world has just not realised it yet."