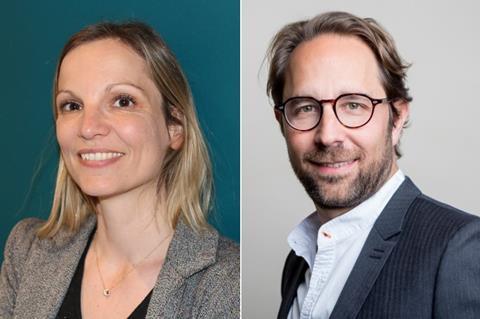 France's Logical Pictures Group is at the forefront of technological innovation in the audiovisual industry. The Paris-based group operates the gamut of traditional film and TV industry activities including financing, production, sales and distribution and is growing its technology-led business, often using cutting-edge blockchain systems.
Founded by Yannick Bossenmeyer and Frédéric Fiore in 2016, the pair launched Cascade8, a fully-owned tech subsidiary of Logical Pictures, three years ago to combine their knowledge of traditional film production and marketing with emerging technologies and finance models.
"Our aim is to build IT systems and blockchain designs that could streamline the flow of information and cash into the audiovisual industry," says Fiore. "We want to infuse into the group the idea that technology is in every aspect of what we're doing. We want to use the technology in a smart way. Not tech for tech's sake. We are trying to streamline the business by bringing tech to solve real issues that we have in the real world of the industry."
Cascade8 develops blockchain and software applications for entertainment industry professionals to overcome "specific pain points at each step of the value chain".
Opening shots
Last year Cascade8 rolled out its first software apps across the marketplace, including Archipel Market (an ongoing film market platform used by Screen International to host For Your Consideration screenings during the awards race) and Archipel Content, a content marketplace for TV and VoD sales.
Fiore says the Archipel platforms currently have more than 1,700 users and spearhead a system that will ultimately operate, store and allow transparency of rights and revenue management in the blockchain.
Since the beginning of 2021, Cascade8 began conducting in-depth technical and legal research of non-fungible tokens (NFTs), positioning itself as an NFT expert in the entertainment industry. NFTs are tokens issued on blockchains, mostly the Ethereum blockchain, that verify ownership of unique digital assets, and are distinct from cryptocurrency tokens (such as Bitcoin and Ether) and security tokens, which imply equity ownership.
"When NFTs started to grow from the blockchain ecosystem last year, we tried to think of smart ways to introduce NFTs in our business," says Fiore. "NFTs are very interesting in our industry because we are dealing with IP [intellectual property] and rights all the time and NFTs are just that — a new type of rights."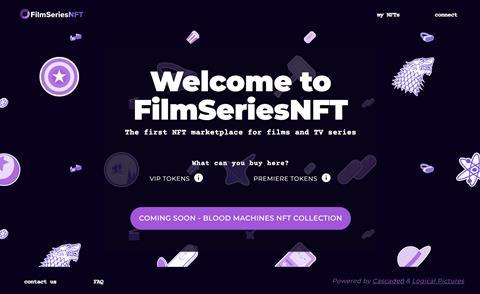 Later this month Cascade8 will launch the first NFT marketplace for films and TV series offering tokens that allow fans to own virtual assets from film and TV properties. This could include anything from virtual ownership of a line of dialogue to a costume worn by a character or even a spaceship you could pilot in a metaverse.
Also on offer are premiere tokens for audiences to buy access to virtual screenings of their favourite content, and be part of the happy few to watch it in their territory. The token carries the added attraction of being able to be sold on once used.
Cascade8's platform, called FilmSeriesNFT.com, is a marketplace for an additional IP right in an increasingly digital, virtual online world. "This will be a new revenue stream for your portfolio of content and offers a new way of connecting to your audience for new IPs," Fiore notes.
With the industry keen to connect with younger audiences, Fiore, Bossenmeyer and the Cascade8 team believe that NFTs will do just that for films and series. Bossenmeyer says the digital IP ownership is a fresh link with merchandising rights. "It's not something completely new with contracts to invent and so on, so it's easier for producers," she says.
Launching with sci-fi miniseries Blood Machines, FilmSeriesNFT.com will offer fans, investors and audiences virtual collectibles from the film, divided in three categories: cards, gifs and videos. French DJ Carpenter Brut composed the music for Blood Machines and the project's directors Raphaël Hernandez and Savitri Joly-Gonfard (who direct under the moniker Seth Ickerman) are part of an emerging group of hip French filmmakers.
Blood Machines is distributed in a slew of countries including UK, US, Canada and Ireland by the AMC Networks-owned genre platform Shudder. Cascade8 hopes to build on the existing community for the film that it helped to create when Logical Pictures mounted a crowdfunding campaign to assist with financing the project.
At the same time Cascade8 is launching a boutique initiative called NFTLab, tasked with helping producers and creators bring NFT campaigns to life by providing them with legal, tech and marketing expertise.
Watch this virtual space.

Cascade8 is the tech branch of French media group Logical Pictures. Since its creation in 2019, Cascade8 has been providing content industry professionals with blockchain and software solutions to answer pain points at different stages of the value chain. Since its creation, Cascade8 has notably developed applications like Archipel Content (content marketplace), Archipel Market (ongoing film market platform), Media Financiers (professional content financing hub), FilmSeriesNFT.com (NFT marketplace for films and TV series).