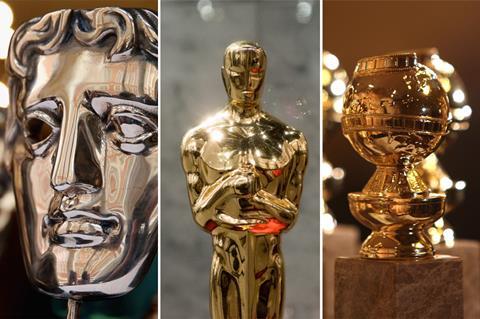 It is just two weeks until the first major deadline of the 2019-2020 awards season when Golden Globe voters must submit their nominations for the television categories on November 25, followed by film on December 6. The Screen Actors Guild (SAG) then closes its nominations on December 8.
For the Oscars, preliminary voting is open until December 10, the day after the Golden Globes nominations are announced on December 9, while round one of Bafta voting will not close until the end of December when SAG will also have announced its nominees.
The Producers Guild of America (PGA) and Director Guild Awards (DGA) also share the deadline for their preliminary votes to come in before January 6, 2020, the day after the Golden Globes ceremony (January 5, 2020) and just before the Oscars' first round of voting ends and BAFTA announces their nominees on the same day (January 7, 2020).
The second half of January 2020 will see final deadlines for PGA, DGA, SAG and BAFTA, while the voting period for the Oscars is open until February 4, when the winners of most of the other major awards bodies will already have been announced.
2019
November 14, 2019
Screen Actors Guild (SAG) nominations voting period opens
November 19, 2019
Producers Guild of America Awards (PGA) documentary nominees announced
November 25, 2019
Golden Globes deadline for receipt of Television nomination ballot at 5:00 p.m.
November 29, 2019
BAFTA Draft Entered Films list released to voters
December 1, 2019
BIFA ceremony
December 2, 2019
Director Guild Awards (DGA) online voting period opens for Theatrical Feature Film Nominations
December 3, 2019
National Board of Review honourees announced
December 6, 2019
Golden Globes deadline for receipt of Motion Pictures nomination ballot at 5:00 p.m.
Oscars preliminary voting begins
DGA online voting period opens for Television Nominations
PGA nomination polls open for Sports, Children's and Short Form Programmes
December 7, 2019
European Film Awards ceremony in Berlin
December 8, 2019
SAG Awards nominations voting period closes at 5 p.m. PT
December 9, 2019
Golden Globes nominations announced at 5 a.m. PT (8 a.m. ET)
December 10. 2019
Oscars preliminary voting ends
December 11, 2019
SAG Awards nominations announced
December 12, 2019
BAFTA Round One voting opens at 10:00 (GMT)
PGA nomination polls open for Theatrical and Animated Motion Pictures and for series/specials and streamed or televised motion pictures
December 17, 2019
SAG Awards final voting period begins
December 19, 2019
Golden Globes final ballots mailed to HFPA voters
December 30, 2019
Golden Globes deadline for receipt of final ballots
BAFTA Round One voting closes at 18:00 (GMT)
2020
January 2, 2020
Oscars nomination voting begins
César Awards voting platform opens
January 5, 2020
Golden Globes Awards Ceremony
January 6, 2020
DGA Documentary Award nominees announced
DGA online voting closes for Theatrical Feature Film Nominations
PGA nomination polls for Theatrical and Animated Motion Pictures close at 2 p.m. PST
January 7, 2020
Oscars nomination voting ends
BAFTA nominations announced and Round Two voting opens
DGA nominees announced for Theatrical Feature Film, First-Time Feature Film and Five First-Time Feature Film Director
DGA Online voting period for Theatrical Feature Film Award opens
PGA nominees announced for Theatrical and Animated Motion Pictures and for series/specials and streamed or televised motion pictures
PGA final polls open for Theatrical, Animated and Documentary Motion Pictures
January 8, 2020
National Board of Review (US) Annual Awards Gala
January 13, 2020
Oscar nominations announcement
January 16, 2020
PGA final polls for Theatrical, Animated and Documentary Motion Pictures close at 12 p.m. PST
January 17, 2020
SAG Awards final voting period closes at 12 p.m. PT
January 18, 2020
PGA Ceremony
January 19, 2020
SAG Awards Ceremony
January 24, 2020
DGA online voting closes for Theatrical Feature Film Award
January 25, 2020
Goya Awards Ceremony
Director Guild Awards Ceremony
January 28, 2020
César voting platform closes
January 29, 2020
BAFTA Round Two voting closes at 18:00 (GMT)
César Awards nomination revealed
January 30, 2020
Oscars final voting begins
February 2, 2020
BAFTA Awards Ceremony
February 4, 2020
Oscars final voting ends
February 9, 2020
Oscars Awards Ceremony
February 28, 2020
César Awards