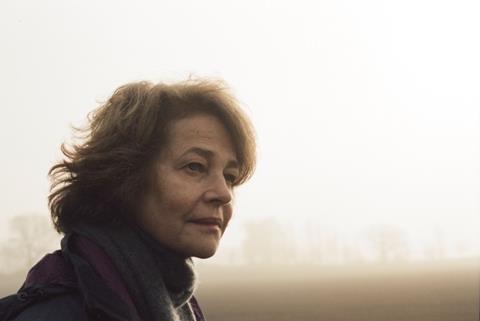 Charlotte Rampling was at the international Film Festival Rotterdam this week for the screening of Andrea Pallor's Hannah.
In an interview with Screen International, she reflected on her work with Luchino Visconti and Woody Allen; spoke of her continuing pride in The Night Porter, expressed regret over her controversial remarks about the lack of black nominees in the 2016 Oscars, and explained why she didn't want to discuss the #MeToo Movement.
Rampling again expressed her regret over "racist to whites" comments two years ago on an early morning radio show during the promotion campaign for 45 Years, for which she was nominated for an Oscar.
"It was very early in the morning and everyone was asking questions about that. It was not a very sensible thing to say but I was very tired. My husband died two months before," Rampling said on stage in Rotterdam. "I got annoyed by Spike Lee. That's all." At the time Spike Lee said he would boycott the 2016 Oscars because of "another all white ballot".
Asked by Screen International whether this had affected her awards chances, Rampling replied: "possibly. I don't think I was going to get it anyway but it certainly could have."
Rampling described her experiences on Woody Allen's Stardust Memories (1980) as entirely positive and showed no desire to disassociate herself from the filmmaker. "If we go back to when I knew him, his relationship with Diane Keaton had just finished; he didn't have as yet a relationship with Mia Farrow," Rampling remembered. "He (Allen) had cast me as his perfect woman. That's what he asked me to be in the hotel in Paris…we had this wonderful, platonic playfulness, constant playfulness. I don't think he ever got that back really. He had no connections with anybody - no children, no mother, none of the problems now. He was just a happy man."
Production on Stardust Memories lasted several months, with Rampling travelling in and out from Paris for extra shooting as the project (one of Woody Allen's more experimental films) evolved. "It was a joy. He (Allen) was enchanting."
#MeToo
During her on stage interview in Rotterdam, Rampling refused to discuss #MeToo, saying: "I don't honestly know. I am not in America." She later explained her decision not to comment: "I know in Europe how it happens and it doesn't happen like that at all. There is something very strange in all this. Harassment obviously is everywhere. Of course, I support the women but I don't dare speak about this." She added that she was not a politician and remained extremely wary about being "misinterpreted.
After she appeared in The Night Porter (about the sado-masochistic relationship between a former concentration camp inmate and the Nazi officer who had tortured her in the camps), Rampling remembers being called "the kinky Queen" in a leading US magazine. She described The Night Porter as a film of "great beauty" and as a "tortured, strange, decadent love story."
Vossen drama
One of Rampling's most striking and underrated recent performances was in her son Barnaby Southcombe's London-set psychological thriller, I, Anna (2012), in which she played a divorcee caught up in a murder case. The film was produced through Embargo Films, the company formed by Southcombe, Christopher Simon and Felix Vossen. The subsequent story of what happened with Vossen is every bit as embroiled as events depicted in the movie itself. The producer vanished owing millions of pounds and was eventually arrested a year after he left the UK and jailed for six years on fraud charges.
"He (Vossen) turned into a Ripley character. It completely flummoxed everybody. He completely pulled the carpet out from everyone. Like these people are, he was very charming, very erudite, cleaver and intelligent - but he was fiddling here, there and everywhere," Rampling reflected on the rogue producer, who "disappeared" leaving friends and investors without money, and whose behaviour echoed that of the Tom Ripley character in Patricia Highsmith's novels. "He was one of those people. We call him Ripley, don't we, because that is our film identification of those types."
Rampling's character in I, Anna has similarities with the increasingly desperate wife whose husband is behind bars in Hannah. "It's the family of people I do tend to be very attracted by in cinema," the actress reflected. "It's a cinema that is very engaged psychologically."
Visconti
Early in her career, Rampling worked with Visconti, one of the sacred monsters of European cinema who had a reputation as a domineering and intimidating figure. That's not how she found him when she co-starred in The Damned (1969) when still in her early 20s.
"That's what he (Visconti) appeared to be to others, his technicians and his male actors, very powerful, very autocratic but at the same time, he was someone you could really talk to. He was no way a dictator because he had a great elegance in his way of thinking and the way he moved and set things up. Everyone was very scared of him but with the women he chose, he was like a lamb. He loved them. He had loved his mother. She was the great love of his life and we represented that - from Romy Schneider to myself to Silva Mangano, we were his chosen ladies and we could do anything with him. He was the sweetest, most wonderful and gentle person."
Rampling has two projects in the pipeline, The Red Sparrow (in which she appears alongside Jennifer Lawrence) and The Little Stranger, the Lenny Abrahamsson adaptation of the Sarah Waters ghost story. She is also planning to appear in another performance piece with Tilda Swinton which will again be directed by Olivier Saillard following their collaboration on Sur-exposition in 2016. Hannah is sold internationally by TF1.