What happens in a year without Star Wars or Bond? On the eve of CinemaCon (April 11-14), John Hazelton looks at how US exhibitors plan to keep audiences visiting the big screen.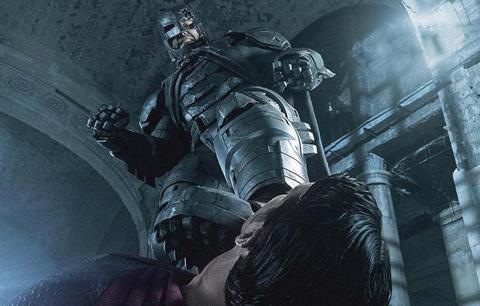 US exhibitors — the savvy ones at least — know the Force may not always be with them. Though Star Wars: The Force Awakens, Jurassic World and Avengers: Age Of Ultron drove the North American box office to a record $11.2bn tally in 2015, the success of those films also underlined cinema operators' reliance on the kind of blockbusters that don't necessarily come along every year. And the record tally didn't alter the fact North American cinema attendance has been essentially stagnant for the past decade (1.32 billion tickets were sold last year, 4% up on 2014 but down on four of the previous five years).
No wonder exhibitors in the US and Canada remain eager to find new ways to maximise their revenues — by making the most out of the blockbusters when they do come along and by better utilising the screens and seats that aren't being occupied by the mega-hits and the audiences that flock to see them.
Last year's box-office results provide some evidence that 3D could still be a growth area for North American cinema owners and their studio suppliers. 3D box-office revenue in the US and Canada peaked in 2010 — when some blockbusters were taking 60% or more of their domestic openings on 3D screens — and dropped off precipitously in 2014. But 2015 had eight summer releases that did more than 40% of their first weekend grosses in 3D (according to technology licensor RealD) and ended with The Force Awakens recording a 48% 3D debut. (The year's final 3D box-office tally was not available at press time.)
This year, 3D and other premium large format (PLF) options such as Imax and effects-enhanced 4D could boost the grosses of releases including Batman V Superman: Dawn Of Justice, Captain America: Civil War, Alice Through The Looking Glass, Finding Dory, Ice Age: Collision Course and Ghostbusters.
Among distributors, says Exhibitor Relations senior box-office analyst Jeff Bock, Disney in particular is "really pushing 3D, Imax and premium screenings, because it realises it has the product to be able to do that".
For exhibitors, most of which still offer many releases in both 2D and 3D, a schedule heavy on blockbusters with strong 3D and PLF potential should create more opportunity for ticket up-charging (usually by $3 to $5), especially on crowded opening weekends when moviegoers can be driven into more expensive screenings.
Embracing alternatives
To generate more revenue between blockbusters and from auditoriums that might be underattended on midweek days or late in a feature film's run, some North American exhibitors are making increasing use of alternative content and event cinema programming.
While the event cinema market may not yet be as developed as it is in other parts of the world, US and Canadian audiences are already showing up in significant numbers for programming such as The Met: Live in HD, a series of transmissions from New York's Metropolitan Opera that drew 720,000 people in the 2014-15 season, and BBC Worldwide's Sherlock: The Abominable Bride, which recently grossed $2.7m from three days of cinema screenings.
There is growing interest in categories such as classic and foreign-language film, faith-based and ethnic programming and even competitive video gaming, though sports programming remains problematic because of the need to negotiate with TV rights owners.
Texas-based chain Alamo Drafthouse Cinema gets 8% to 10% of its revenue from alternative content and CEO Tim League sees real opportunity in the field. "Even though we're a commercial theatre there's a component of our business that is very specialised and that's an area where a lot of theatres can grow and develop an audience," he explains. "But it does take pretty significant investment, both in manpower and commitment."
In addition to allowing exhibitors to maximise the use of their auditoriums and digital infrastructure, event presentations can be less price-sensitive than movies and can, in turn, encourage audiences to return to the cinema to see more feature films.
Many US cinemas are now linked by a studio- and exhibitor-backed DCDC satellite and terrestrial network and John Rubey, CEO of Fathom Events, the event cinema distribution arm of US exhibitors AMC, Cinemark and Regal, sees plenty of room for growth.
"We've barely scratched the surface," says Rubey, whose company also has its own broadcast network reaching 875 theatres. "We had 2.3 million paid admissions in 2013, 3.6 million last year and we're going to blow through 4 million this year."
Dynamic pricing
Flexible ticket pricing — also known as dynamic, variable or demand pricing — could be another way for cinemas to fill more seats on off-peak days and during lulls between blockbusters. But it's a strategy around which some North American exhibitors are treading carefully.
Reducing ticket prices for Tuesday and weekday matinee screenings is a long-established practice in North American exhibition. And some chains have recently been experimenting with premium tickets for early screenings of much-anticipated releases.
Regal Entertainment, for example, sold a thousand $100 'ultimate tickets' for last autumn's Spectre — allowing holders to see the James Bond outing as many times as they wanted — and is repeating the move on this month's Batman V Superman.
"The promotion isn't something we're necessarily looking at to drive huge incremental revenue," says Ken Thewes, chief marketing officer for Regal, the biggest
US circuit. "It's something to create a unique experience and some status for the ultimate fan."
But when flexible pricing is mostly about discounting tickets later in a film's run "that's not a game that we want to play", says Thewes. "Our industry has done a
phenomenal job of maintaining the integrity of pricing throughout the years. So we don't want to start training the customer to wait and not pay full price."
Dynamic pricing could come more into play in North America as online and mobile phone app ticket sales become more prevalent. Last year, established online ticketing sites such as Fandango and MovieTickets helped Star Wars: The Force Awakens notch up a record $50m in advance ticket sales. And, this year, new services could make advance sales an even more significant component of box-office revenue.
One such service is Atom Tickets, whose app, already tested by the Regal and Carmike circuits and due to roll out nationally this summer, allows users to buy tickets and concessions on their phones and share their movie-going plans with friends. Though it will not be part of the service at first, variable pricing is one of the app's capabilities.
"We have tested [variable pricing] with different rules in place and it is very powerful," says Matthew Bakal, co-founder and chairman of Atom, whose backers include Lionsgate, 20th Century Fox and Disney. "From a technological point of view we've built it. It's now up to the exhibitors and the studios to make deals to allow that, should they choose to do so."
Another new player is online ticket seller Dealflicks, sometimes described as the Priceline of the cinema industry. Already selling discounted tickets and concessions for 14 smaller US chains, the service recently signed a deal with fourth-largest circuit Carmike (although the deal will initially cover only discounted concession-plus-ticket bundles). Dealflicks chief executive and co-founder Sean Wycliffe explains that his service (which received seed investment from Warner Bros and hopes to expand internationally in the second half of 2016) allows exhibitors to limit offers to specific show times and set inventory limits.
"We're not just trying to Groupon a bunch of Star Wars tickets on opening night," he says. "We're yield management for movie tickets."
Wycliffe does suggest, though, that the idea of flexible pricing is "starting to resonate" with US exhibitors and distributors.
"As a filmgoer, I would love to see, 10 years from now, fully dynamic pricing in the movie industry," says the online entrepreneur. "That's where things are going."