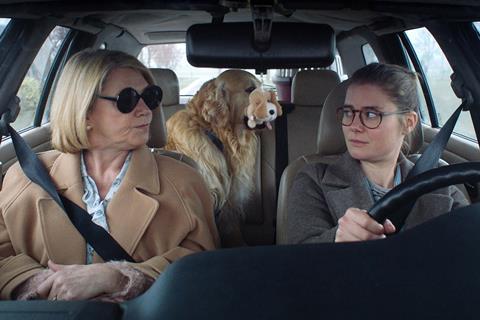 The future of independent filmmaking in a world awash with cash and content will be a major talking point at the fourth edition of Flanders' CONNeXT, which is gathering in Ghent, Belgium from October 6-9.
The event will showcase the latest completed films and TV drama series from the Flanders region to the international film industry and introduce new projects and works-in-progress pitched by their respective makers. Features screening include Anke Blondé's The Best Of Dorien B., Patrice Toye's Tench (Muidhond) and Frederike Migom's Binti.
The conference programme, called CONTeXT, is across two instead of three afternoons this year to allow more time for networking.
CONNeXT and CONTeXT are initiatives of Flanders Image, which is a division of the Flanders Audiovisual Fund. The event is run in association with Screen Flanders and in collaboration with Sabam For Culture, Creative Europe Mediadesk Vlaanderen, Screen Brussels, Lites, Flow, Omnia Travel, Pillows and Film Fest Gent.
"The aim is to put our audio­visual productions on the radar of sales agents, distributors, broadcasters and festival curators at a much earlier stage," says Flanders Image and event manager Christian de Schutter. "We also want to bring our film and TV makers in direct contact with these international players.
"Finally we also hope this will increase their market savvy, being confronted directly with feedback from our international guests."
A subtle change to the name of this year's industry conference programme — it is CONTeXT having been CONNeXT the previous year — reflects the desire to put local issues and challenges in a global context.
"The rapid changes we are confronted with in our industry force us all — not least Flanders Image and CONNeXT — to reflect," says de Schutter. "We need to ask ourselves how to remain relevant and how to safeguard the sustainability of our business. Instead of turning a blind eye to the increasingly disrupted world we're living in, we should be on the lookout for new opportunities to reach out to audiences."
Expanding sectors
The addition of a documentary strand is one such initiative. A TV series on the Vatican and a selection of documentary projects and works in progress, most of which are feature-length, are set to play out.
"It's a first try-out," de Schutter says of the move. "Depending on the feedback from both international guests and the local documentary sector, we will probably expand this in the future."
The organisers are also toying with other areas of growing interest, including the animation sector, the gaming industry and the emergence of virtual reality in entertainment.
Four years ago, CONNeXT kicked off with 49 international guests; this rose to 99 last year. It is hoped that around 105 will travel to Ghent this month. Executives from various companies and organisations including Diaphana, Wild Bunch, Beta Films and Fortissimo as well as Unifrance are attending to meet local talent and filmmakers and participate in the industry programme.
Industry highlights include keynotes from Philip Knatchbull, CEO of UK exhibition and distribution operator Curzon; Rikke Ennis, CEO of Danish packaging, sales and financing banner REinvent Studios; and Marianne Furevold Boland, an executive producer with Norway's broadcasting company NRK.
A panel called 'Make cinema great again!' will explore ways to make films must-see cinema events capable of luring people from their sofas and off their phones and into cinemas.
Further debates include 'I have a stream' in which panellists discuss recent evolutions in the streaming landscape and its impact on independent filmmaking. Ennis, who is also involved in the NutAlone streaming initiative, will participate, along with Marike Muselaers of France's Lumiere Publishing,
Muriel Joly of international aggregator Under The Milky Way and Walter Iuzzolino of Walter Presents/Global Series Network.
But while CONNeXT is eyeing continued expansion, de Schutter is hellbent on maintaining its intimate and personal feel. After all, this is an event that begins with a beer, buildings and chocolate sightseeing tour of Ghent.