Dash Shaw, director of Generation title Cryptozoo, speaks to Screen on working with his wife, animation director Jane Samborski, to create a female-focused utopian fantasy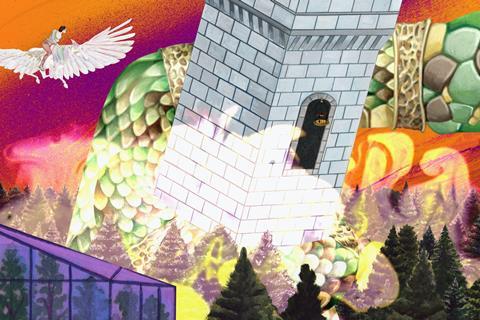 US comic-book artist and filmmaker Dash Shaw is trying to corral the words to describe the animation in Cryptozoo but they keep darting away — much like the elusive fantastic beasts in his second feature.
"When someone forces me," says Shaw, whose film premiered at Sundance in January and screens in Berlin's Generation 14plus, "I call it hand-drawn. Or hand-painted. Or traditional. Or sometimes traditional animation that's composited digitally. Or… it's a little hard to describe."
Cryptozoo is Shaw's follow-up to My Entire High School Sinking Into The Sea, his 2016 debut, which also screened in Berlin. It is about a 'crypto­zookeeper' who is building a sanctuary for mythological creatures or 'cryptids', and ultimately reconsiders the merits of putting the beings on show.
The origins of the film can be traced back years, to when Shaw lived in Brooklyn. His wife, the film's animation director and producer Jane Samborski, would host an all-female Dungeons & Dragons group. Whenever the dice and figurines came out, Shaw knew it was time for a long walk.
"That inspired me to write something she would enjoy contributing to," says Shaw, who now lives with Samborski in Richmond, Virginia. "She ended up painting most of the cryptids. I think that also inspired having mostly female characters."
Shaw set the story in the 1960s, which enabled him to tap into the counterculture and a sense of shared optimism. As an allegory about preserving dreams that also explores tolerance and civil rights, he hopes it resonates with today's US. But although it feels especially relevant in light of the Trump years — and there is even a reference to storming the US Capitol — this is all coincidence, according to Shaw.
The filmmaker, who never attended film school and became a comic-book artist after majoring in illustration at the School of Visual Arts in New York, began writing and storyboarding Crypto­zoo before Trump became president in 2016.
He cites Winsor McCay, the US cartoonist who created the Little Nemo In Slumberland newspaper comic strip in the early 20th century, as a major influence. "All his projects felt like they were exploiting what drawing can do that other mediums can't," says Dash. "Little Nemo is about dreams. He recognised that drawing was a way to depict imaginary beings."
Cryptozoo presents a world that goes far deeper than My Entire High School Sinking Into The Sea, and images in multiple media erupt like an abundant garden. "Most of the figures began as pencil on paper, and then the colour layer will be watercolour," he notes. "The cryptids are gloss paint, sometimes acrylic paint backgrounds, some airbrush paint, print and print-media tools."
Each drawing was scanned into a computer and composited alongside the other hand-painted elements.
Shaw drew the characters after the actors had recorded their lines, allowing voices and physicality to shape their essence. "They come in [for] maybe a day or two, and then I go away for three years to draw the thing," he recalls. "If you cast it right, they know more than you [about the process], especially Lake [Bell], who had made a whole movie about voice performances [In A World…]." He pauses. "I think they all had a ball."
Opening the cage
Cryptozoo received its world premiere at Sundance in January. Most viewers watched online while some attended drive-ins. Shaw and Samborski drove eight hours to a screening in Atlanta, where the audience flashed their headlamps in appreciation. The film won the Next Innovator Award and landed a North American deal with Magnolia Pictures. The Match Factory holds international rights.
After screening online for press and industry as part of the Berlinale, if all goes to plan Cryptozoo will play to public audiences in Berlin in June. While Shaw would love to see his cartoonist friends in the city, he is not sure if he will be ready to fly to Europe during the pandemic.
Yet he holds out hope cinemas will ultimately come back strongly and that Cryptozoo will get a theatrical release. "That will be very satisfying if it manages to somehow stick around as a movie that someone would want to watch on a big screen," he says.