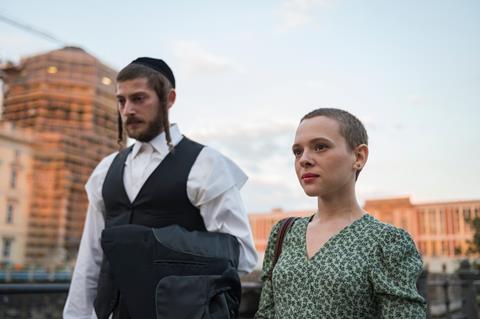 Anna Winger may be the perfect television writer for the global streaming age.
"Living the weird life that I do and crossing over international borders, what [global streamers] are doing in the world lines up with the kind of work that I'm making," says Winger, the Berlin-based American writer-producer whose new series, Unorthodox, makes its worldwide debut on Netflix this week.
Born American-British but raised in Kenya, Massachusetts and Mexico, Winger has been based in Germany for almost two decades. She came to TV relatively late – after working as a photographer, novelist and journalist – with Deutschland 83, the German-language series, set against the Soviet-era East-West divide of her adopted country, that she co-created with husband Jörg Winger.
Unorthodox (which was to have premiered at Series Mania before the coronavirus put paid to that French screening event) is another border-crossing story – this one, told in English and Yiddish, about a young woman who rejects her life and marriage in the Satmar Hasidic Jewish community of New York to start again among the millennials of multi-cultural Berlin.
Written by Winger with German documentary filmmaker Alexa Karolinski, the four-part limited series is directed by Maria Schrader and stars Shira Haas, the Israeli actress from features including Foxtrot and Broken Mirrors.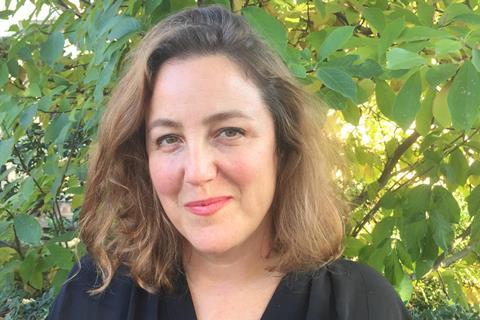 Winger already knew Deborah Feldman, another American ex-pat in Berlin, on whose best-selling memoir the series is based. So when Feldman suggested a TV take on her book, "we agreed to incorporate some of the themes that we always talked about with regards to being Jewish in Germany," Winger recounts. "Raising kids here, the doubling back of history, the Jewish revival in Berlin."
Winger says she aimed to "humanise" the story's Hasidic characters because "we're living at a time of people retreating to their corners, where national and religious identities have become so important and divisive, and we wanted to emphasise the common human experience in this."
But since television is "aspirational," she adds, "we also wanted to show a version of Berlin that is open-minded and inclusive. To marry this idea of the burden of history with these kids from the future."
The hope was always that the series "would connect with people far beyond the Jewish world. Because we feel like Deb's journey and [lead character] Esty's journey, the search for self and community, is a universal experience. It's a very specific story but the emotions are quite universal."
Unorthodox is the first project from Winger's Studio Airlift company, which produced the series for Netflix. Working with a single global buyer turned out to be a significant plus, reports Winger, who dealt solely with Rachel Eggebeen, Netflix's Amsterdam-based director of international originals.
"She was really involved in the script development in a positive way," Winger says of Eggebeen. "I created the show with Alexa and the other important person in the development process was Rachel. She was a real partner in it."
That was something of a contrast to the process behind Deutschland 83. Although that 2015 series and Unorthodox have some common themes – "They're both about young people who are searching for themselves and their place in the world," their creator agrees – the earlier show was produced (by UFA Fiction) for Amazon in Germany before the online retail giant had taken its video streaming operation fully global. The show was then sold to other outlets around the world, becoming something of a ground-breaker in the non-English language TV genre.
The sales were made possible, the multi-lingual Winger reveals, by a quirk of her writing method. "One of the ways we sold it was that all the scripts were in English," she says, "because I can only write in English. That was a huge bonus. That was why Channel 4 and Canal Plus and SundanceTV [buyers of the series in the UK, France and the US respectively] could read it."
Winger's TV career should reach a new level this year, since she's currently involved in three series at various stages of development and production.
After writing and producing on follow-up series Deutschland 86, Winger switched to being an executive producer on Deutschland 89. The latest installment (just selected for the Coming Next section of the Series Mania Forum programme, now being staged digitally after the cancellation of the live event) is in post-production and on course to be completed, says Winger, in spite of the pandemic disruption affecting TV industries around the globe.
Winger is also an executive producer on Suspicion, Apple's Uma Thurman series based on Israeli thriller False Flag, that just had its UK shoot suspended because of the coronavirus situation.
Winger had been asked to develop the Apple project but was already working on Unorthodox at the time, "and I can only write monogamously." So showrunner Rob Williams and his writing team decamped to Berlin, Winger explains, "and we incubated the project at my company. We worked on the character arcs and the script and how to redevelop the idea into an international show out of London."
And then there's the new series that Winger is busy writing, taking advantage of the fact that at least one aspect of the TV process can carry on pretty much as normal.
Clearly enthused, Winger says the new project is "my favourite thing to talk about, but I'm not allowed to talk about it."
She does hint, though, that the project is once again for a streaming outlet, confirming that this is one writer who has found her place in the streaming world.