As so much momentum moves to TV drama, UK TV producer Nicola Shindler talks to Screen about her series slate at Red Production and her move into feature filmmaking as chief creative officer of Studiocanal UK — and her movie debut there, shark thriller Something In The Water.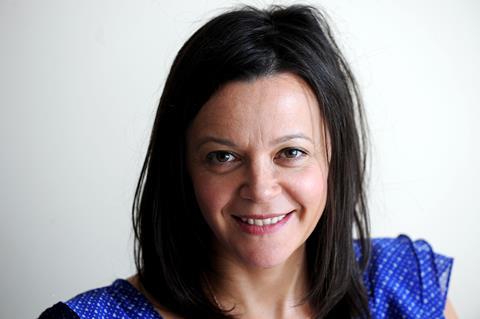 While many film producers are expanding into high-end TV drama production, the UK's Nicola Shindler is a TV producer moving into film. She set up her independent TV production outfit Red in her living room in Manchester in 1998 at a time when there were few other indie companies in the UK.
Now with a staff of around 20, Shindler works regularly with writers including Russell T Davies, Sally Wainwright, Paul Abbott and Danny Brocklehurst on award-winning series such as Queer As Folk, Years And Years, Happy Valley, Scott & Bailey and Clocking Off.
Shindler sold a majority stake in Red to Studiocanal in 2013 and five years later became CEO of London-based Studio­canal UK. She is now chief creative officer following the appointment of Alex Hamilton as CEO on March 12. Shindler has been tasked with setting up and heading the French-owned firm's first in-house UK film production arm.
Her team's opening feature is shark thriller Something In The Water, a co-production with Noel Clarke and Jason Maza's Unstoppable Entertainment. The project is being written by Scotland-based novelist Cat Clarke, and will be directed by Gaby Dellal. Shindler says she hopes to shoot the film this year "somewhere exotic".
What TV series are you working on right now?
We are filming one, prepping another and in post on a third. We're filming Finding Alice for ITV Studios, which we are making with Keeley Hawes and is written by Roger Goldby and Simon Nye. We are filming in London and it's the first southern production we've ever done. We're shooting in west London.
We are also prepping a four-part show called Ridley Road for BBC One. It's a thriller written by [writer/actress] Sarah Solemani and is about a young Jewish woman from Manchester who goes to London and becomes part of the anti-fascist movement in 1962. Sarah won't star in it as she is too busy writing it and we haven't announced the cast.
And we're editing Boys, which is Russell T Davies' show about Aids and HIV in the 1980s in London for Channel 4. It's about these fantastic young, brilliant characters who come to London full of life and energy. There's a lot of fun about it but also a lot of tragedy.
Is this your normal pace of working?
We're often filming two [productions] at once. You don't get to choose when you go into production. We're also developing a huge amount. At Red we have a really big development slate. Most of our team is a development team and we're constantly pushing to get more production. We work with everyone. As new broadcasters come along, we make sure we meet them and hear what they want.
What has been the biggest impact of the new streamers on your daily life?
I'm probably less affected by the amount of channels and more by how many independent producers in drama there [now] are. Which is great but it means decisions take longer and the writers are more stretched. Other than that I would say it's brilliant to have more people wanting drama and it has made everyone be more ambitious. Now everyone is aware they can't just make something that feels familiar and we have to reach for something different each time.
Ideas that felt unmakeable five years ago feel very practical now. That's in development terms. In production terms it's become a lot harder. Our head of production is constantly fighting a battle between trying to explain to people that, yes, we are making a Netflix show but we are not making The Crown so we can't pay the same rates. And when we're filming in Scotland we explain to people that get paid a certain rate on Outlander that we can't do that as we're making a BBC One show.
Also there's a real lack of availability of experienced people.
Are there any particular positions that are tricky to fill?
Location managers are really hard to find. Accountants too. Make-up and costume are really hard to find. Everything. DoPs and designers are there but they are very busy. Sometimes you can give new people a break, which I don't mind at all, but it depends on how big the project is.
Do you have to increase the budget to solve these problems?
No, we can't. We just have to work really hard. We have a brilliant production team who manage everyone's expectations. But it does mean a bit more money goes off-screen, which I hate as my mantra has always been to put the money on-screen. It's the same with cast as well. Cast are getting so many offers. It's harder to pin people down but it's more exciting as you end up having to take a risk on new talent, which I really like.
Which new names have you been able to take a chance on?
Well, Sarah [Solemani, the writer of Ridley Road]. But it wasn't about taking a chance as we could see how good she is and clever she is. Ridley Road is based on a book by Jo Bloom she brought to us years ago.
And the cast of Boys is really interesting as they are not very well-known. Olly Alexander is well-known as a pop star [in the group Years & Years] but not that well-known as an actor. The other two boys, Omari Douglas and Callum Scott Howells, are both fantastic and haven't done a lot before.
Who inspired you when you set up Red over 20 years ago?
As we were doing something pretty new — as in there weren't many independent production companies around — it's not as if I looked up and thought, 'I would like to follow that person.' But it's always brilliant to meet up with your peers and to hear what they are doing and understand how they have solved certain situations.
I've worked with some really amazing and talented writer/producers and I value their input so much. They know what it is you are meant to be making and they are such a good source of advice on how things should look and feel. The ones I've worked with again and again and again have got that experience and understand what works best for their writing.
How involved are you and Sally Wainwright in Netflix's film version of Red and Wainwright'sUnforgiven, which is being directed by Nora Fingscheidt and starring Sandra Bullock?
Neither one of us is that involved. A long time ago we talked to [UK-born, Los Angeles-based producer] Graham King about the project and he bought the rights to it. We do hear what they are doing, who they are casting and where they are filming. We could get more involved but both of us feel they are very experienced and very good at what they do and they don't need us on their backs. It's a very different thing to make a single [film] out of it than the four-parter we made. It's such a good story.
Now you are also running Studiocanal UK, how do you juggle running the company's London-based film production arm with Red?
I tend to spend a couple of days a week in London. But I was probably doing that anyway as most television work is down there. It's tricky to juggle but it's not impossible.
I'm effectively still doing the same thing — which is trying to find good projects and get them made. It's not far away from my current job, and yet it's very different in terms of how everything is financed and the setup, and I've learned a lot over the past 12 months about all of that. My main aim is to get films into production and that's the job they want me to do.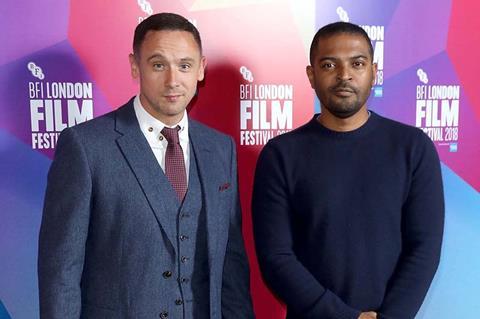 What can you say about Something In The Water, which Studiocanal unveiled in February?
It's brilliant. It's really a great script and Gaby Dellal is such a good director. It is a proper shark film. But what attracted me to it was that it is a fantastic script about five really interesting, diverse characters who are friends. It feels so real to me, I believe their relationships, I believe their friendships, they are really funny, really sharp with each other and then this terrible thing happens. It's got real heart as well as real horror. I want to serve the audience who enjoy shark movies as well as a really strong female audience.
And it has an interesting new writer in Cat Clarke.
She's new to me but she's a very successful novelist. This is her first screenplay and it's so good that I want to work with her forever.
When are you hoping to shoot?
This year. We're trying to work around weather patterns and other logistics.
Outside of the UK?
Yes. We are looking for somewhere that is very exotic and beautiful. I've never really managed to leave northern Manchester.
Is Studiocanal fully financing Something In The Water?
That is being discussed. We haven't formalised how we are going to do it yet.
Any cast attached yet?
We've got some really interesting young women lined up.
Who is on your film team at Studiocanal UK?
I have a very small but good team who know the film industry better than me who help me navigate how to get something made. I don't have a head of development. I'm not going to have a huge slate. I want to work on films that are going to get made. There are two people I work with in development: Jonas Zimmermann and Anna Hintzen, who were both at Studiocanal already. [Head of UK acquisitions] Alison Meese is also working with me on the production side. And we have Lesley Stewart, the brilliant head of physical production.
Do you also work closely with the distribution team?
Yes. Everyone at Studiocanal has been brilliant about wanting to do more UK films. I work with the distribution team, with marketing, with press, and with the financial team. They've all helped me with what I need to do and how it needs to work. And they're all adapting in-house production in a way they haven't before.
Who is head of UK distribution now?
There isn't one at the moment. Anna Marsh, who was the managing director, was running that as well. She's now taking over all of Studiocanal and I'm sure there will be internal reshuffles.
Will Marsh be based in Paris now she is CEO of the whole Studiocanal group?
She aims to move to Paris by next year. She has been brilliant to work with, she's an extraordinary woman. Working closely with Anna has been the best part of the job.
What has particularly struck you about working in film this past year?
I think it's very difficult, especially right now. It doesn't feel like where the money is; it feels like it's in television.
You have to be really focused in terms of what you are making and what you are developing. You have to be absolutely aware of who your audience potentially could be and I think it's even harder in many ways to pin down the talent because so many films don't happen.
But it's a really interesting challenge. The people at Studio­canal are so good. The teams in those departments are so exceptional and know their stuff so well it's been much easier for me than it could have been, as they have guided me throughout the process.
How do you approach working in film where the director, rather than the writer, is the authorial voice?
I'm doing what I do, really. I always work with very talented directors, and I always work with very talented writers. I don't think it has to be an either-or. There's a way of guaranteeing the quality of the product you are creating by making sure both of those voices are very well serviced.
Which of the television and film events and festivals do you attend regularly?
I am not able to leave my office very often. I'll only go if I need to be there. I've been to MIPTV a few times. Mostly I just try and do my work. I'm not the best at networking.
So you're not planning to go to Cannes Film Festival any time soon?
No! Also, I'm not sure I can add much. I've got such a good team, they don't need me.
Nicola Shindler recommends…
Film Booksmart. I loved it.
TV series Succession. Not very original but it's so extraordinary. And I thought Unbelievable on Netflix was, well, unbelievable. And I'm back into Glow again, the Netflix series about female wrestlers in the 1980s. I've started the third series late but I love it. I also just watched Next In Fashion and loved it. When I grow up I want to be Alexa Chung.
Podcast I am obsessed with podcasts. I'm listening to The Catch And Kill Podcast With Ronan Farrow and, WeCrashed: The Rise And Fall Of WeWork and Catching Cosby.
Restaurant for meetings Australasia in Manchester.