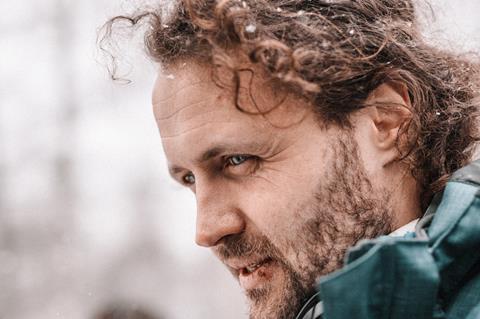 It took businessman-turned-filmmaker Dzintars Dreibergs six years to bring Blizzard Of Souls to the big screen and now it is Latvia's entry to the best international feature category at the Oscars.
The film is an adaptation of Aleksandrs Grins' 800-page novel based on the writer's real-life experiences as a Latvian soldier fighting in the trenches during the First World War. It portrays the horror and futility of war and so was banned by the Soviet authorities for many years after its publication in 1933. Grins was ultimately shot in a gulag.
Blizzard Of Souls marks the feature film debut of Dreibergs who spent several years working in finance before deciding to follow his heart to become a filmmaker. Under the supervision of New York University professor and filmmaker Boris Frumin, Dzintars completed his film education at the Baltic Film and Media School in Tallinn, Estonia.
He teamed with producer Inga Pranevska to form Kultfilma and made several documentaries before working with Frumin on the adaptation of Grins' devastating novel that would become Blizzard Of Souls.
Produced by Kultfilma and backed by Latvia's National Film Centre, Blizzard Of Souls was released by Forum Cinemas in Latvia in November 2019 and garnered some 250,000 admissions to make it the most watched film in Latvia of all time. Film Movement has US rights.
Dreibergs talks to Screen about his determination to bring Grins' testimony of war to cinemas, working with a new young talent and the challenges of shooting across four seasons in Latvia on historical battlefields.
Please tell me a bit about how you shot Blizzard Of Souls.
We made a decision at the beginning to film everything chronologically because the lead character is a young boy of 15 years old. By the time the movie ends he has to have become more mature. We shot in blocks in spring, summer, autumn and winter to help with the idea that time was passing and to take advantage of the ever-changing Latvian weather. The budget was almost $2 million and shot for 42 days.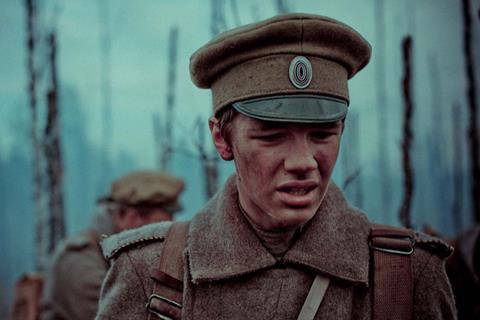 What was the biggest challenge?
The script stage. The movie is based on the novel Blizzard Of Souls by Aleksandrs Grīns. For him it was very important to have all the details, how war looked to him, how people felt in the trenches. He would write 200 pages without the main character because he'd write about how everything looked, the detail. To compress this whole book, his story and tell it well was the most challenging thing about making this film.
Just how hard is a Latvian winter?
When we were shooting the winter battle scenes it was almost minus 20 degrees celsius. Imagine this big wind blower in the actor's face. By the time we stopped filming he was really cold. It was hard of course but those were the most satisfying moments because those were the moments we realised how impossible it was for us to grasp and understand what those soldiers went through.
How did you cast your impressive young lead, Oto Brantevics? He's in practically every frame.
We went to the schools around Latvia and saw around 1,300 boys for the role. He [Oto Brantevics] was special from the beginning. He was tall, he had problems with his back, he was stubborn. He only came along to the audition to keep his mate company.
How was directing such a young, raw actor in such an emotionally demanding role?
From the beginning I understood the growth of this young actor through the movie would be one of the biggest challenges. At the beginning all the directing I could do was to tell him to 'go to that spot, look to the right, look to the left, close your eyes.' But by the end his understanding was so much deeper and I could talk with him about his character and the war and his feelings. He gave all his power to the shoot. He never said 'that's enough, I'm tired.' For the first time in my life I saw a person fall asleep, his head in his soup plate. That stubbornness and commitment was to our benefit.
How did you work with your co-writer Boris Frumin?
Boris Frumin is in Miami. He came to Latvia once and I made it to Miami once, got to go to an NBA game. Otherwise it was all done over email. Frumin doesn't read Latvian and Grins' novel has never been translated so I translated it for him. It worked really well and meant we could almost work in 24 hour shift stints. DoP Valdis Celmins was involved in every script decision from the start so we would work all day and then send the material to Frumin. When they got up the next day, Frumin's notes and work would be waiting.
You were a businessman who gave it all up to become a filmmaker. Do you think your business experience helped your filmmaking?
I worked for Price Waterhouse Cooper in a very corporate environment. It makes you a structured person, someone who meets deadlines and plans. That is very important to me. During the shoot it helped me a lot.