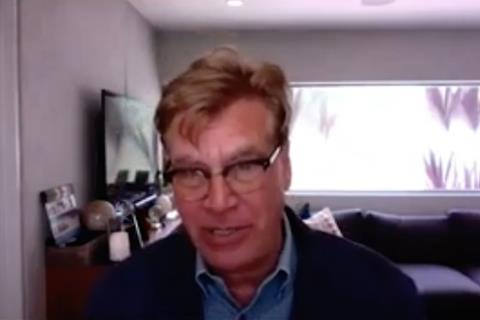 Aaron Sorkin wishes his 1968-set new film The Trial of the Chicago 7 was not quite so relevant to contemporary events.

His second feature as a director is about a peaceful protest at the 1968 Democratic National Convention that turned into a violent clash with police and the National Guard. The organisers - who included Abbie Hoffman, Jerry Rubin, Tom Hayden and Bobby Seale—were charged with conspiracy to incite a riot and the trial that followed is one of the most notorious in US history.
Sorkin said he first discussed the Chicago 7 project with Steven Spielberg in 2006, and wrote the first draft of the script soon after, with the intention Spielberg would direct it. But the film was put on hold, first because of the writers' strikeand then other commitments got in the way. It was revived after two important developments – Sorkin directed his feature, Molly's Game, and Donald Trump was elected US president. The world of the 1968 riots did not seem so long ago.
"Suddenly the movie became startlingly relevant," Sorkin explained during an online masterclass at the San Sebastian International Film Festival this week. He was talking from his home in Los Angeles.
Sorkin said he believed the summer of 2020 has made it even more so. "Protesters are being called anarchists, communists, Marxists mostly un-American," Sorkin said. "There's really nothing more American you can do in protest. It's been chilling [to watch the Trump government's response]."
Sorkin, the writer of films such as The Social Network, Moneyball, and Steve Jobs and TV hits including The West Wing and The Newsroom, admitted he was furious with the present state of US politics.
"I'd say it's impossible not to be angry in the current situation without heavy medication," he said. "Does anger ever drive me? You bet. It is a fantastic motivator. If you're feeling anger when you're writing, great! Make it show up on the page, get it right from the blood onto the page, get it right from the page onto the screen with no loss of it."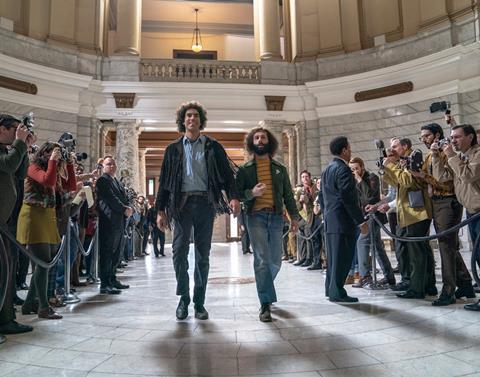 Netflix will start streaming The Trial Of The Chicago 7 on October 16 after scooping up world rights when plans for a US theatrical release via Paramount were shattered by the closure of cinemas due to the ongoing pandemic.
Sorkin noted how much the landscape of TV and film "has changed completely" since his career started. "When I wrote my first television show there were still only three networks and HBO was a baby," he recalled. "And cinema has changed a lot. There are big budget superhero movies and everything else is considered an art film now. If you made The Graduate today, it would be a low- budget, independent art film that maybe somebody saw at Sundance,, or they saw it at San Sebastian, and it got some attention. But it wouldn't have been this wide commercial release that is was in 1967.
He continued, "The flip side of the coin is that we are able to tell more varied kinds of stories today, because of the streaming platforms and and because of some cable outlets. No longer do you need to appeal to a giant group of people.The economics have changed so that you can appeal to a narrow group of people, and still tell your story and make a living, telling it. And that's great."
Chicago 7 was originally slated for a big theatrical, awards-season launch via Paramount, but Netflix scooped up the rights earlier this year and it will start streaming on October 16.
Sorkin revealed what he believes makes for a great screenplay: "The first ingredients that I need, what would be the water in the flour of baking bread? Intention. Obstacle. Somebody wants something – they want the money, they want the girl, and they want to get to Paris. And something is standing in their way. That's where the friction comes from the tactics that that person uses to overcome the obstacle. That's going to tell us what we need to know about this character. So I'm looking for an intention and an obstacle that I can get a little worked up about."
As for his writing style, he referred to it as "writing as if I'm on a first date desperate to make sure I get a second date."He added, "I like writing about superheroes who don't need capes. They're human heroes."