Dubai Film Connection is dominated by intimate, character-driven tales from voices that are often ignored or marginalised, DFC artistic director Jane Williams says.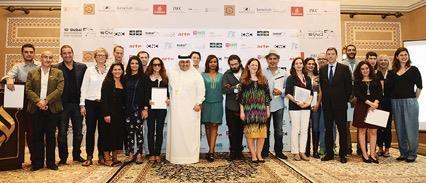 The festival's renowned international co-financing market Dubai Film Connection (DFC) — aimed at finding finance for independent Arab cinema — re-opens its doors today after a one-year hiatus.
A total of 12 film projects from Palestine, Egypt, Iraq, Lebanon, Syria, Morocco and Jordan will be presented at this year's edition. DIFF, which dropped DFC in 2014 to focus its market activities on distribution rather than development, has re-introduced the event because of the demand from film-makers.
"All the feedback we got from producers and directors made it clear we had to bring it back," says DIFF managing director Shivani
Pandya. The last time DFC took place, in December 2013, the initial euphoria over the pro-democracy Arab Spring was subsiding and the Middle East and North Africa were about to enter one of the bloodiest periods in recent history. In the interim period, some 15 million people have been displaced by the violence wracking the region, which has left hundreds of thousands dead.
The event's artistic director Jane Williams notes, however, that few of the 12 projects selected for this year's edition deal directly with the violence affecting the region, although its consequences resonate in many of the works. "One of the things we found which was really distinctive about the selection is that within the context of these epic wars and what has been such a difficult time in the Arab region, the films are very personal," says Williams.
"They're very intimate and some are really quite groundbreaking in their exploration of intimacy, with female sexuality being a strong subject."
Williams points to The Maiden's Pond by Lebanese director Bassem Breish and My Favorite Fabric by Syria's Gayaneh Jiji. Inspired by the discovery that his late grandfather had a mistress, Breish's film is about a 65-year-old woman in a small Lebanese village who is having an affair with the owner of the local shop.
Her life is further complicated when her pregnant daughter turns up after a recent divorce. My Favorite Fabric, set in Damascus on the eve of the pro-democracy uprising in 2011, follows a young woman who goes on a voyage of sexual discovery by taking a room at a local brothel.
"These projects will surprise people," says Williams. "The Maiden's Pond is one of the most beautiful scripts I've read for its representation of women and older women in particular. It's a really interesting work."

Women's voices
There are a number of projects that highlight the vulnerability of women and the poor in modern Arab societies, notes Williams. These include Hala Lotfy's The Bridge from Egypt, which is about a woman who loses her son after he falls through a hole in a badly maintained bridge in Cairo, and compatriot Mohamed Siam's Amal, a documentary following a teenage girl struggling to find her place, sexuality and identity in the macho, male-dominated landscape of post-revolutionary Egypt.
"There's a lot of anger about the vulnerability of women in Arab societies," says Williams. Amal is one of three documentaries in this year's selection alongside London-based Moroccan director Hind Bensari's Weight Throwers, which is about Morocco's forgotten Paralympic heroes, and Ibrahim, which follows Jordanian film-maker Lina Alabed's search for her father, a secret member of the Palestinian militant Abu Nidal Organisation who set off on a mission in 1987 and has not been seen since.
Ibrahim is one of a number of projects that explore the idea of loss. "We received [submissions for] so many projects about characters looking for people who are missing, who have disappeared through war or kidnapping," Williams reveals. "It's becoming a classical form of Arab storytelling and a consequence of everything that has gone on over the last 50 years."
"In Ibrahim, the film-maker is trying to discover what happened to her father. It's not a search for the historical facts, but an attempt to
understand her father and, in a certain sense, also herself. She reveals some difficult stuff about her dad in the film."
Projects exploring similar emotional terrain include Narjiss Nejjar's A Step Behind The Sun, which is about an Algerian-Moroccan woman who lost her parents in 1975 when Algeria expelled thousands of long-time residents of Moroccan origin, and Iraqi director Koutaiba Al Janabi's Daoud's Winter, a film inspired by the loss of his family during the Iran-Iraq war of the 1980s.
The other projects include Papion On Top Of The Water Tank by Jordan's Yahya Alabdallah, Pagan Magic by Moroccan film-maker Fyzal Boulifa, The Inheritor from Lebanese director Halim Sabbagh and Wajib, the new project from Palestinian film-maker Annemarie Jacir. "We received 130 submissions and we always get about 20 projects which tick all the boxes," says Williams. "Then it becomes really hard to whittle them down. We were supposed to select just 10 projects this year but we've managed to squeeze in another two."
For the first time this year, all projects had to have at least 20% of finance in place. "Responding to feedback from past editions,
we've tried to ensure the projects we've selected are at a more advanced stage than in the past," explains Williams.

DFC partner projects
In addition to the 12 projects selected by Williams and her team, all three nominees for the $100,000 IWC Schaffhausen Filmmaker Award aimed at supporting Gulf cinema will also participate in DFC. These comprise Sahaab, directed by Qatar's Khalifa Al Muraikhi; Saudi director Shahad Ameen's fantasy Scales, and Emirati director Layla Kaylif's The Letter Writer, about a professional scribe who falls for the woman one of his clients is trying to woo.
The DFC line-up also includes two projects from Film Prize of the Robert Bosch Stiftung ‹ Ghassan Halwani's Clean Up The Living Room, We've Got Visitors Coming and Amjad Al Rasheed and Darin Sallam's The Parrot — along with Meyar Al Roumi's The Return from Beirut Cinema Platform.
For the first time, all the main DFC prizes (excluding the IWC/DIFF) are being fronted by local film and TV players. There are six cash prizes: they are the Cinescape/Front Row Filmed Entertainment distribution alliance ($10,000), pan-Arab distributor Empire ($10,000), Dubai-based Fortress Film Clinic ($15,000), Sanad Film Fund Abu Dhabi ($10,000), Arab Radio and Television Network ($10,000) and DIFF. "It's an important development because it means distributors and broadcasters from the Arab world are getting behind the local cinema," says Williams.

Agents of Change Gulf funds work together to build an industry

Dubai Film Connection and Abu Dhabi's SANAD film fund are increasingly working together to nurture and grow the local film business. SANAD provides the $10,000 SANAD prize, and has also supported two of this year's DFC projects: Hala Lotfy's The Bridge and Annemarie Jacir's Wajib.
"It's good to be competitive. It keeps us on our toes and makes us work harder," says Intishal Al Timimi, SANAD's director of Arab programming, of the friendly rivalry between the regional funds and events vying for the same limited number of good projects. "At the same time we feel increasingly that it makes sense for all the funds in the region to work together."
The combined support of SANAD, DIFF's post-production and production fund Enjaaz and the grant schemes of the Doha Film Institute in Qatar have been instrumental in fostering the Arab world's independent film-making scene in recent years. While the amounts of money involved may seem relatively small by European or US standards — SANAD's maximum award development grant is $20,000 and post-production grant $60,000 — they can make the difference between a film being completed or not — especially when the grants are combined.
"The funds have been the agents of tremendous change," says Al Timimi. "So many films would not have seen the light of day without their support. For some films, $60,000 is a lot of money, which it would take the film-maker two or three years to raise."
The importance of the funds cannot be overstated in a region of mass political instability, where film-makers in territories with previously
well-established film industries are turning to the Gulf funds for crucial support.
"We can all do different things towards the work progressing and the film-makers progressing," says DFC's Jane Williams. "We just need to think strategically and make sure the main aim is to support the film-makers."