The coronavirus outbreak has not prevented a raft of eye-catching projects from reaching Berlin, including Zhang Ming's new drama and the latest in a hit animation franchise.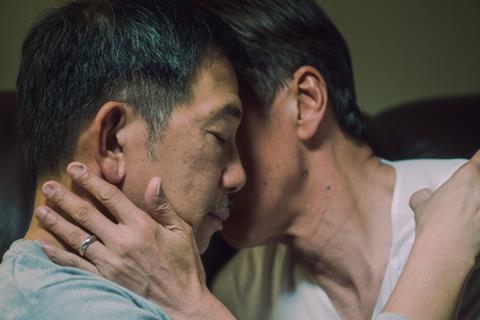 Chinese and Hong Kong sales companies and buyers will have a dramatically reduced presence at this year's European Film Market (EFM), thanks to the Covid-19 coronavirus, which has upended the industry's travel plans in recent weeks. As it became clear that reduced flight schedules and quarantine measures would make it difficult to travel, many companies decided against the journey to Berlin. Some Hong Kong sellers, including Media Asia, and companies with reps already outside of Asia, such as Asian Shadows, Fortissimo Films and Rediance, will still be present in the market and introducing new titles.
As production schedules have also been severely impacted by the coronavirus, many upcoming films will be experiencing delays, but all the titles listed here are already in post-production or completed. All seven of the big-budget films that were scheduled for release over Chinese New Year were postponed when the virus hit, but with the exception of Lost In Russia, which premiered online, they are still hoping for theatrical releases. These titles include Wanda Media's action-comedy Detective Chinatown 3, China Modern Film's disaster thriller The Rescue, We Pictures' sports drama Leap, Jackie Chan-starrer Vanguard and two animations: Fantawild's Boonie Bears: The Wild Life and Enlight Pictures' Jiang Ziya: Legend Of Deification. Among these, Boonie Bears: The Wild Life is still being sold at the EFM.
Festival
The Calming
Dir. Song Fang
Produced by Jia Zhangke's Fabula Entertainment and Beijing-based Huanxi Media, this meditative drama follows a single woman — a filmmaker who is often travelling — and examines how she perceives and interacts with her environment. The main character is played by Qi Xi, who won several awards for her role in Lou Ye's Mystery and also starred in Wang Xiaoshuai's So Long, My Son. The film, which is receiving its world premiere in Berlin's Forum section, is Song's second following her award-winning debut Memories Look At Me (2012), which won the best first feature prize at Locarno. Contact: Huanxi Media Group
Suk Suk
Dir. Ray Yeung
Screening in Berlin's Panorama section, Yeung's third feature revolves around the relationship between two older men in Hong Kong, both grandfathers who are attempting to find love in later life. The gay-themed drama, which received its world premiere at last year's Busan International Film Festival, is produced by Hong Kong-based New Voice Film Productions and has Michael J Werner, Teresa Kwong, Sandy Yip and Chowee Leow on board as producers. It recently won best film and best actor prizes for Tai Bo at the Hong Kong Film Critics Society Awards and has nine nominations for this year's Hong Kong Film Awards. Contact: Films Boutique
Market
Boonie Bears: The Wild Life
Dirs. Leon Ding, Heqi Shao
The seventh instalment in Fantawild Animation's hit Boonie Bears franchise follows the bear brothers and their human friend Vick as they discover a land where guests can wear a bracelet to transform themselves into animals. However, when some of the guests start to go feral, Vick comes to the rescue to find out what has gone wrong. Fantawild has released a Boonie Bears movie every Chinese New Year since 2014, all of which have been hits and sold to multiple overseas territories. The Wild Life was scheduled for release during Chinese New Year 2020, but is currently on hold while China's cinemas are closed. Contact: Daniel Bort, Fantawild Animation
The Cloud In Her Room
Dir. Zheng Lu Xinyuan
Zheng's debut feature tells the story of a woman who returns to her hometown for Chinese New Year and embarks on a relationship with the father of her half-sister's classmate. The film, which won the Tiger Award at this year's International Film Festival Rotterdam, is produced by The Old Avant-Garde Films, Hangzhou Nostalgia Art Film Studio and Blackfin Production. Zheng previously made short films that have screened at Tribeca, First International Film Festival, Xining and Shanghai Queer Film Festival. Contact: Meng Xie, Rediance
Damp Season
Dir. Gao Ming
Executive produced by Pema Tseden and Geng Jun, Gao's debut fiction feature follows a bickering young couple trying to make a living in the Chinese city of Shenzhen, who both become involved with other people. Gao, who is based in Shenzhen, previously directed short film A Song (2007), which screened at Asiatica Film Festival in Rome, and documentary feature Paigu, selected for several festivals including Hot Docs. Damp Season, which premiered in Rotterdam's Bright Future main programme, is produced by Factory Gate Films and Pokwai Pictures, with Chinese streaming platform iQiyi Pictures on board as co-producer. Contact: Meng Xie, Rediance
Death Notice
Dir. Herman Yau
Louis Koo, Julian Cheung and Francis Ng head the cast of this action-drama about a mysterious killer who executes criminals who have slipped through the justice system by sending out a 'death note' stipulating the target's name, crime and date of execution. The film, which is completed and screening at the EFM, is produced by China 3D Digital Entertainment and based on the popular novel of the same name by Zhou Haohui. Contact: Fred Tsui, Media Asia
Hot Soup
Dir. Zhang Ming
Zhang's latest drama, following his 2018 Cannes Directors' Fortnight title The Pluto Moment, tells the intertwining stories of four women pursuing happiness in contemporary Shanghai. Currently in post-production, the film stars Chen Duling (The Left Ear), Zhao Yanguozhang (So Long, My Son) and Li Meng (A Touch Of Sin). Zhang won awards in Busan, Vancouver and Torino for his 1996 debut In Expectation and also has credits including Weekend Plot (2001), Folk Songs Singing (2011) and China Affair (2013). Contact: Fortissimo Films
Lost Lotus
Dir. Liu Shu
The second feature from Liu following Lotus (Venice Critics' Week, 2012) tells the story of a young teacher balancing her new-found Buddhist beliefs with a search for justice following the death of her mother in a hit-and-run accident. Canadian-Chinese actress Yan Weisi and Chinese actor Zhao Xuan head the cast of the film, which is produced by Hong Kong's CS Production and the Netherlands' Volya Films with Liang Ying as executive producer. The film received its world premiere in competition at last year's Tallinn Blacks Nights Film Festival. Contact: Maria Ruggieri, Asian Shadows
Love After Love
Dir. Ann Hui
Currently in post-production, Hui's latest drama is an adaptation of a short story by Eileen Chang about a young woman who moves from Shanghai to Hong Kong in order to further her education but ends up working for her aunt luring rich and powerful men. Eddie Peng and Ma Sichun head the cast of the film, which is scripted by Wang Anyi (Everlasting Regret) and produced by China's Alibaba Pictures, Hehe Pictures and Blue Bird Film. Contact: Fortissimo Films
Love Poem
Dir. Wang Xiaozhen
Wang's second feature follows a couple who begin to question their relationship during a road trip to their hometown with their only child. Their heated arguments expose their resentments, past lies, an old lover, possible divorce and a death, but have they told each other everything? Currently in post-production, the film is produced by Beijing Fei Chang Mei Cultural Communication Co. Wang's debut feature, Around That Winter, won best debut film at the China Independent Film Festival in 2013. Contact: Maria Ruggieri, Asian Shadows
Love You Forever
Dir. Yao Tingting
Produced by Edko Films, Love You Forever is the second feature directed by China's Yao Tingting, following 2016 romantic drama Yesterday Once More. Currently in post-production, the film follows an aspiring dancer who stumbles upon a diary that chronicles a timeless love story. The cast is headed by Li Yitong, whose credits include popular TV series The Legend Of The Condor Heroes, and Lee Hong-Chi, who won a Golden Horse Award for best new performer for Thanatos, Drunk (2015). Contact: Julian Chiu, Edko Films
The Yin-Yang Master: Dream Of Eternity
Dir. Guo Jingming
Currently in post-production, this action fantasy is based on the novel Onmyoji, written by Japanese author Baku Yumemakura. It stars Mark Chao (Saturday Fiction), Allen Deng (Ashes Of Love), Jessie Li (Port Of Call) and Wang Ziwen (Enter The Forbidden City). The story revolves around a powerful demon who awakens every few hundred years and must be battled by the four 'Yin-Yang Masters' — until a princess has other ideas and conspires to claim the demon's power to grant eternal life. Guo previously directed the hit Tiny Times franchise and action fantasy L.O.R.D.: Legend Of Ravaging Dynasties. Contact: Fortissimo Films