For his challenging role as a violent husband in the HBO miniseries, the actor tells Screen how he fought hard to get to the emotional truth.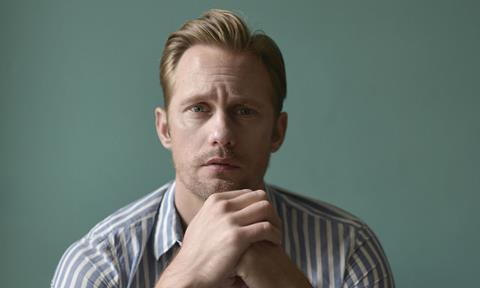 Big Little Lies, HBO's seven-episode drama about lust, love and murder in California's exclusive coastal community of Monterey, was one of the year's most talked about television shows before it even aired.
Based on the novel by Liane Moriarty, its initial draw was an A-list cast that included Nicole Kidman, Reese Witherspoon, Shailene Woodley and Laura Dern.
When it made its US debut in February — with Sky Atlantic showing it in the UK from March — audiences flocked to its slow-burn story, which is framed by a murder and blends interrogation room interviews with flashbacks to the duplicitous lives of those involved in the weeks before the crime.
The show's finale hit a series ratings high for HBO, drawing 1.9 million viewers for its 9pm premiere and 2.5 million viewers for the night. It drew an average of 7.1 million viewers per episode in the US across multiple platforms, with word of mouth driving ratings for the finale that were 64% higher than the premiere.
Alongside its starry cast and glossy production values, audiences also responded to the show's portrayal of edgy, modern womanhood. Yet the screenplay, adapted by veteran scribe David E Kelley (Ally McBeal, Chicago Hope, Goliath, the forthcoming Mr Mercedes), also featured a host of multi-layered male characters. Most complex was Alexander Skarsgard's Perry, the husband of Kidman's former lawyer Celeste, with whom he has twin boys, a passionate marriage and a seemingly perfect life.
As with so much in Big Little Lies, however, those looks proved deceiving. Behind his perfect facade, Perry is struggling with serious anger issues that, over the course of the series, result in shockingly violent behaviour towards Celeste.
"I was sent the scripts and was immediately fascinated by Perry," Skarsgard says of the connection he felt to the challenging role. "I thought he was such an interesting character. He didn't feel like the typical abusive husband; I could really feel his struggle and how layered the relationship with Celeste is. There were things in the script that I felt were really important to emphasise — the fact he is a good father, that he can be really sweet and generous. You almost trick the audience to envy this couple."
Natural progression
When it came to filming, Skarsgard, Kidman and filmmaker-turned-TV-director Jean-Marc Vallée (Dallas Buyers Club, Wild) — who helmed all seven episodes — worked hard to nail the evolving dynamic of Perry and Celeste's relationship.
"We didn't rehearse much," reveals the Swedish-born actor. "Nicole and I spent a lot of time together, just to get to know each other. It was also important to spend time with Cameron and Nicholas Crovetti, who played the twins. We wanted them to be very natural and comfortable around us. When Perry is with the kids, he is a great dad. They are not nervous around him; they are very affectionate and loving. So the prep was really just to hang out, the four of us, as a family."
When it came to showcasing the darker side of Perry's personality, Skarsgard says it was essential to find the emotional balance within the character and ensure he was neither too monstrous nor too sympathetic.
"It was important to find the struggle," he says. "He has these demons inside that he tries to fight, but he can't. He admires Celeste and he feels like he doesn't deserve her. He's always felt like the underdog in the relationship and that's created a lot of frustration. [The violence] is his twisted way of taking control, because he is physically stronger than her. That's the only way he can empower himself. It was about understanding that, and finding that switch where he goes from being charming and loving to where he just goes black and anything can happen."
It is rare to see such a nuanced portrayal of domestic abuse on screen, not least one given the time to play out in such a naturalistic way. Skarsgard says that is partly because the focus was not on Perry's journey, but rather on how his behaviour affects and changes Celeste.
"Celeste doesn't represent all women that have been abused by men, but in this relationship it's important to understand why she is conflicted, why she doesn't leave Perry early on," Skarsgard says. "Leaving someone who is abusive is incredibly difficult, and what also makes it complicated is that it isn't black and white.
"You can hopefully see that Perry does have another side. Just like Celeste, we wanted the audience to understand that he's a great dad and can be really sweet. In the beginning at least, hopefully the audience will feel like Celeste — that he can change. That deep down he's a good guy and he just needs a little bit of help. It was also important to understand that, if you are being abused, it's not your job to change the other person."
That sentiment becomes increasingly clear as Big Little Lies progresses and Celeste struggles to control the fallout from Perry's anger. As such, most of the sequences between Skarsgard and Kidman are emotionally potent, either fuelled by passion or anger, and the shoot proved equally as intense.
"We showed up, jumped in and started shooting," Skarsgard recalls. "It was all handheld cameras and existing light, so we moved very quickly on set. That was great, because it meant there was not a lot of down time; once the adrenaline's up and you're shooting, you stay on your feet until the end of the day. I love that way of working. It means that if you come up with an idea during a take, it takes no more than 30 seconds until you get an opportunity to try it again. It was very fun, creatively, that way. But also exhausting. The tough scenes, the physical scenes, were horrible to shoot."
Challenging subjects
As anyone who has seen the show will know, the scenes are as difficult to watch as they were to film. Yet it is precisely because Big Little Lies handles its challenging subject matter with sensitivity, and boasts such vividly drawn characters, that has seen it become one of the biggest successes in a year full of small-screen hits.
"This is a great era for television," acknowledges Skarsgard, who previously starred in HBO shows Generation Kill and True Blood, along with films including Battleship, What Maisie Knew and War On Everyone. "It's a medium that attracts a lot of writers, directors and actors. These limited series are a very interesting format. It's an opportunity for the actor to go deeper and explore a character, and the audience can really get to know these people and live with them for weeks.
"With features, you have the three-act structure and it can feel a bit rushed," he continues. "On these shows, it can really be a slow burn. You can have a first episode that just introduces the characters, then lets it simmer for a while. Networks like HBO, Netflix or Hulu can take risks, as they are subscription based and don't have to worry about meeting audience targets for advertising revenue. They can invest in shows that are more niche, they can have — and want — diversity and they can let showrunners go in a non-traditional direction. It's a really exciting medium, and it's not surprising that a lot of creative people in the industry are gravitating towards it. It's a very fun way to tell a story."