The series' creator reveals to Screen why his partnership with Netflix has given him the opportunity to push even more creative boundaries.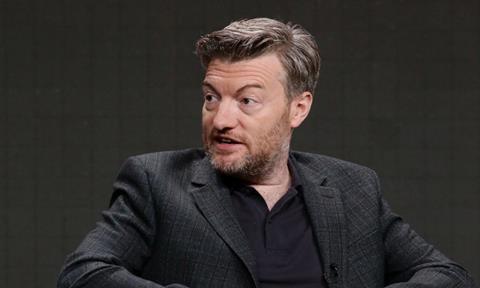 For UK writer and comedian Charlie Brooker, television anthology series Black Mirror, which he created in 2011, has propelled his name onto the international stage. Depicting satirical and often dark visions of our near future, the show now has a home in the ever-expanding Netflix stable.
The first two series — produced by UK outfit Zeppotron for media major Endemol in 2011 and 2013, and each comprising three 60-minute episodes — were broadcast on Channel 4 in the UK to critical acclaim. The series was belatedly brought to the US in late 2013 via DirecTV's Audience Network. After a one-off Christmas special in 2014, the rights were then picked up by SVoD giant Netflix in a reported $40m deal.
The US company ordered an extended 12-episode run, broken up into two series, the first of which debuted on the platform in October 2016. Starring recognisable film talent including Bryce Dallas Howard, Gugu Mbatha-Raw and Kelly Macdonald, the show also boasted directors known for their big-screen work such as Joe Wright and Dan Trachtenberg. When Screen International caught up with Brooker in the spring, he was mid-production on the follow-up season.
"I don't have time for reflection [on last season]. It feels like a very recent memory but also a thousand years ago at the same time," Brooker says, noting that he has gone virtually back-to-back from wrapping the first season with Netflix into production on the second. "Before the last season had been delivered, we were already panicking about this one. It's kind of never-ending."
Netflix influence
Despite the pace of production, the relationship with Netflix — which has brought with it bigger budgets — has been seamless for Brooker. "When Netflix picked us up, they were keen for us to keep doing what we were doing; they don't tend to interfere," he says. "From story to story, we can reinvent the wheel and produce massively different tonal pieces. We have the freedom to do absolutely whatever we want."
Brooker, however, is also keen to stress Netflix's collaborative approach, stating that the company is regularly involved in the creative process throughout development and production. "They've got opinions on everything and they engage a lot, but they're never prescriptive," he says.
Another positive of the Netflix relationship, says Brooker, is that it provides access to talent. For example, two-time Oscar winner Jodie Foster has signed on to direct the first episode of the upcoming season, having already worked with Netflix on episodes of Orange Is The New Black and House Of Cards. John Hillcoat and David Slade are also helming episodes.
"I think Netflix is helpful to directors because it feels like it's somewhere in between movies and television — it's almost both a movie house and a broadcast network," Brooker observes.
One of the defining characteristics of Black Mirror is that each episode is entirely separate from the last, acting as standalone pieces rather than a traditional TV series. This removes creative restrictions but presents the challenge of having to continually come up with new ideas. "It makes it quite a task in many ways, but it means you never get bored," Brooker says. "Terrified, maybe, but not bored."
A working relationship with Netflix means never knowing specific audience numbers for content, as the streaming giant keeps its data under wraps. For Brooker, however, this is a positive. "My god, it's great. You're desperately aware if you've done something and it doesn't do well in the ratings," he says of previous experiences with broadcast television. "Obviously, you want people to watch what you're doing but that shouldn't become the story and, with a lot of broadcast shows, that becomes the story in their first couple of weeks. It can take a while to build an audience."
Future shock
Both Netflix and Brooker are determined not to give away too many details of the new season. "The less we say the more we reserve the right to completely re-edit and change everything," he jokes.
Brooker will reveal that his general approach on the series has been "the same, but different".
"We did a lot of different genre pieces in the last season and we're doing the same again this year," he adds, "but we're also tackling style and tones that we haven't done before."
A longstanding fan theory has focused on which, if any, of the episodes tie together, and Brooker reveals more plotlines might be intertwined in the next batch. "I'm doing something at the moment that could, depending on whether it makes it to the final version, tie a few threads together."